Until It Fades by K.A. Tucker isn't the type of novel I would usually pick up, but with everything going on in the world these days, I needed a lighthearted read. Until It Fades was exactly the right thing.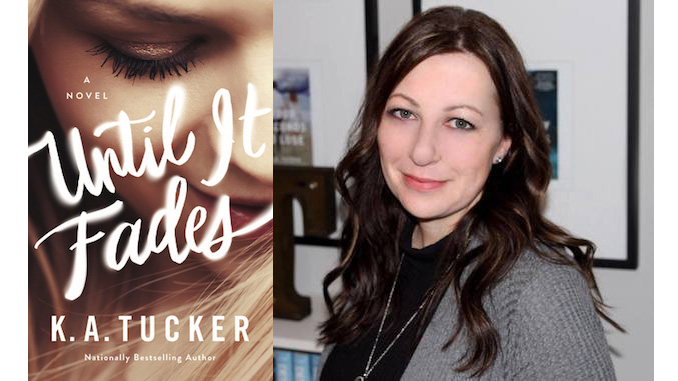 Until It Fades is the story of Catherine Wright, a single mother and waitress living in small-town America. She's on her way home from a blind date when she sees a terrible accident. Rather than driving away at top speed or gawking, which are the normal human reactions, she intervenes and saves a man's life.
She quickly finds out that the man is Brett Madden, a hockey icon and media darling, and from there things spiral out of control. Already weary of the media thanks to a teenage scandal, Catherine tries to hide her identity.
For a time this works, but everyone wants to know about the Good Samaritan who saved Madden's life — including Madden himself.
Wright's identity eventually comes to light, and when she meets Madden the two are instantly drawn to each other.
Until It Fades, in other words, is a modern-day Cinderella story with a Canadian twist. Catherine Wright is an everywoman and Brett Madden is cast the ultimate dreamboat. With every new detail, he only becomes more attractive to her. He's described as utterly flawless, both by the media and by Catherine herself. To top it all off, Brett's entire family is famous and wealthy beyond belief, with homes in Toronto and all over the US.
In some ways, this made Until It Fades a nice change of pace from the kind of romance tropes of the Taming of The Shrew variety I keep seeing. Stories which force characters who begin the story as enemies to become lovers are getting tedious.
Until It Fades does an excellent job of making the romance believable from the beginning. On the other hand, I couldn't help but feel like it was a bit too much. The man's essentially perfect, and the romantic sparks are there from the beginning. Too many of the obstacles that stop them from becoming a couple are contrived.
Despite her poverty and struggles Catherine is also essentially perfect, aside from her tired flaw of being a woman who believes no man will love her. Thankfully, she doesn't spend much of her time moping about it, but it's obvious in every action she takes.
I understand why this is a trope and that many readers are drawn to it, but I also find this cliché to be tiring. I would love to see more heroines whose major flaw has nothing to do with their confidence.
Still, Until It Fades is a good novel for anyone interested in a light read, and I would wholly recommend it to a fan of romance about to visit a beach, to better avoid paying attention to other peoples' children. The characters may be a little too close to perfect, but they're still human enough to feel believable. The depiction of small town life was also wonderfully well-realized, encompassing both the good and the bad parts. And when the romance finally happens, it's incredibly sweet.