Our latest recipe from a Toronto chef comes from the company Blue Goose and their Culinary Ambassador Chef Devan Rajkumar. Try these hoisin lettuce wraps at home for a fun, delicious and easy to make dish that the whole family will enjoy.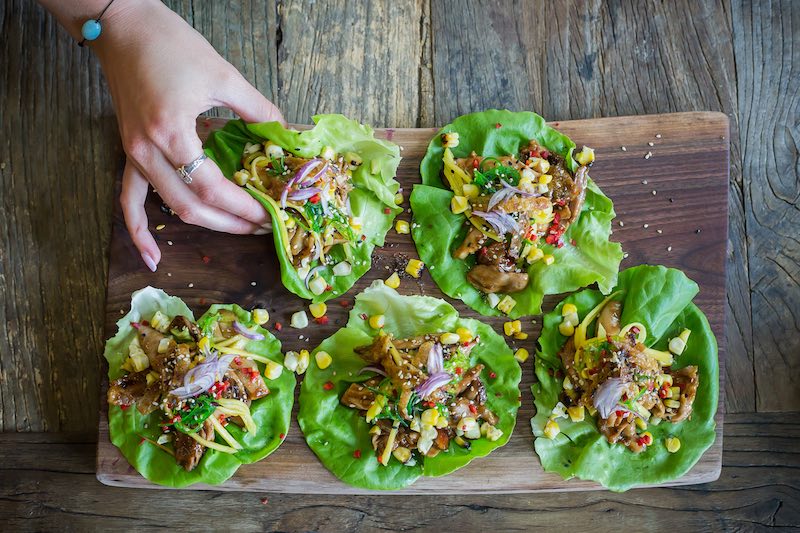 Prep Time: 10min | Cook Time: 25-30min | Yields: 2-4
Ingredients
-2 Blue Goose Chicken Drumsticks
-4 boston lettuce leaves
-¼ cup hoisin sauce
-1 tsp sesame oil
-1 tsp Sriracha
-1 tsp fresh lime juice
-½ tsp lime zest
-¼ cup wakame slaw
-¾ tsp black and white toasted sesame seeds
-2 tsp vegetable oil
-2 sprigs of cilantro, leaves removed
-Salt and pepper, to taste
Method
-Preheat oven to 400°F. Line a baking tray with parchment paper.
-Brush legs with oil and season with salt and pepper.
-Bake for 20-25 minutes, until a thermometer reads 165°F.
-Remove from oven and allow to cool before pulling chicken from drumsticks.
-In a mixing bowl combine pulled chicken from Blue Goose Chicken Drumsticks, hoisin, sesame oil, Sriracha, lime juice and lime zest.
-Place desired portion of mix into each lettuce wrap and top with wakame, sesame seeds and cilantro.
Recipe from Blue Goose Culinary Ambassador Chef Devan Rajkumar.