After watching the Netflix show "The Toys That Made Us", I realized that there were so many stories behind these objects that played such a huge role in the lives of so many people around the world. The show follows the history of Barbie, GI Joe, Star Wars and He-Man, all which have a big part of our childhoods.
Another toy that has been in almost every home is Hot Wheels. Those awesome 1/64th scale model cars that have tracks to do loops and car designs that kept kids wanting more. 6 billion of these wee automobiles have been sold to date.
At this year's Canadian International Auto Show, Hot Wheels was celebrating its 50th anniversary with some great attractions for patrons to visit. It also gave us a chance to chat with Ted Wu, the head of design for Hot Wheels at Mattel, who was in town from California for the event.
How did you get into designing toy cars?
Ted: So, I've always grown up with Hot Wheels cars. I think like every kid played with cars, accumulated cars, had track sets. I actually started working at Mattel about 15 years ago, went through various different paths, and ended up working on Hot Wheels about three years ago, as the head of design.
Do you have any background or passions for cars?
Ted: My background is in … I actually have a degree in visual art. I went to school at Brown University, took my art classes at Rhode Island School of Design.
Ted: My focus was on animation and illustration, but personally I've always been interested in cars. I've been doodling and sketching cars since I can remember.
Do you own a car?
Ted: I do. Yes.
What kind of car do you own?
Ted: A Porsche 991.
Have you been with Hot Wheels for the whole 15 years you were at Mattel?
Ted: No, Hot Wheels for about three years. I've been across various brands for the past 15 years.
What other brands did you work on?
Ted: I've worked across a lot of our licensed business. So, we have a lot of best-in-class partners like Warner Brothers, DC, Disney, Dreamworks. I've also worked on a lot of action figure brands that we have. Obviously, Batman, Justice League, which I mentioned with Warner Brothers and DC, and some other various ones, as well.
What is your duty as the head of design for Hot Wheels? What does your day to day entail? What's your managing duties like?
Ted: Every day is different, which is great, I love it. I work with a team of almost 50 really incredibly talented designers. Backgrounds range from actual automotive design to a lot of guys actually come from auto manufacturers. We've got a lot of guys who are industrial designers, graphic designers, toy designers. Then, we've got packaging, the whole packaging theme, as well. So, engineers of the sort. My day to day is just sort of hopefully managing the creative vision for the entire brand and trying to make some great products.
Are you going to have a Tesla Hot Wheels car?
Ted: We have one in my pocket right now for this weird occasion.
Can I take a photo of this?
Ted: Yeah.
Alright, can I hold it or no?
Ted: Yeah. This is actually the Tesla Roadster.
Ted: That's the one you launch into space, yeah.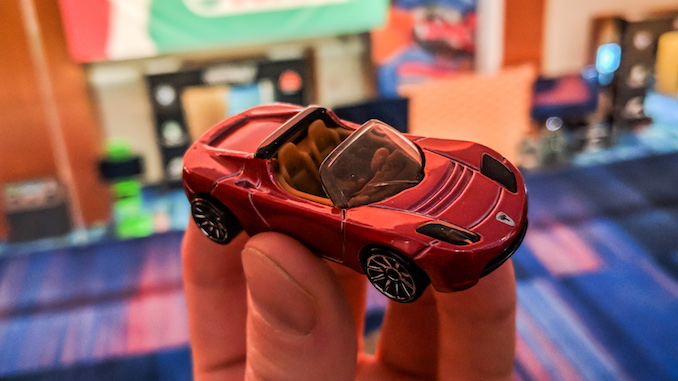 So is that for sale, that one?
That one is out so if you can find it on the pegs then it's all yours, if not, you can go to E-Bay where I think the prices are sky rocketing.
Are there other models you're going to give us a teaser of? Things that are coming up or you're launching soon or maybe previewing here?
Ted: It's not a teaser per se, but our 50th anniversary Camaro just came out. It's an actual production car, you can buy life size. That's obviously out now, in our mix or in our line right now. Aside from that, I think you'll have to see what we have in store.
Ted: We've got a whole line of 50th anniversary vehicles.
Ted: So, these are our black and gold collection.
There's a full collection. There are six of them. They only have two or three of our originals in there so the Bone Shaker and The Twinmill, and then the Rodger Dodger, so those are Hot Wheel original designs and then there's licensed ones in there as well.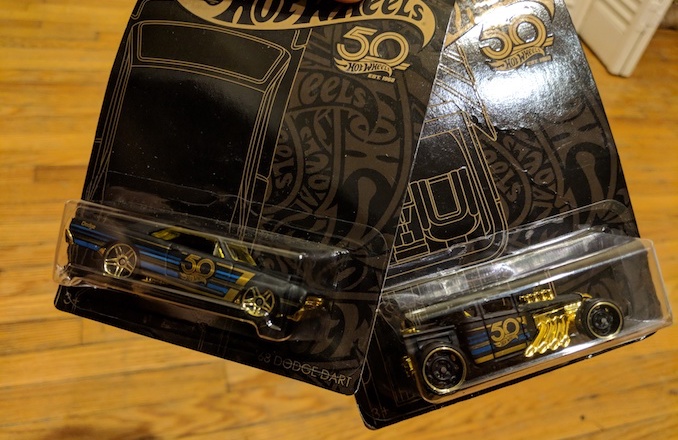 When you come to a car show like this, how big is this for your market and do you get a lot of hype? Do you get a lot social media traction and things like that from these kinds of events?
Ted: I think, the great thing about Hot Wheels is the age range is so broad. We've got kids all the way from two to hopefully ninety-nine, one-hundred years old that aren't in the ground. So, I think we, as a design team, try to stay relevant. I mean we have a lot of guys like I said who from the actual auto industry, so for us it's natural to be a part of car shows like these.
I think, again, a place like this is great where kids can bring in their families, and their kids can kind of see, kind of an appreciation for cars at a young age.
Have you seen the Netflix documentary about The Toys That Made Us?
Ted: Yeah.
Do you know if they're going to do other episodes, or if they're going to contact you guys? I think Hot Wheels would be an awesome episode.
Ted: Yeah, I think they're having talks but nothing as of now, no.
Okay, cool. I think it's a great show, kind of caught me off guard when I watched it and it's a lot of information that you don't know and all these toy companies that have been around forever. You're so young when you get into it that you don't really look into what it's about, the background, who makes these things, you're just like, "Oh it's a toy, I want to buy it."
Then you get older, you're like oh wow this thing's an iconic brand. I kind of want to know more about it. So I feel like Hot Wheels is one of the biggest.
How did you guys move into digital? Video games, apps, things like that. What kind of things are you guys bringing into that market?
Ted: Yeah, we're certainly doing a few things. We're always seeing what's out there and how kids are playing. I think the great thing about Hot Wheels, is we approach it the same way. We're always trying to nurture the child's experience. Whether it's just play with a car and a track, and we're trying to get them go through maybe a loop, or to do that next stunt, the play pattern's the same if we shift it to digital. We try to find ways to integrate tech, and not just tech, like tech work, fun and still adheres to our grand audience.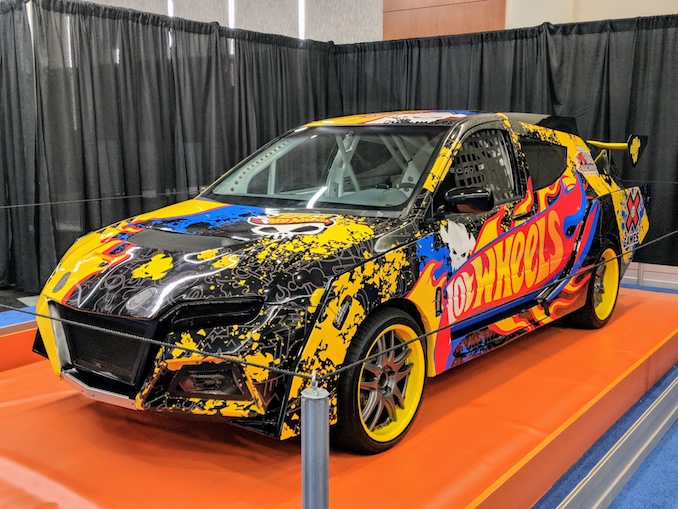 How important is it making the life size version of the cars? Like, some of them are just models for you guys, just to have or show and some you said you have to become real cars or, like the Camaro you said it's an actual car.
Ted: Yeah, production car.
So, where are these built and what purpose do they serve for you guys?
Ted: So, first of all they're all real functioning cars. Every single car that we have in our garage is an actual working car. We don't just build models. We've got a stable of almost twenty different cars. They're built for various reasons. We've had some built for world recording breaking stunts in the past. We have some that are built for partnerships with obviously our partners like the Darth Vader car. Some that are just awesome cars that we want to have in our collection, quite honestly.
Thanks Ted for chatting with us!