"Don't Blink", we were instructed by Jonathan Goodwin aka "The Daredevil" with The Illusionists, "or you'll miss everything." and he wasn't kidding. This jaw-dropping spectacle not only keeps you on the edge of your seat, but it commands your full attention and we're more than happy to take it all in. A perfect diversion for today. But catch it if you can, the show will disappear after January 8th.
There are seven members in this current production made up of world renowned illusionists, magicians, and entertainers. From America's Got Talent show stoppers to delightful antics of classic circus jugglers, this show brings a perfect blend of classic sleight of hand techniques with modern high tech artistry.
Skeptical? Of course there are always a few skeptics in the audience. With live camera feeds offering close up shots of movements projected onto big screens, guests can sit anywhere in the theatre and try to figure how it all happens. Even friends sitting in the second row and I are still discussing our theories while my 13 year old son searches for more illusions on YouTube. All of us agree we would want to go back again to prove our points.
This year's show also includes more audience participation that only lead to more questions of "How? How? How?" Planted? The night we were there, it was Mark Saunders, Toronto's Chief of Police as well as Erica Ehm, a Toronto media favourite, who were amongst those who were selected randomly to come up to the stage.  I know Erica and she was genuinely surprised.
The show might sound familiar as The Illusionists were here in Toronto a year ago that enjoyed a completely sold out run. This time around, we are introduced to 4 new performers alongs side some of our favourites from the last tour. What was more noticeable this year was even more background stories behind each of their acts. A brief history lesson on one of Houdini's most famous escapes gives younger audience members a better understanding of how and why some of these tricks started and continue to be the biggest mysteries of today.
COLIN CLOUD is a complete mystery. His ability to read your thoughts is nothing short of mind-blowing.  No stranger to TV and onstage, Cloud is in constant high demand. He was accepted to study Forensic Investigation at the university in Glasgow at 15 years old. Since graduating, he's been travelling the world wowing audiences with his mind-reading capabilities. Unexplainable.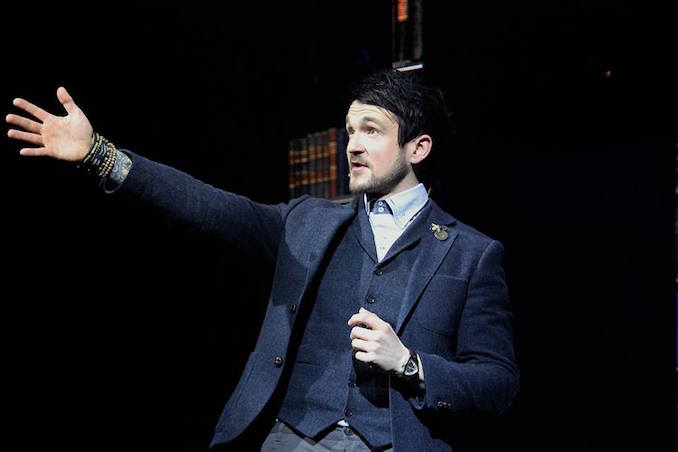 DARCY OAKE, our home-grown Canadian member of the Illusionists, is back with more acts, taking a more modern and edgy approach to some classic tricks – making objects disappear and reappear. He credits his dad for showing him his very first magic trick with a deck of cards (by chance it worked out) that lead to his passion in the craft. His jaw-dropping trick with live doves wow'd audiences on Britain's Got Talent in 2014. You can read our interview with him from last year here.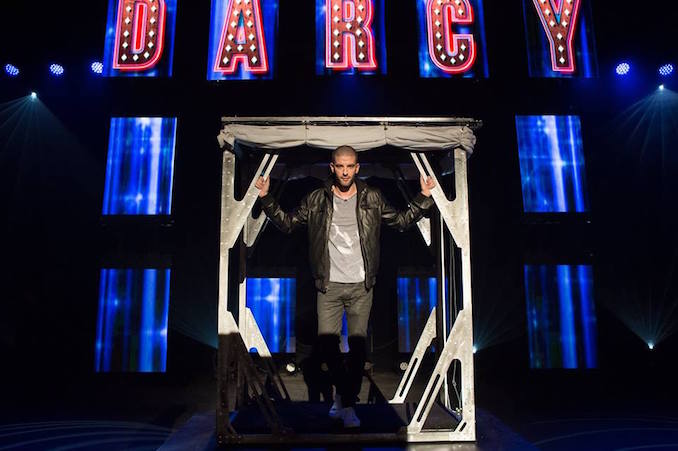 RAYMOND CROWE is a mischievous performer known as The Unusualist. He takes traditional skills of ventriloquism, shadow puppetry and mime to a whole different level of creativity. His hands shadow performance to Louis Armstrong's "It's a Wonderful World" caught us off guard during the for it's sheer beauty and intricacy. Australian born Crowe has been entertaining crowds in live performances and on television for 30 years. He's made special appearances around the world including the US on America's Got Talent, The Late Show with David Letterman, Live with Kelly and Michael.
CHARLIE FRYE is a pure classic circus act.  In fact, he began his career alongside his father and grandfather with the Ringling Bros. circus. Together with his wife, Sherry (apparently a former aerialist but now plays up a great character of being his side-kick with a touch of "let's just humour him" attitude) , they bring the "old school" vaudeville style act to the stage that is a fun break from some of the nail-biting stressful acts.
JONATHAN GOODWIN is a British born escape artist and his theatrics on stage are heart-stopping feats that seem utterly impossible. With assistants on stage often risking their own lives, he pushes us to the edge — we're not quite sure how he even practices these acts.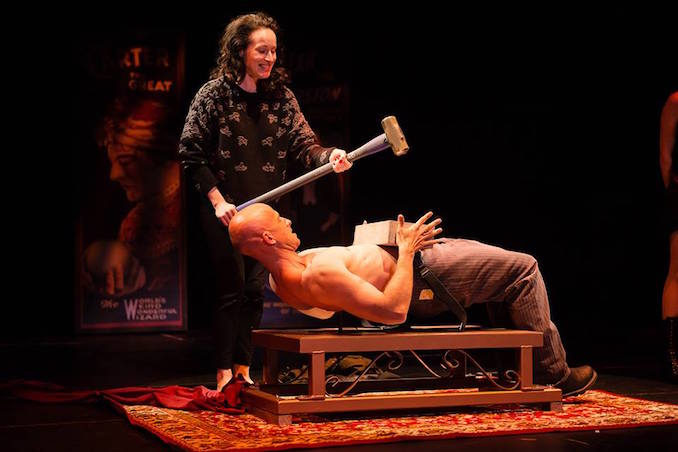 JEFF HOBSON is who you would immediately identify as all Vegas glitz. In fact, he's been known as "The Host of Las Vegas" for more than 15 years. He's naturally engaging and quick on his feet with the one-liners injected into this tricks. He's been seen on HBO, Showtime, NBC as the host of The Illusionists as well as making appearances on Rachel Ray and the TODAY show.
AN HA LIM has gained world wide attention with his fast paced card magic. Non stop use of over a 1000 playing cards that change colours and images right before your eyes has earned his place as one of the top five magicians in the world in the past ten years with several awards under his name.
We won't give it all away!  But for sure the tickets will disappear pretty quickly! Great family entertainment for all ages from kids to grandparents. The Illusionists is now playing at the Princess of Wales Theatre in Toronto until January 8, 2018. www.mirvish.com