For this week's recipe, we asked Wholly Veggie to send us something simple for our readers to try at home. Wholly Veggie is a new locally-owned company run by two young entrepreneurs whose mission it is to increase the amount of veggies in the diets of Canadians. Currently they are making veggie patties that are perfect for the BBQ and are available in flavours Southwest Beet, Sweet Curry Carrot and Herb Garlic Greens.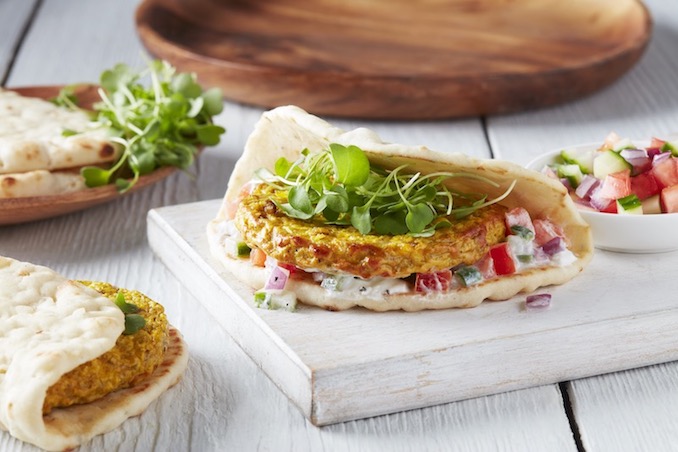 It can be tough to find new ways of incorporating vegetables into your daily diet. Wholly Veggie has worked to develop veggie products that offer convenience without sacrificing on the quality. Their products contain no soy, gluten, dairy, GMOs or sugar.
Sweet Curry Carrot Naanwich Recipe
Ingredients
-Wholly Veggie Sweet Curry Carrot Patties
-Naan bread
-Greek Yogurt
-Sprouts
-Red onion
-Tomato
Directions
-Cook your patty – either on the grill, in the oven, on the stove or in the microwave. It only takes minutes!
-Dice the tomatoes and onion and stir in the Greek Yogurt
-Toast the naan bread in the oven or toaster
-Spread a dollop or two of the yogurt spread across the naan bread.
-Place the cooked patty on the naan and top with sprouts
To learn more about Wholly Veggie, please visit their website.