Now playing at the Toronto Fringe Festival, new play ANYWHERE explores the perils of staying with strangers and unexpected intimacies. The story begins with out-of-town business woman, Liz, returning to Joy's home AirBnB for her last night. In the haze of Liz trying to recollect the previous night's excessive indulgence with Joy and her boyfriend, the women's revelations escalate into a tense and unnerving battle for control of an increasingly bad situation. By the end, the whole ugly encounter has both women wishing they were anywhere else.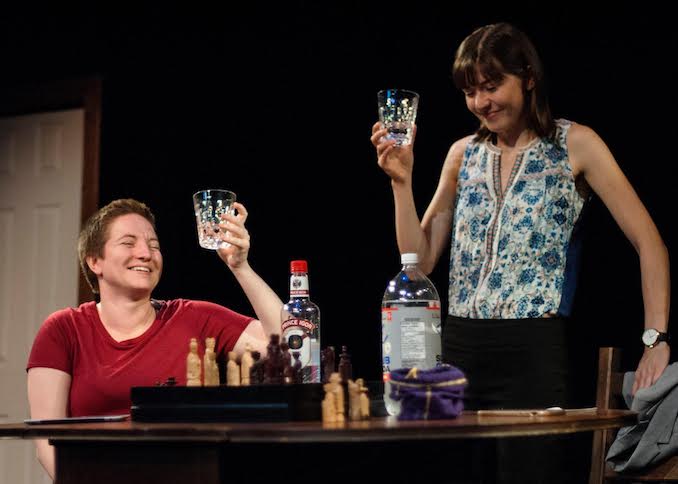 Unreal Expectations
Playwright Michael Ross Albert is a storyteller interested in empathy and perspective, and in ANYWHERE he uses the two characters like chess pieces – moving them back and forth against each other in the drama. He gives one of them an advantage, then he gives it to the other. ANYWHERE also uses the AirBnB as a vehicle to create tension and uncertainty. For instance in our digital world, everything you see on AirBnB is easily and nicely presented. It sets up an expectation, usually a good one. But in real life, a place, a person, can be messy and not nice. It's a perspective that shouldn't be lost on anyone these days. Da, Tinder anyone!
ANYWHERE is an explosive 60 minute performance with no intermissions. It runs at Factory Theatre Studio on Bathurst Street until Saturday, 14 July.
***
Written by Michael Ross Albert and directed by Unit 102's artistic director, David Lafontaine. Presented by One Four One Collective and The Spadina Avenue gang in association with The Toronto Fringe Festival.
***
ANYWHERE Cast
Courtney Ch'ng Lancaster (Liz, the out-of-town guest)
Cass Van Wyck (Joy, AirBnB host)
Toronto Fringe Festival 2018 from July 4 to July 15.
For show schedule and more information about this annual Toronto event please visit: https://fringetoronto.com/
Fringe Festival provides the perfect opportunity to experience many of Toronto's theatres at a very affordable ticket price. Some of the top Toronto venues taking part include: Tarragon Theatre, Al Green Theatre, Theatre Passe Muraille, Factory Theatre and The Theatre Centre on Queen Street West.
Inspired by the worldwide fringe movement, Toronto Fringe was founded by local indie artists in 1989 to offer the "fringes" of the performing arts community a platform to create art at a grassroots level. Since then, the Toronto Fringe Festival has become the largest theatre festival in Ontario, showcasing 150+ productions every July at 30+ venues around downtown Toronto. Throughout its three decades of growth, Fringe has kept the indie, grassroots spirit alive. Member of the Canadian Association of Fringe Festivals (CAFF) and World Fringe.