Let's face it Toronto, we got a pretty decent winter last year. Decent for me means not having to brace the frigid windchill, shovel endlessly, and worrying about salt stains on my boots. For me snow should be seen out of the city except for a nice blanket of fresh snow on Christmas Day. So, what are we expecting this year?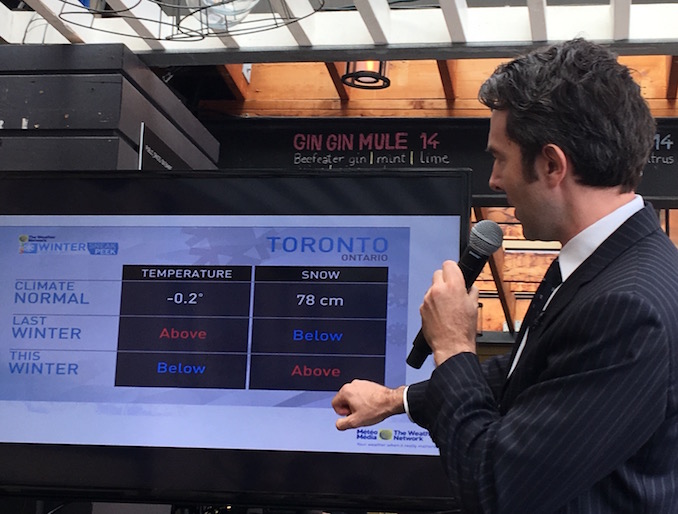 I found myself seated next to Chris Scott, Chief Meteorologist at The Weather Network, over lunch presentation hosted by Columbia Sportswear recently at the Drake Hotel and if anyone can tell us about what to expect it has to be him. With a Master of Science degree in Atmospheric and Space Science from University of Michigan as well as a combined Honours degree in Atmospheric Chemistry and Atmospheric Science from York University, Chris is the ultimate weather authority and enthusiast.
What should us Torontonians expect this winter?
Chris: The headline for Toronto is what you saw last winter is not what you're going to see this winter. We expect a very different weather pattern.
WHAT? NO.
Chris. Yes. Last winter El Nino dominated most of Canada including the GTA so we did see some cold outbreaks of air but most of our winter last year was mild. We didn't see a lot of snow. It was one of those great winters to get around.
Unfortunately for this winter it's looking different. But if you love the outdoors it's looking better for you. We expect to see below normal temperatures over the course of December, January and February.
What are below normal temperatures?
Chris: Our average temperature for that time of year sits around 0 celsius to around -1 celsius. So, below normal on average would be a couple of degrees below that.
That doesn't sound too bad!
Chris: You have to remember how weather works is that it's like a roller coaster so we try to average all the ups and downs. That means we'll probably see some pretty sharp downs and probably some days that will be above normal. Overall, if you think about the last few years, think about this upcoming winter more like the ones we saw two and three years ago.
I'm looking around the room at all the stylish new technology in winter wear. How do we prepare?  Is it going to be call in the troops type of winter?
Chris: It means you're going to need a warm coat and snow boots, definitely! And be ready because we could see an early taste of winter. It doesn't necessarily mean the snow is going to stay but we think there will be an early shot of winter in November but more of the activity will happen later in December.
So, do Torontonians whine a lot about the weather?
Chris: (laughs) Torontonians are the same as any other Canadians. We all feel snow is great when it's not an inconvenience. Everyone wants snow on Christmas eve and everyone who wants to go skiing or tobogganing loves snow. But if you've got to get to work on a Monday morning the last thing you want is to shovel out of a snowstorm.
How do you forecast so far in advance?
Chris: Beyond two weeks the picture of weather is very fuzzy so we can't tell anybody that it's going to be a white Christmas. We can't say that in February there will be a storm. But what we can say is that we can look at the overall signals we see in the oceans and what's happening around the world to help analyze what we think will happen.
Do you love or hate winter?
Chris: I embrace all kinds of extreme weather! I love sunny days to be with my family but from a professional interest standpoint I love when things are extreme. That's when I think I can help people the most by telling them what's coming and to be prepared.
What outdoor activities do you love in the winter?
Chris: I grew up on a farm so I love snowmobiling in the winter. I hope to go skiing with my family this winter. My daughter loves tobogganing. Last winter she was disappointed that there wasn't enough snow but we'll make it up this year.
Where are the best tobogganing hills?
Chris: Near the Escarpment there are some great hidden gems. In Toronto there are some good ones – obviously Riverdale is a classic but also in North York there's G. Rossler Park
Learn more about Chris Scott via the Weather Network website.