Terra Fine Dining Restaurant in Thornhill is celebrating its 20th anniversary. The Markham based restaurant serves up classic dishes along with excellent wine night after night. I was lucky enough to be able to sample a few of the delights the menu has to offer.
Sitting down at a large oval shaped table fit for a queen, I browsed the wine menu and settled on a 2013 Malbec.
I supped my gloriously full bodied vino as my guest and I deliberated what we would like to choose from the appetizers, eventually settling on scallops served with pork belly and an array of fresh oysters.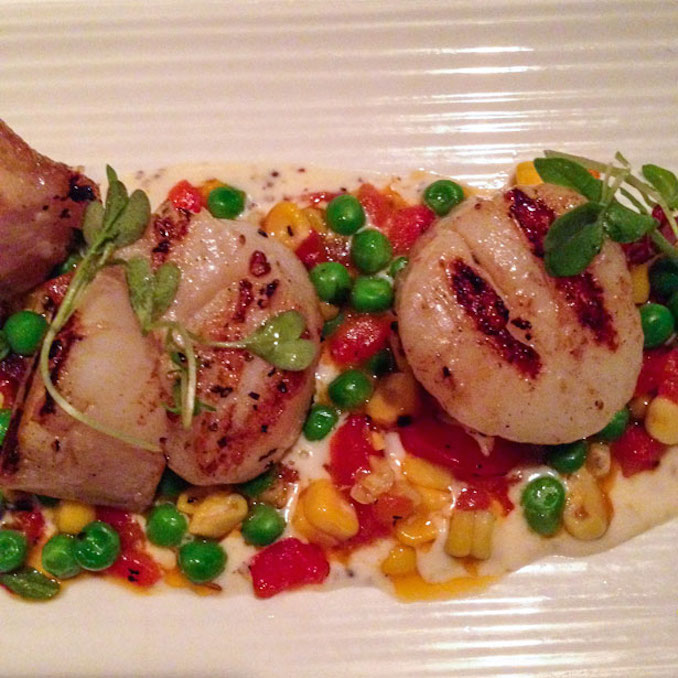 The oysters were quite the treat and came with the usual garnishes of relish and tabasco. We ordered two New Brunswick Beau Soleils, two Raspberry Points and two Lucky Limes, my favourite of which was the latter but all tasted gloriously fresh.
The scallops were large and juicy; cooked to absolute perfection and complemented by the tiny serving of pork belly. Dressed in a Yuzo & Chile sauce, I found sweetcorn to be an unconventional choice but it definitely worked.
After the joy of the starters, the mains certainly did not disappoint. We ordered a T bone steak (served medium rare) and an Ostrich Fan (also medium rare.)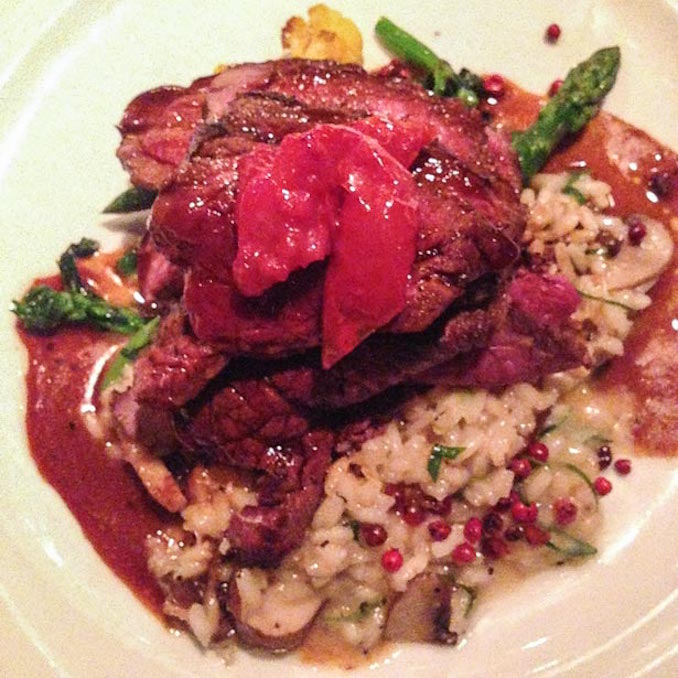 Before we got the chance to chow down on our meat, we were offered a palate cleanser in the form of a delightfully tart lime sorbet, which very much did the trick.
When we ordered I was wondering whether I ought to have ordered a steak for myself, but when my ostrich arrived sitting on a bed of delicious risotto and garnished with sundried tomatoes, I was instantly overjoyed!
Not only did I LOVE the flavour of the meat, I found it to be a really interesting alternative to steak. In some ways it had that gamey flavour but also very much had a melt in the mouth quality.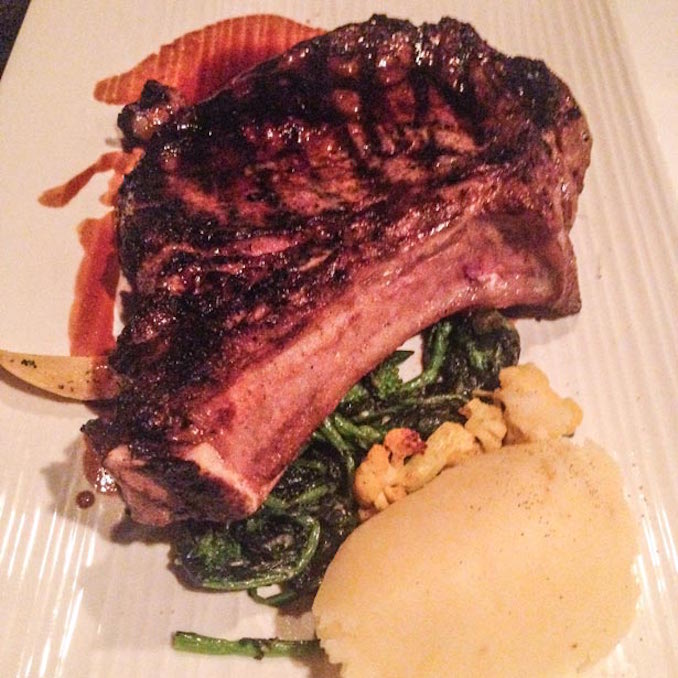 My partner's T Bone Steak was divine, although perhaps could have used some kind of peppercorn sauce to garnish. The meat was delicious and cooked to the standard I would expect.
Although I was considerably full after enjoying every single last bite of my ostrich, I just about had room for a dessert. There are plenty of excellent choices on the menu, but I opted for the Dulce de Leche cheesecake, which sounded way too good to pass up.
A pre-dessert treat of a taster of cheese and crackers was presented to us, which I gratefully washed down with the last mouthful of my Malbec. I love unexpected cheese!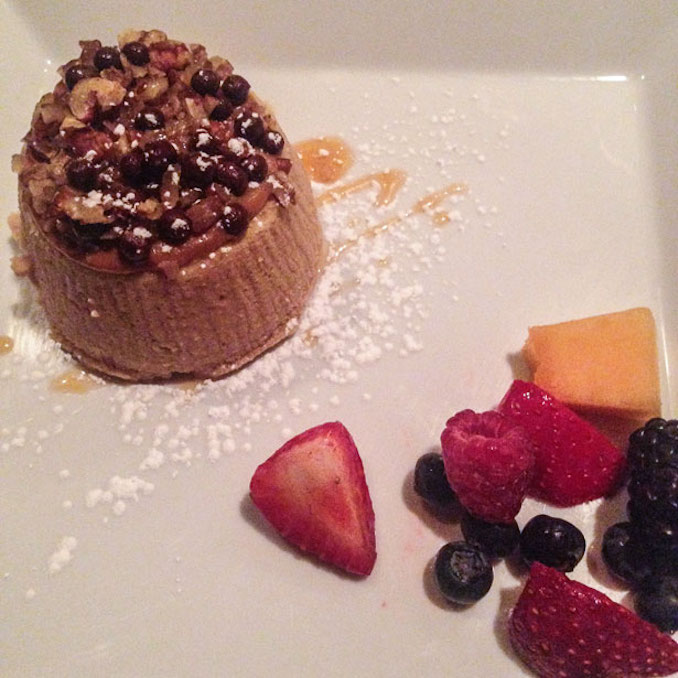 Making a last minute decision to order an Irish coffee, I looked on in lust as my cheesecake arrived. It was all kinds beautiful plus served with a welcome helping of fruit, which helped cut through the density of the cheesecake.
The Irish coffee was a welcome addition and a great way to round off the meal in style.
Patting our bellies in glee, my partner and I got in our awaiting car and made our way back into the city, vowing to return to Terra!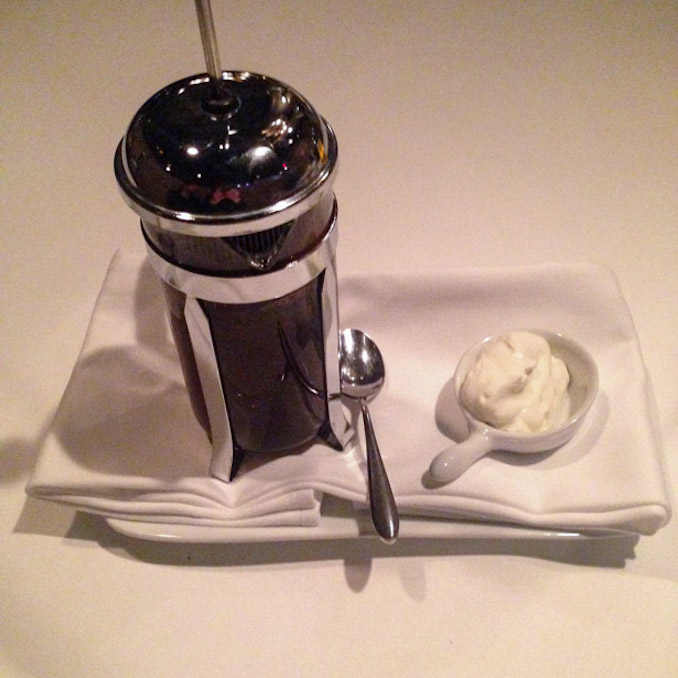 Thanks very much Terra for having us and a BIG thank you to our fantastic driver from New Vision Limousine Services.
Terra is located at 8199 Younge Street, Thornhill. Visit their website or call 905 731 6161 for reservations.