Stevie Crowne has been transforming vintage clothing since he was in high school. Now 22, his collections consist of reworked high fashion acid wash t- shirts, embellished and painted leather jackets, dyed and distressed denim, handbags, jeans, shoes, and accessories. Everything in the Stevie Crowne Collection is considered Eco-Friendly because of the methods he uses to recycle and revamp vintage classics.
Toronto is his latest stop so far after showcasing through Fashion weeks across Canada and selling through multiple retailers in Saskatoon, Vancouver, and Toronto. He allows his target demographics to place custom orders to make his clients visions come to life through collaborating.
by Robin C.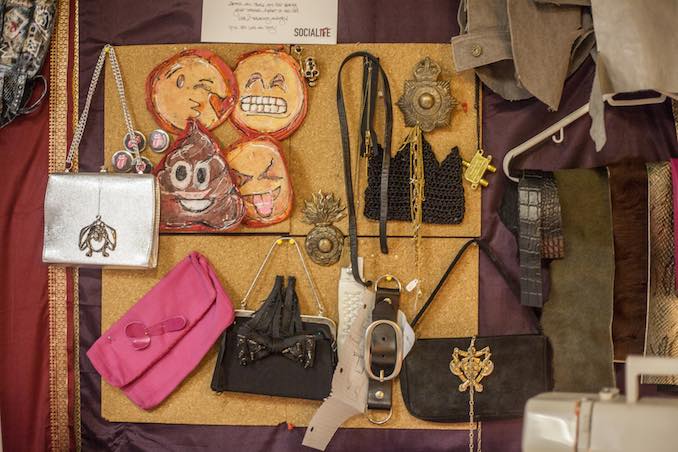 In front of my desk, I typically keep an inspiration board filled with swatches, materials, notions, and trimmings. Other accessories in the works are usually placed up here during their finishing stages.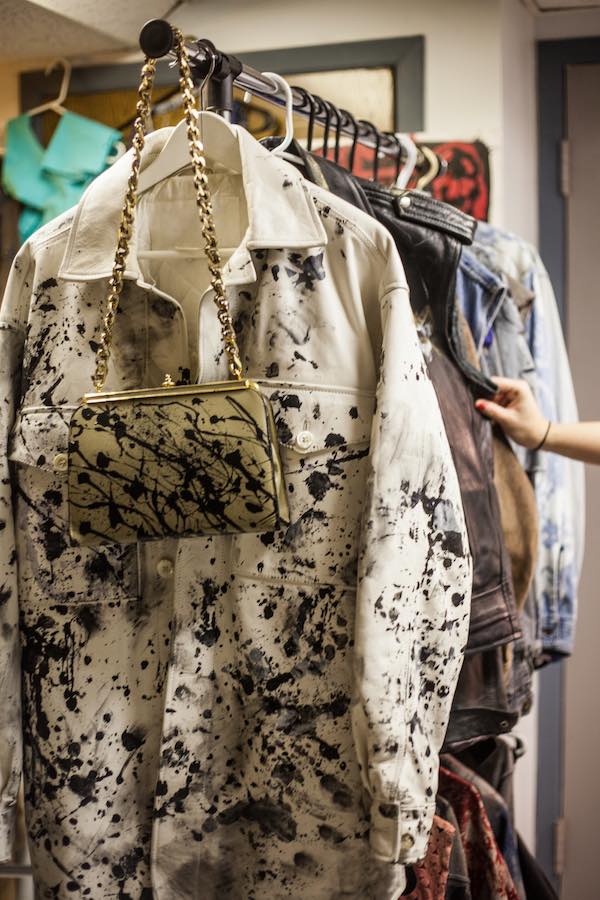 I created an acid wash + splatter themed collection for SS16. This white oversized jacket was an extension to the inspiration, and I worked on different splatter/paint techniques to bring similar elements into Fall-Winter 2016.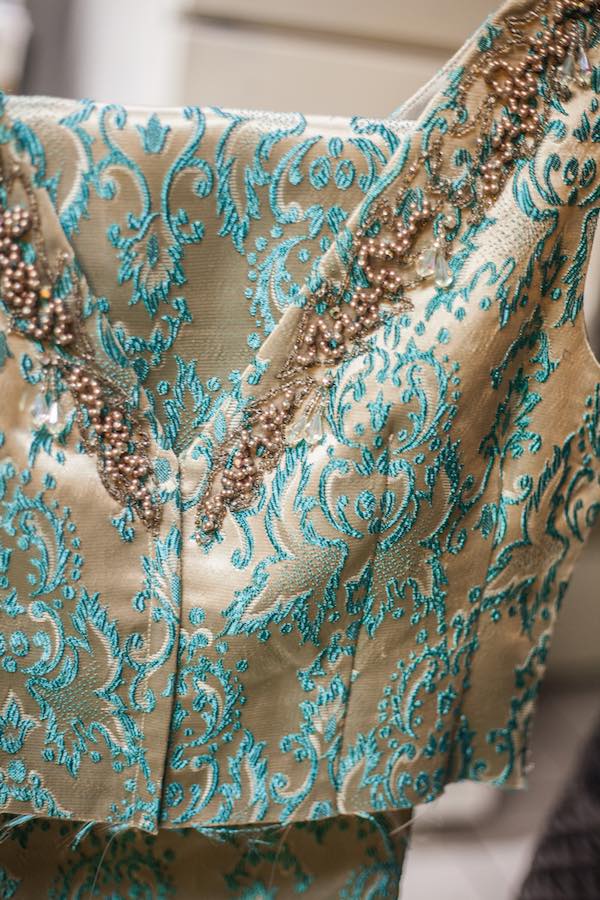 For the Holiday cocktail party season approaching now, I wanted to separate vintage dresses into crops and high waisted skirts. This is my first design in the making. It features encrusted beadwork to contrast the silver and blue damask pattern.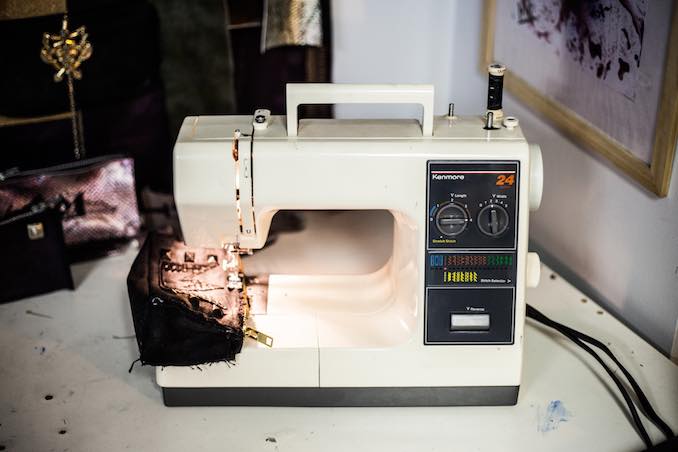 I recently finished my first run of six clutches which I promptly named the Crowne Clutch Collection. They are created with surplus denim materials + leather/reptile skin patchwork symbols. I have been perfecting the patterns and sewing techniques since September.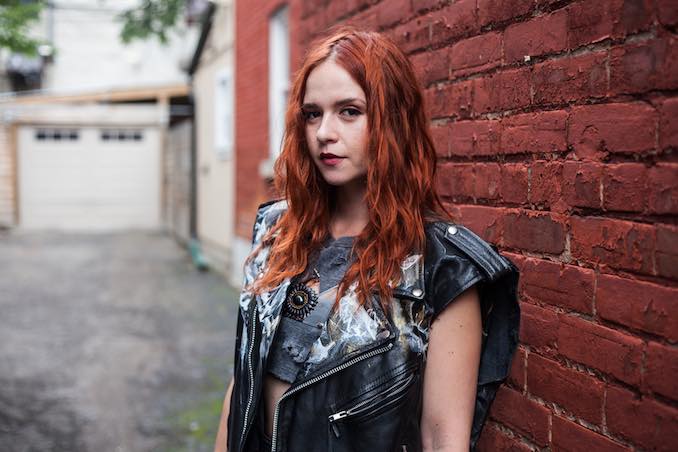 For a Stevie Crowne fall 2016 look, I styled distressed crops with crown patchwork and hand painted leather jackets. This jacket was created in collaboration with Toronto Artist Jordan Clayton. If there is anything I enjoy most as an artist, it is the art of collaboration. (MODEL IRENE ELLIOT)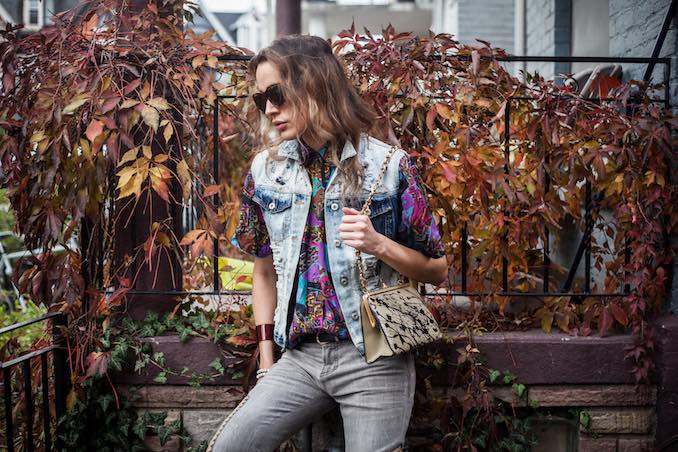 This is an example of a typical denim vest I bleached and distressed, styled with a Pre-Fall clutch I garnished, splattered, and added a golden snakeskin weaved chain to add a luxurious element to the grunge themes I am known for in my collections. (MODEL ROBIN CARRIERE)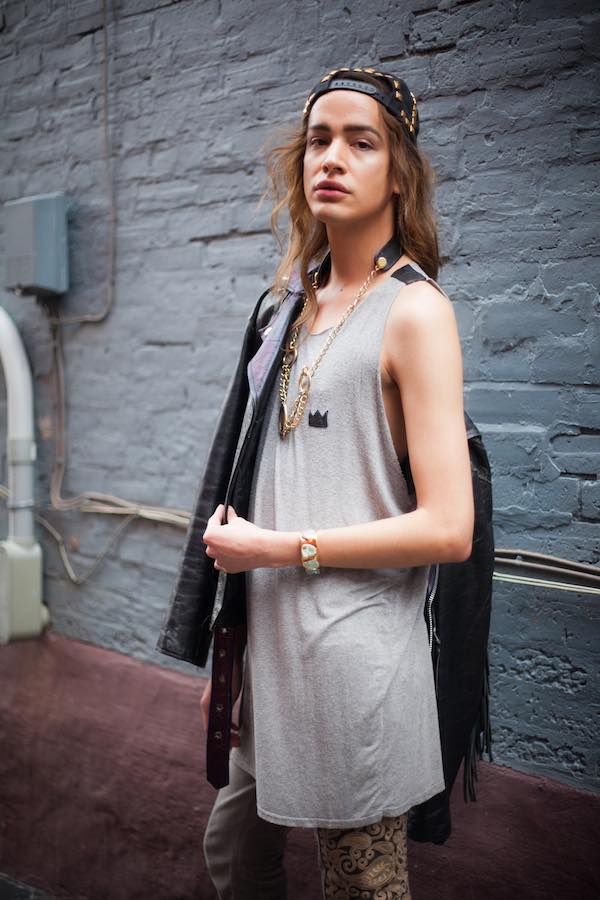 From scratch with discarded fabric that was given to me, I designed a long hem tank top with authentic leather crown patchwork and shoulder details.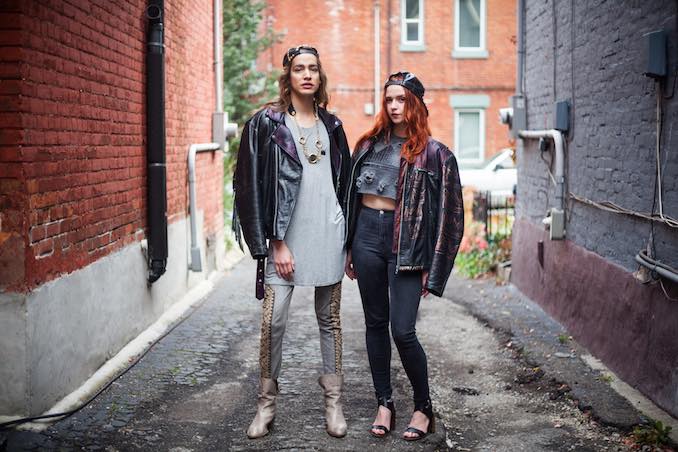 I re-create and design styles in my gender fluid vision mind frame. I never design a garment specifically for a female or male, but for a human. It is too restricting in this day and age to design exclusively just for one market demographic or gender. We are now in a society where gender norms are being forgotten and there are no rules.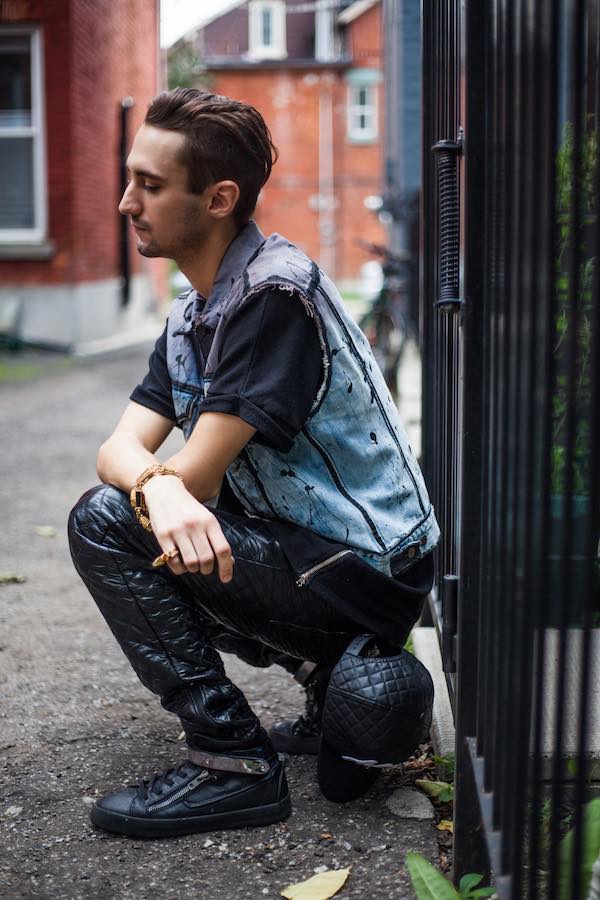 I have been blessed to be able to make a living doing what I love in Toronto since moving here in March. Designing collections in collaboration with 69 Vintage for FAT in April and doing my own Capsule Collection for Black Market Vintage over the summer was a benchmark. Although I am happy to be doing my own collections now, I will never forget the people who pushed me to keep exploring my artistic boundaries since the beginning.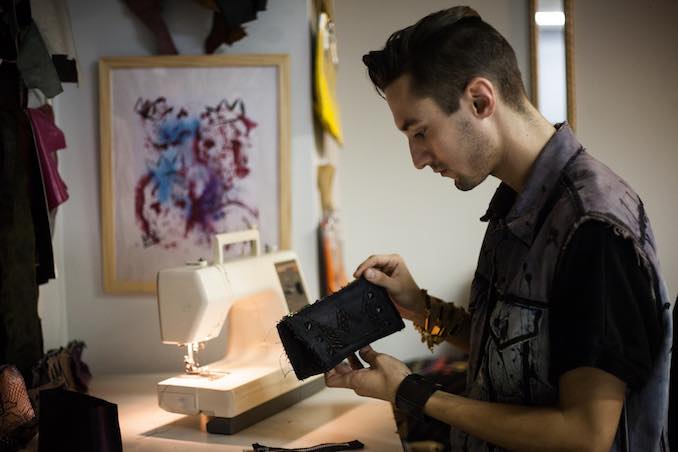 Late nights and early mornings are common in my schedule. Things happen fast in this business which can make it stressful. It can be difficult at times to have a continuous creative flow when simultaneously taking care of the business side of fashion. For me personally, it is important to keep the muscle active daily through meditation, sketching, and thinking of new ideas.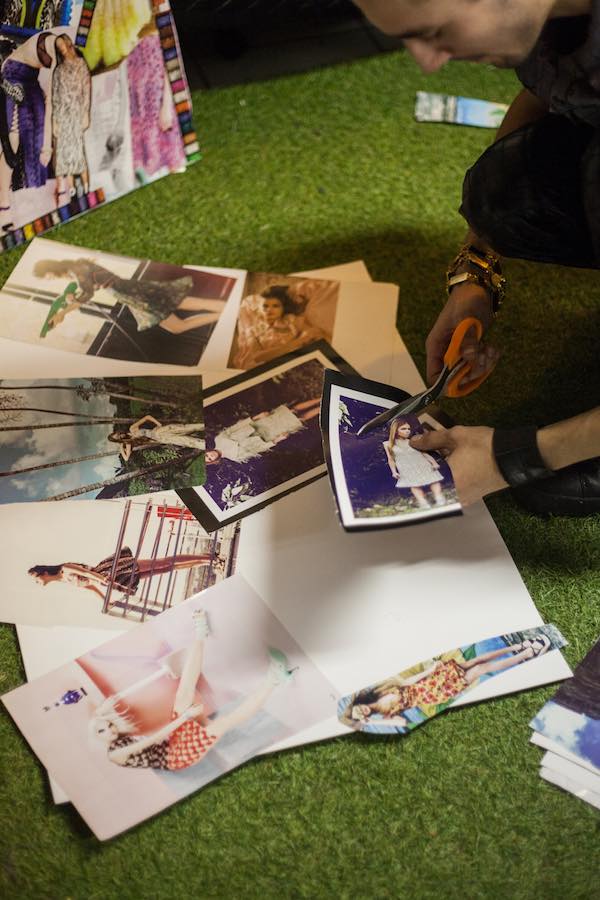 This brings us to the importance of mood boarding as much as I can. It gives me a care-free approach to creating and visualizing. I typically call upon my friends and team to view them before doing shoots with me.
***
What hood are you in?
Little Portugal
What do you do?
I rework vintage clothing as well as design handbags and other garments from scratch. I produce multiple collections a year. Some are collaborations, capsule collections, and custom pieces for my multitude of clients from across Canada.
What are you currently working on?
I just got offered to showcase my new pre-fall and fall 2016 collection in a runway event in mid November which I am now rushing to add the finishing touches to. I am also working on custom leather jackets, t-shirts, handbags, and accessories for my personal clientele.
Where can we find your stuff?
You can view my collections, press snippets, eco-fashion blogs, and place orders online at StevieCrowne.com. I am always uploading my work onto my Instagram and share lots on my facebook page.