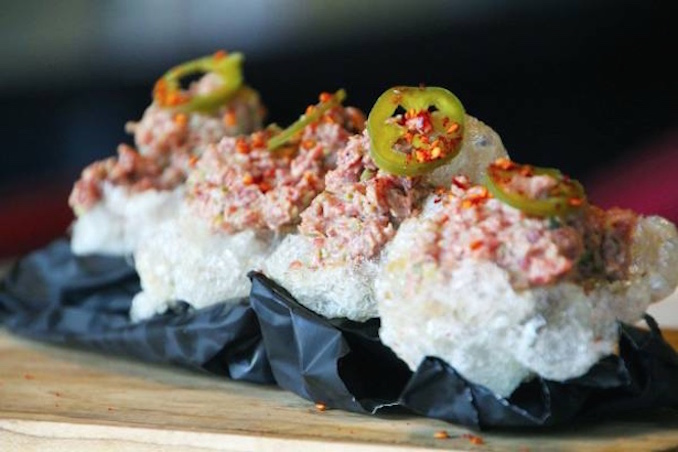 The Carbon Bar sent us a fall recipe for our readers to enjoy. Try this Bourbon Steak Tartare and let us know online how it turned out.
Bourbon Steak Tartare
Serving Size – 4
Bourbon/Mustard Base
Ingredients (yields approximately 1⁄2 cup / 125ml)
-3 tbsp. (1.5oz) Bourbon
-3 tbsp. Dijon mustard
-1.5 tbsp. Ketchup
-1.5 tbsp. Mayonnaise
-3 dashes Tabasco or hot sauce of your choice
-2 dashes Worcestershire
Method:
Whisk all the ingredients together, adding more bourbon or hot sauce as desired.
Tartare
Ingredients
-12oz (350g) diced tri-tip (sinew and excess fat trimmed off)
-2 tbsp. Fine chopped flat leaf parsley
-1 tbsp. Fine chopped cornichon
-1 tbsp. Rough chopped capers
-2 tbsp. Fine diced shallots
-6 tbsp. of the Bourbon/Mustard mixture (about 3⁄4 of the base to start and more if desired)
-Pepper to taste
-Salt (preferably kosher or Maldon salt) to taste
Note:
The Carbon Bar uses Tri-tip for its steak tartare – the flavour and texture of the cut is just right for this particular application. However, sirloin or tenderloin are great alternatives!
Preparation:
Dice the Tri-tip to about 5mm / 1⁄4" dimensions. A smaller dice yields a finer texture, a larger dice yields a coarser texture.
Method:
1. In a large mixing bowl, add all the ingredients except the meat, and lightly stir them together with a fork.
2. Add the diced Tri-tip. Integrate the ingredients gently but thoroughly.
Season to taste with salt and pepper.

To Serve
Spread onto crustini, toast, or crusty bread of your choice.
Alternatively, spoon the tartare into quenelles and have you guests spread it themselves!
Note: Steak tartare should be served cool. Garnishes can include: a good quality olive oil, maldon salt, micro greens or pickled jalapeno slices.
Enjoy!