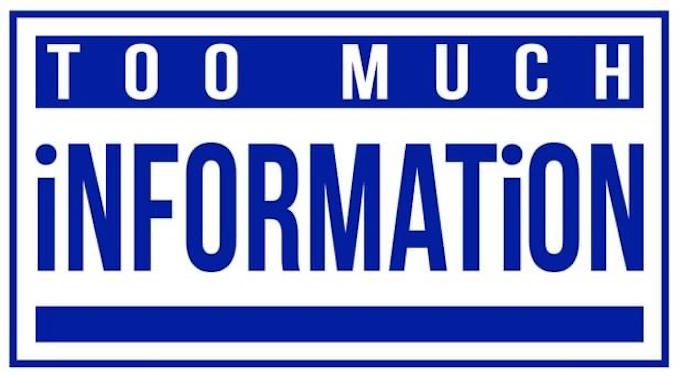 Debuting Tuesday November 18th on SUPER CHANNEL 'Too Much Information!' sets out to prove that maybe there's actually no such thing as TMI. At least, not on this all-new No Holds Barred panel show.
This isn't the first game show on Canadian television to put comics in the catbird seat. But unlike other network originals, retro revamps and game shows floating around in the sometimes stagnant waters of Cancon, this one doesn't have much of a filter. As a comic, I dig that.
I'm not going to bullshit you, TIA'ers. Game Shows are usually about as appealing to me as anything found on the daytime television menu. From plastic soap opera plots to studio audiences baying like wolves in heat every time someone throws them a free Magic Bullet. I have no stomach for 95% of the cultural void that eats up the dial between the hours of 9 to 5. In fact I have no stomach for much of ANYTHING that happens during that time. And for me, game shows sit at the top of the great dung heap. But this ain't network television. And baby, this ain't daytime
This also isn't your typical game show. This is something even I would watch! At least if I was home. I'm not home much… I should be home more.
Anyways, this isn't about me.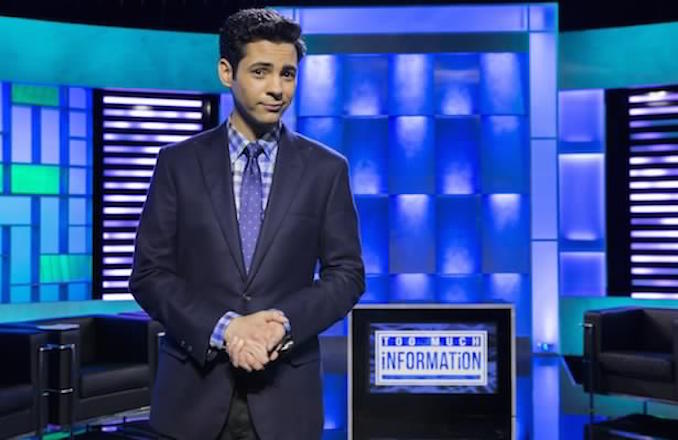 Too Much Information pits two panels of… well, panelists I guess… against each other. Riffing on the topic of the day – Politics. Sex. Religion. You know, the classic non-starters. Each team of panelists waxes on the subject at hand, vying to outwit, out-banter, out-shock and generally out-clever their foes across the isle. Moderated by the affable Norm Sousa (Discovery Channel's Never Do This at Home) who at times looks like a mischievous kid who stole his Dad's suit and set out to host a late show. His boyish face lights up when someone says something truly off-key and really lays into an opposing panelist. After all, that's the beauty of a show that airs at night and the majority of your guests are comedians – there will be some shit said.
Sousa kicks things off with a monologue of sorts, testing the electricity in the water. He does a few setups on the theme of the show, to get the crowd warm & loose. It's definitely not the daytime audience they're looking to draw. The crowd in these seats comes ready for comedy. Familiar faces saying very naughty things, almost as if the camera isn't even there
The guests of Too Much Information are a who's-who of Canadian comedy, television and radio. It's like a table at the Junos… or the Genies… Or the TIFFs… which one is our Golden Globes again? Sitcom stars and actors go tete a tete with the cream of the Canadian comedy crop. And it looks like they can definitely hold their own. That's the fun of TV that's a unfiltered – you don't have to pull the punches. The guests on this show are here to cut loose, kick back, and kill. It's a free and easy vibe where no one's afraid to speak their mind. And it doesn't hurt that most of the guests know each other, in passing at the very least. That's kind of how Canadian television works. It's pretty incestuous. Purely by population, our TV business is Iceland compared to Uncle Sam's booming China.
Too Much Information hits the air on Super Channel, November 18th. Tune in, people of Canada! It would be right friggin' EH to see Cancon with attitude stick around for a while. Besides, you're going to have to watch it if you want to know more. We don't want to give you TOO MUCH INFORMATION.