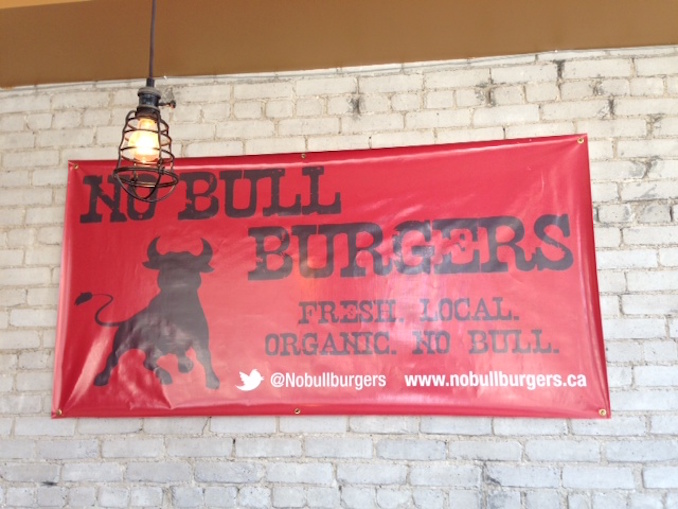 Sometimes when you're looking for food, you just want the classic burger & fries. Well guess what Toronto? No Bull Burgers has just what you're looking for to satisfy that craving and they are doing so without any of the fillers or processed ingredients. Just plain, pure and simple hamburger goodness.
No Bull Burger has been serving customers in the Queen and Parliament area for some time now however co-owner (part of the father/son team) Tony Tsakanikas decided it was time to expand the business and venture into the Upper Beaches area. Just recently, No Bull Burgers opened at 1019 Kingston Road in a bigger, brighter and more family-oriented expansion.
When I sat down with Tony, he told me: "I just recently punched a home in the area and fell in love with the neighbourhood. There was no doubt in my mind that this area would be the perfect spot for our second location."
As soon as guests walk through the door, they are treated to a variety of fresh, local and organic burgers prepared and treated on the grill-top. All burgers in the menu come with your choice of toppings (the usual: ketchup, mustard, pickles, etc.) as well as the option for guacamole,caramelized onions, sauteed mushrooms, and roasted red pepper sauce (all free of charge).
But if that had not sold you on No Bull's brand of burger offerings, then perhaps their signature burgers like the Redneck ($8.95/burger only), which has beer battered peameal bacon, two types of cheeses, homemade whiskey BBQ sauce and a fresh 4 oz. house-made patty, made fresh with local and organic beef. Topped with lettuce and tomato. When I chatted with Tony about the signature burgers he told me, "A lot of the Signature Burgers came from trial & error over time through development with the staff. Sometimes we'll change some of the signature burgers up and we'll have regular customers asking where that burger has gone." In chatting with Tony, he told me that they are hoping to develop a monthly feature burger, like a Turkey Thanksgiving Burger perhaps. I tried out the Redneck Burger and it was delicious! All the toppings were fresh and the burger was juicy. The biggest highlight was the beer battered peameal. A great burger, in a great spot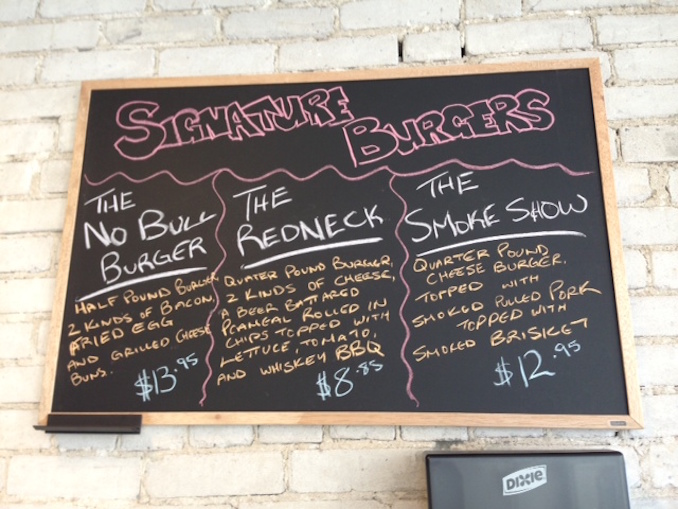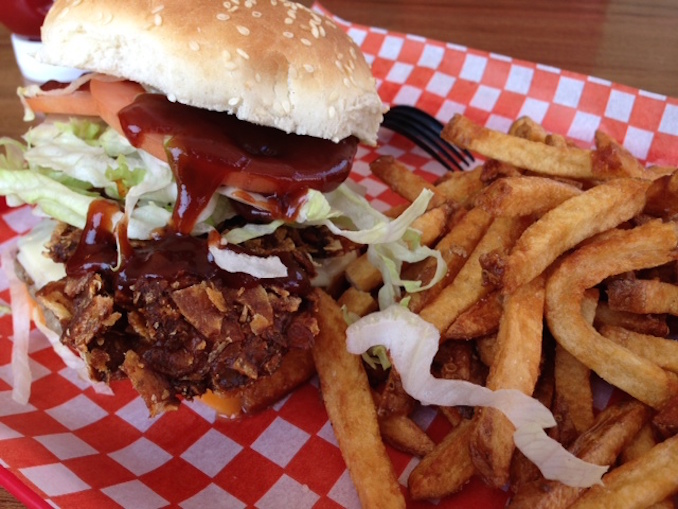 But if burgers aren't your thing perhaps, then No Bull has other offerings: poutine (ranging in price between $5-9, you can get everything from Cheeseburger to Pulled Pork) or milkshakes (served up with Kawartha Dairy's famous ice-cream) or perhaps you're feeling like sandwich today (brisket and pulled pork on the menu, daily).
All food is made ready to order and takes about 8-12 minutes from time of order. Tony tells me, "Since we've opened the new location, we've had a really great response. There was a demand for food is this area and now, we're offering it." He tells me that with this location since its bigger than the original Queen and Parliament location, people can sit down, relax and enjoy their burgers without hurry."
Check out No Bull Burgers, one of Toronto's best kept (burger) secrets.