The King Street West area offers many dining choices. The area that has splashy bottle service nights that spill onto the streets isn't just somewhere to go when the stars come out. Brunch seems to be the next sought-after meal ticket in town with VELA making way for an impressive visit.
Located at 90 Portland Street at King Street West is this stunning restaurant that checks all the boxes for a night out…and an ideal Sunday brunch gathering. The lush greenery in the nice weather lines the exterior space as you approach the entrance. Along the path, their patio offers a coveted and shaded seating area to lounge and enjoy live music on warm days while sipping on Mimosas and Espresso Martinis. Go to cocktails always but it's also worth switching up a "Mooncake" or "Tropical Storm" – the latter a mango and ginger beer concoction has become my new crush.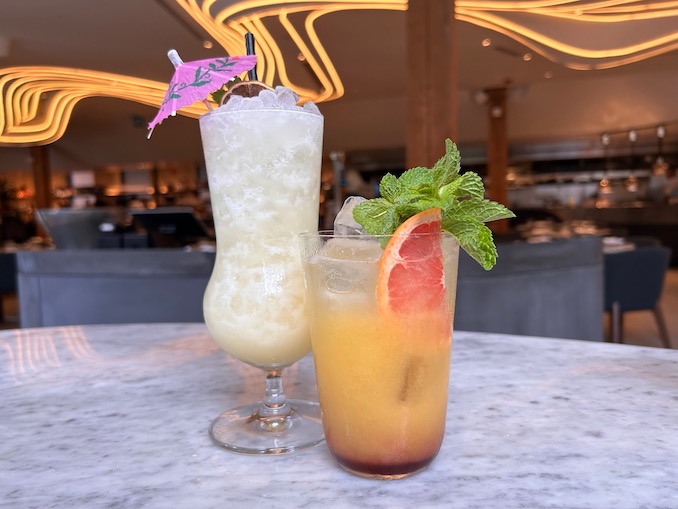 Enter the glass doors you can't help but to set your gaze on the lighting that invite you up a few steps head up to the inviting main indoor dining room. Immediately your eyes can't help but to follow along with the flowing waves of unique lighting that travel throughout the space. It's sophisticated leather banquettes with soothing leather seats feel and like big cloud hugs and with enough table area to order up several dishes.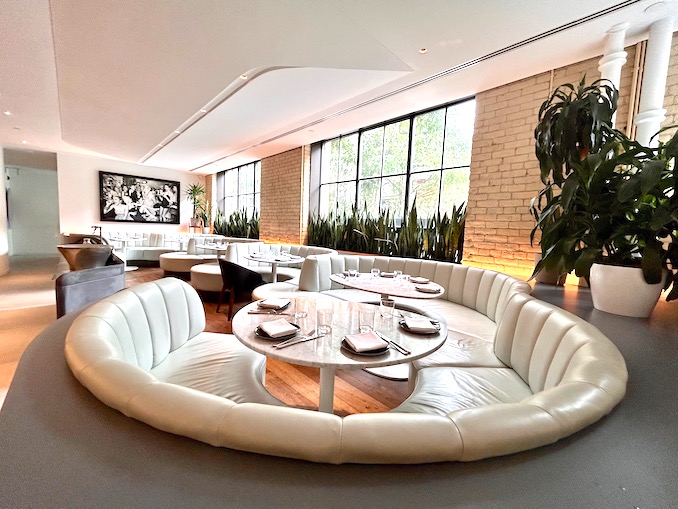 Brunch here is elevated. Truly. Immediately catching our attention is the featured Norwegian Salmon Tower. A generous tiered presentation that gives the diner the opportunity to build all the flavours and personalize with fresh sour dough bread, lavash and gnocchi fritto. Garnishes are freshest of the season. Local tomatoes and cucumbers we happily enjoyed those in along with the fresh dill fronds and the lightly whipped cream cheese.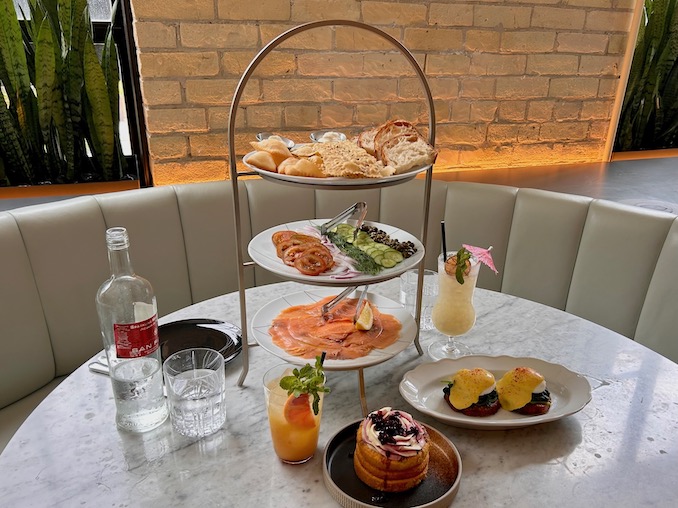 The pancakes are cooked to order and stacked ready to be devoured. They are flavourful and filling. More like a dessert with a sweet topping of elderberries, vanilla Chantilly cream, and sour cream. Ideal for sharing as a dessert.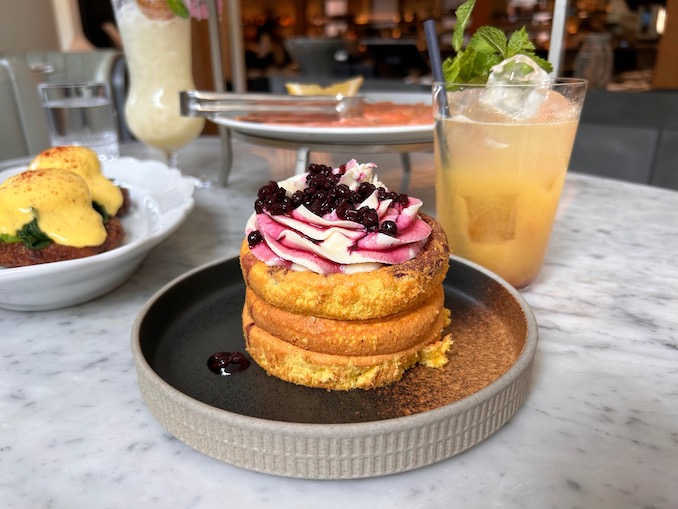 Eggs Florentine Benedict here is delicious. Perfectly cooked eggs over perfectly sauteed fresh spinach are lovingly presented over a crispy potato latke instead of  the standard English muffin. Then, the masterpiece is topped with browned butter hollandaise. Dreamy.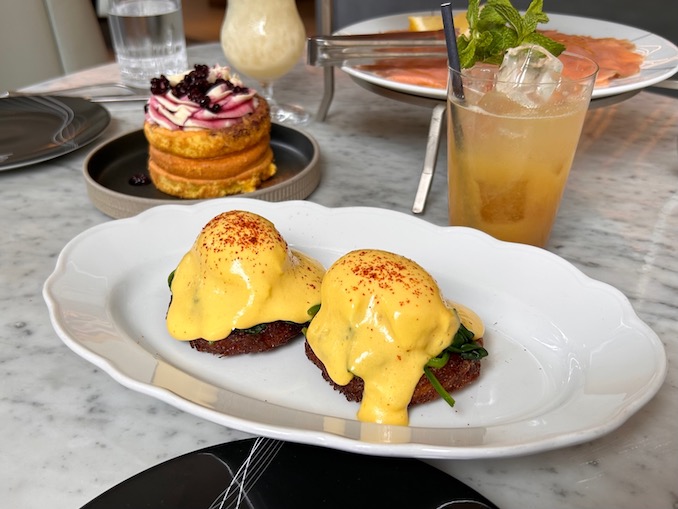 The menu is full of star-studded temptations and if you simply cannot decide they have a fun way to at least get you started. Recommendations based on your astrological sign is a fun way to explore the menu. Of course, the staff are always happy to help.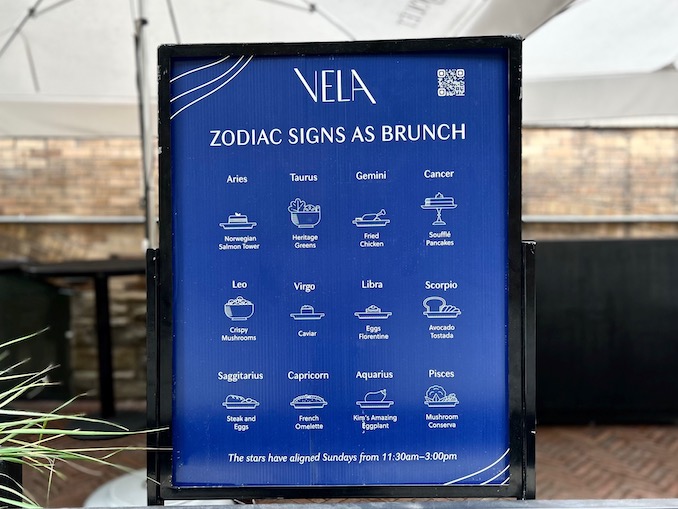 But note, larger dishes are worth sharing including "Kim's Amazing Eggplant" a 3-egg omelette with roasted eggplant and XOXO sauce as well as their Brunch Burger.
Brunch on Sundays at VELA isn't just about the food and drink. It's also entertaining with live music — on warm days diners will experience talented local musicians on the patio. They are indoors when the weather cools.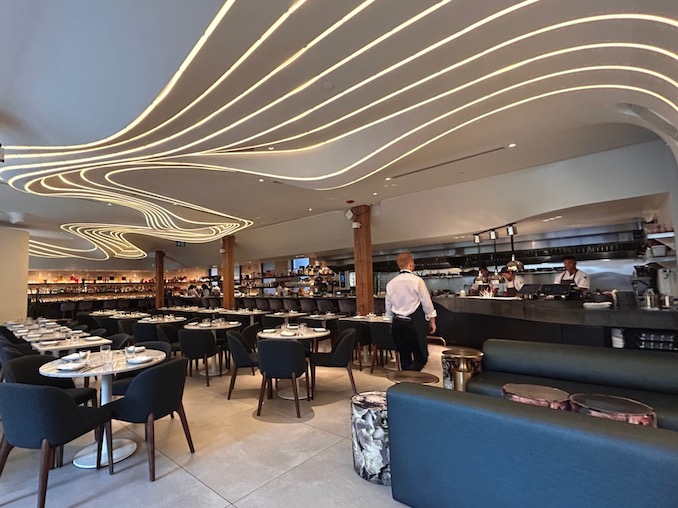 During TIFF they also have Sunday brunches with cinematic themes. Makes sense. They are within a good walking distance to the hub and a great choice. Reservations are recommended. Walk ins are available on a first come first serve bases. By the way, VELA also plays host to several film industry dinners and events.