Earlier in May, SiriusXM Canada announced PARTYNEXTDOOR and Friends. The event was planned to be hosted at History and it marked the official launch of Mixtape North, Canada's very first 24/7 Hip Hop and R&B channel on SiriusXM.
This concert also marked the ending of PARTYNEXTDOOR's 7-year hiatus from performing. This homecoming facilitated by SiriusXM Canada was bound to make headlines upon the announcement. Although the event was 19+, the tickets were free to selected fans and were digitally delivered in a raffle-based system.
A few days before the highly anticipated event, I was able to speak to Mixtape: North's curator and host DJ Frank Vinatra, alongside Michelle Mearns, Vice-President of Programming & Operations at SiriusXM Canada.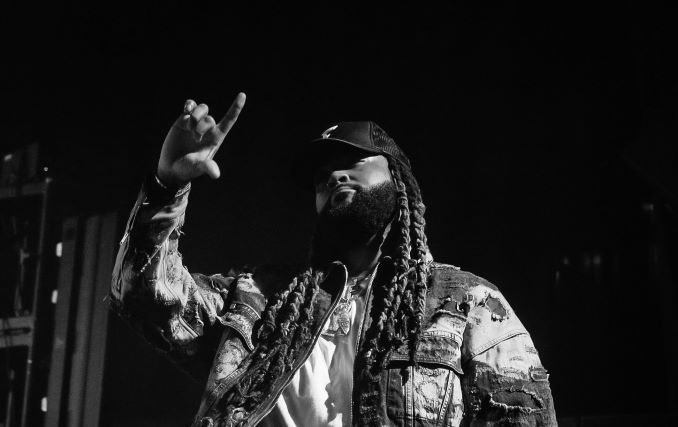 We started the conversation with anticipation of the event occurring and how it has been in the works for about a year. This quickly led to a few questions regarding the channel.
How do you think Mixtape: North will affect the future of the Hip-Hop genre in Canada?
DJ Frank Vinatra: "I think that it's a great platform that is definitely needed in the landscape of Hip Hop and R&B in Canadian culture. We have probably the largest acts in the world, Drake, The Weeknd, and Justin Bieber if you want to classify him as R&B sometimes. Also, all of their label artists such as PARTYNEXTDOOR and Nav, and the list goes on. There hasn't been a platform to celebrate our own, that's what Mixtape: North is all about. Our past artists, our current artists, and our future emerging artists that are coming too."
Michelle: "To add to that, we're exporting some of the biggest names of Hip Hop and R&B in the world. When launching Mixtape: North, we asked ourselves – what is the Canadian music scene missing? We realized that there was no home for Canadian Hip Hop and R&B. It also wasn't just about spinning tracks, we wanted to go deeper. What we really focus on is not just listening to the music, but telling their stories and facilitating interviews."
What are you most excited about when it comes to Mixtape: North?
DJ Frank Vinatra: "I love finding new artists and finding that gem. With Mixtape: North, we are able to showcase those gems that may not get that certain exposure beforehand. Serving other communities that we have in Canada, we have an indigenous community that is very rich in Hip Hop and R&B culture. There's much more talent than what we have in Toronto, but there is a ton on both the East and West Coasts too. Mixtape: North gives us the opportunity to showcase Canada as a whole."
Michelle: "I've seen that with Victor (DJ Frank Vinatra), there's a glint in his eye when he hears something new that he loves. When I look at the Canadian community of artists, I see how talented these people are, but they do not have a place to be heard. I'm excited to give a platform to those artists and shine a light on this rich genre of music, which is embraced in so many parts of the world, but we simply did not have that home for it."
Are there any upcoming Canadian Hip-Hop or R&B artists that you have your eye on right now?
DJ Frank Vinatra: "Upcoming – there's an artist from Montreal called Skiifall, I like him. Lune Elle is a dope R&B artist and the same with Lavish. Lavish is going to be at the concert tomorrow. Sage Harris is a great artist too. The list goes on, Devonte – there is just so much talent, I can go on for days listing the artists that I love to listen to, but that's just a handful of artists."
Hip Hop in Canada has excelled greatly over the last decade, what do you think has contributed to this growth?
DJ Frank Vinatra: "You can't deny that Drake opened the door wide open for the industry. He's the first artist from here to reach that caliber and level. We also have to look at artists that came before him and that were able to do massive things on an international scale. Like Kardinal Offishall and Maestro Fresh Wes. We also have artists like Choclair, Michie Mee, and Jully Black that were able to set a foundation that Drake, The Weeknd, PARTYNEXTDOOR, and Nav could build upon and kick open those doors. We also have Haviah Mighty and Savannah Rae that are both doing things that make us globally recognized."
Michelle: "Victor nailed it. We had such a rich legacy, but we did not have the global reach that we think that they simply deserve. That's what Mixtape: North does, it honors the history that we have in Canada and some of our legacy artists. But we're always looking at who else – there is so much talent in this country. What SiriusXM does with the Canadian content development initiatives is that we don't just spin tracks, we ask ourselves – how can we go deeper than that?"
"We're always looking at it in a multidimensional sort of way. We have the music of course, but how else are we building that story for our community of artists? It's actually something that we do for all of our channels."
In under 24 hours, I found myself standing in line for the concert. The excitement of the sold-out show was felt before entering the building. Fans wrapped around the entire perimeter of the venue, eagerly waiting for the 7:00 PM entry. As fans patiently flowed in, they were welcomed by an entire line of merchandise made for that specific night.
As the venue darkened and the stage came to life, a surge of excitement rippled through the crowd. The show started promptly with Mixtape: North's programmers: DJ Frank Vinatra and DJ Mastermind, both masterfully MC'ing the night and getting the crowd ready.
Earlier in the week, the openers were announced, consisting of Boi-1da, Savannah Ré, and Lavish. Both Savannah Ré and Lavish proved the unique sound coming out of our city. Lavish was recently being consigned by Chubbs, Drake's right-hand man.
While Boi-1da is commercially known for producing the biggest hits to come out of the country, working alongside artists such as Drake, Kendrick Lamar, Beyoncé, Eminem, and other industry moguls.
The night was filled with surprise performances, with nearly the entirety of October's Very Own roster performing for the roaring crowd. Artists include DVSN, Smiley, Majid Jordan, Baka Not Nice, and Roy Woods. Each of these artists performed at least one of their hits, with the crowd consecutively chanting each lyric back.
Roy Woods had the crowd transfixed by his magnetic presence. His voice effortlessly reverberated throughout History. Performing a high-energy rendition of "Drama" with the entire audience echoing each lyric back to him.
Smiley electrified the crowd with his hit single "Over The Top" during his performance. The track, which gained further recognition when Drake collaborated on it in 2021, served as an anthemic showcase of Smiley's talent, further proving the plethora of sound coming out of the label.
Both Majid Jordan and DVSN share a soul-infused sound. Majid Jordan delivered immersive, emotionally-charged tracks with sensual vocals, ethereal sound, and reflective lyrics overlaid by electronic-infused R&B beats, while DVSN brought forward their hit tracks in the same manner.
The strategic placement of surprise guests from OVO not only elevated the concert's allure but also showcased the collaborative spirit and diversity of the label. The smooth changes between performers and the impressive artistic synergy made clear how carefully the night had been curated by the SiriusXM team.
Each of these performances further solidified how much influence the OVO collective has within the R&B and Hip Hop communities, ultimately reinstating the need for our very own 24/7 Hip Hop channel.
Towards the end, we had PARTYNEXTDOOR performing hit-by-hit in each of his eras. To top the entire night off, Drake came out to the track "Recognize." After the track, he shared with the audience the great feeling he had seen that lineup wrap around the venue in his hometown.
He further spoke about how this monumental performance made him reflect on the eras that he has been through, especially alongside his team and frequent collaborator PARTYNEXTDOOR. Finally, ending by stating that he's genuinely his favorite artist and that he owes a lot of his sound to him. The duo finished off the night with the track "Come See Me," a powerhouse of a single that hit 3X platinum. With this single coming off his project PARTYNEXTDOOR 3, Drake took the opportunity to announce that the highly anticipated album PARTYNEXTDOOR 4 is coming soon.
In an exhilarating display of talent and unity, the Mixtape: North concert presented by SiriusXM Canada and PARTYNEXTDOOR unfolded into a monumental night that etched itself into the canals of Canadian music history. The show ignited a fire within the hearts of fans who had waited years for this moment. With each electrifying performance from the OVO roster and surprise guest appearances, the concert showcased the extraordinary depth and diversity of talent within Canada's Hip Hop and R&B scene, solidifying the importance of Mixtape: North as a platform that celebrates and elevates our own.