With the return of the Fight to End Cancer (FTEC) charity boxing event after a 4-year hiatus, we wanted to find out more about this year's participants and to spotlight their stories for this year's event. These individuals have spent months training at Kingsway Boxing as well as fundraising along the way to prepare for the final count, where they will face off in the ring on May 27th at the Old Mill in Toronto and attempt to reach a total fundraising goal of $3 million. The funds raised will go to the Princess Margaret Cancer Foundation.
Our eighth fighter is 'Marvelous' Mitchell Cairns. This is what he had to say.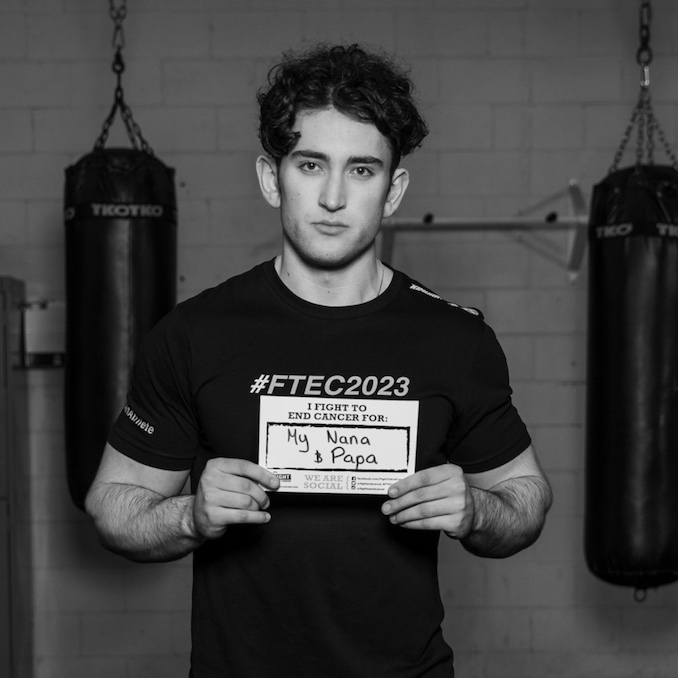 Name: 'Marvelous' Mitchell Cairns
Place of Birth: Etobicoke, ON
Current Home: Etobicoke, ON
How long have you been boxing?
I have been a member of Kingsway Boxing Club for five years now. I began training in 2018 as a form of cardio and cross-training to get into better shape.
How did you hear about FTEC?
I've lived in the Kingsway neighbourhood all my life. I first heard about it through a good friend and neighbour (Jane Watson) who fought in one of the earlier Fight To End Cancer. As a recent graduate of the Sports Media program at Toronto Metropolitan University, we did a documentary on Jenifer Huggins and Kingsway Boxing Club called Ascension in the documentary.
What made you want to get involved?
During the documentary's filming, I learned more and more about FTEC and what it means to Jen and the Etobicoke community. Cancer has touched so many people. When Jennifer came to me after the premiere of the documentary and asked if I wanted to be a fighter, how could I refuse after all I'm learned about the foundation and the people we are helping.
What has been the hardest part about training?
The hardest part of the training has been changing how I train and deal with consistent injuries. I started boxing as a cardio day for my six-day-a-week weight-lifting schedule. Since the start of training, I have had to stop heavy weightlifting and work out for more muscle endurance and repetitions. The change of movement, this had caused my body to have minor injuries throughout the months of training. Watching from the side while my competitor and other fighters got more reps in the ring was frustrating.
What has been the best part about training?
Learning a new sport and consistently being challenged. I feel people nowadays, when they get to a certain age, don't want to challenge themselves physically and mentally. Boxing not only challenges your physical limits but your mental as well. The confidence I have added to my mental health has benefited me tremendously.
What is your advice for people considering becoming a fighter with FTEC?
Understand this is a very time-consuming event/ project. However, the reward of learning a new skill, one that brings confidence to individuals, is something you can not pass up on. When it's all said and done, Fight To End Cancer will be one of the biggest highlights of your life.
Who are you fighting for?
When I started this journey, I decided to fight for my grandparents, who passed away early in my life. It was challenging to see how inclusive other grandparents were and how I didn't fully get that same opportunity. I am also fighting for my neighbour Dora Carvalho who sadly passed away on April 29th, 2023. She was diagnosed with cancer, and thanks to donations and support, she beat cancer and rang the bell! She, unfortunately, contracted Covid a month after, and her body was not able to fight it after cancer treatment.
The gala event and charity boxing match will finally return to the Old Mill Toronto on May 27th. Donations to the Fight Teams can be made at: fighttoendcancer.com.
Read our post about the event.