Name: Rubēhill (pronounced rue-bee-hill)
Genre: Sad funk
Founded: 2016
# of Albums: Zero released, one in the works
Latest Release: Apartment
Latest Video
Bio
What Alex Stavros-Laurie ultimately set out to attain when he embarked upon his latest project was to seize the freedom to write and produce music on terms dictated by no one but himself. He's calling this solo act of defiance RUBĒHILL (pronounced Ruby-hill), a name taken from the main character of Flannery O'Connor's short story A Stroke of Good Fortune. The contemplative nature of O'Connor's prose and the title character's fixation on anxieties resonated deeply with him, allowing the name to connect to the music on a deeper level.
While the lyrics of Rubēhill usually deal with both inner and outer conflict, the music is generally made funkier to make the message more inviting. With a list of influences including (but not limited to) David Bowie, Joni Mitchell, Radiohead, Matt Corby, Curtis Mayfield and Flying Lotus, the sound of Rubēhill is not confined to a single title. Alex was able to effectively channel all of these different influences after hearing Frank Ocean's Blonde and the Gorillaz Demon Days; two records that, with the use of a wide range of genres and unconventional song structures, connect to a great many people in a very honest and unique way.
It wasn't only the eclectic blend of genres and sonic eccentricities within each of these records that helped define the genesis of RubēHill, however. Alex also sees great value in the collaborative approach that these artists have adhered to — the process of a range of artists from different backgrounds working towards a greater common goal. It's a philosophy that he continues to implement in his inner circle of Toronto-based friends: a group of tight-knit and exceedingly talented musicians seeking to nourish a sense of community in an increasingly divided world. He speaks in earnest of the faith he has in the intelligence of music audiences and rejects the notion that people will only be interested if the music is limited to a certain set of rules and guidelines. "People tend to latch on to works of art far more often when they come from an honest place," Alex rambles.
Latest Single:
Apartment
Favourite Restaurant:
I'm having a hard time with this one.
There are so many good ones in this city. Cool Runnings (Main and Danforth) has never let me down.
Favourite band as a teenager:
Alexisonfire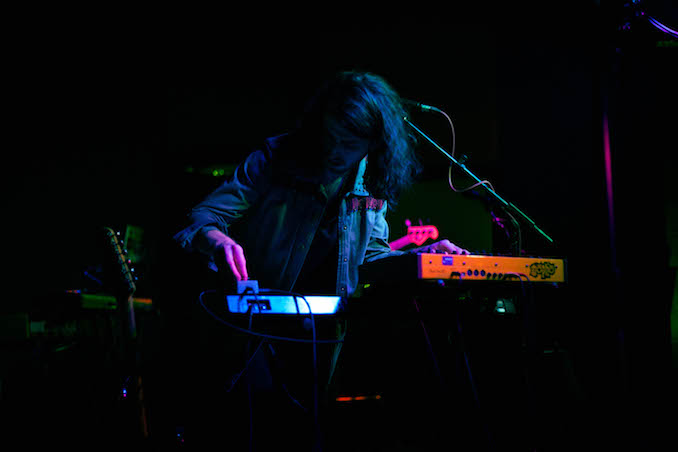 Favourite band now:
Talking Heads
Guilty Pleasure Song:
The Cha Cha Slide
Live Show Ritual:
Excessive thigh stretches. Depends if there's a green room.
Favourite local artist:
Again, I can't pick a favourite here. I think Weaves are fantastic. My good friends Deanna Petcoff and Mute Choir are both writing and releasing some of the best songs around at the moment. My mom is a wicked visual artist/trendsetter. Victoria Gubiani is a Toronto dance artist you have to look out for. I could go on about the local artists I love. You know who you are.
Sneaky Dees nachos, pasta from Terroni or a superfood salad from Fresh?
I actually haven't eaten at any of these places, but that superfood salad is probably really tasty.
Queen or College St?
Queen St, strictly based on the fact that a ton of important things have happened in my life on Queen St. Nothing against College.
Trinity Bellwoods or Highpark, Riverdale or Kew Gardens?
I've only been to Trinity, so I guess that's the answer. I've heard very good things about High Park, though.
EP or LP?
EP's are a very effective way for artists to bring people into their world without the stress and budget that comes with a full LP, especially in this day and age. That being said, you can't beat a really well-executed LP.
Early bird or night owl?
Night owl, although I'm way better at getting things done in the early morning. 'Tis a curse.
Road or studio?
They both have their upsides and downsides. The studio is a sacred place, but the studio experience is null if you have nowhere to showcase the work. The road can be exhausting, but so can the studio. This one is a tossup.
Swiss Chalet or Roti?
ROTI
Where can we follow you?
Any shows or albums coming up?
Aiming to have a record out in the fall!