There's an undeniable allure to life in a small town. Everyone seems to know everyone by name. Everyone greets each other by making eye contact and smiles. Travel within Ontario has seen a surge in popularity over the past decade and more so in recent years because of you-know-what. Many of us have become quite taken with the charm of quaint locales like Prince Edward County (PEC).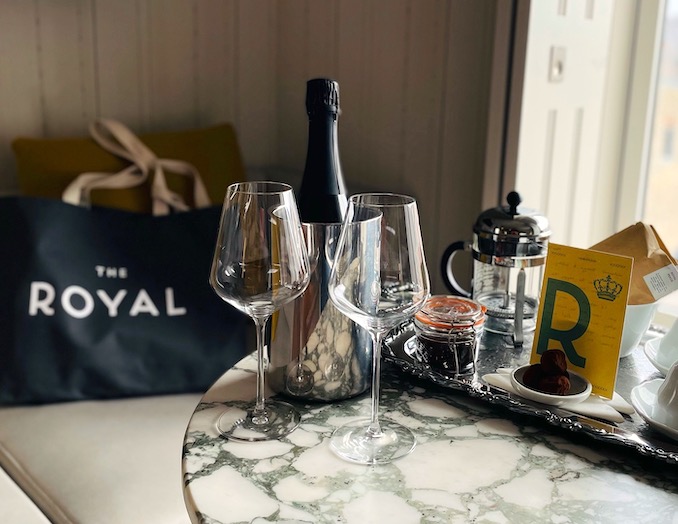 In almost every small town in Canada, there's always a Main Street where you'll find a pub, a coffee shop or two, an ice cream shop, and a couple of clothing shops. There's always one Chinese restaurant that sells honey garlic spare ribs and chop suey (kitchen scraps in Cantonese if you were curious as to what the direct translation is). We always seek out the second hand shop selling vintagy things–they often reveal great treasures. There often is a cozy inn or a B&B to rest for a night or two. Pretty predictable in most cases and comforting in their own ways. We always knew these towns were there, but did we know what was really there?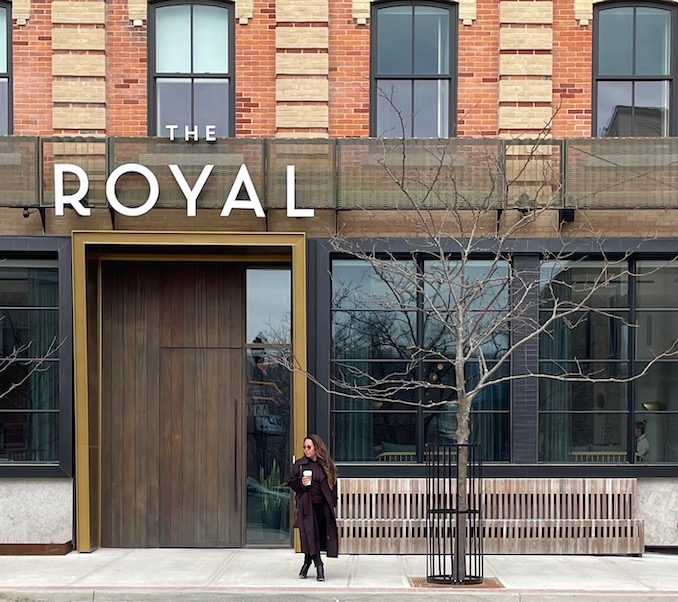 Our most recent visit took us to the town of Picton where we discovered much more than what meets the eye. "Picton? Who'd a thunk it!" said a friend with surprise in her voice.
Just a little over two-hour drive from Toronto, we arrived in the Prince Edward County (PEC). It's been a popular destination for local and international travellers, especially in the summer months for a while now. Dad mentioned that we had been in the area when I was young. We would stop in for essential snacks on our family fishing excursions. I still have photos with the biggest smiles holding up my prize-winning sunfish.
My friend Libby, who also was on this recent road trip, mentioned that she had been visiting the PEC for several years with her two daughters at nearby camping grounds. Jumping into Picton's Main Street was often a stop for them.
We visited Picton recently for our "girls getaway" in the March when everything seems to be just waking up. Not quite summer time but it's not winter either. Honestly, it didn't really matter. We were looking forward to a chill getaway to eat and chat the days away.
The Main Street offered everything we expected…and unexpected. Nestled on the strip stands THE ROYAL HOTEL. The new and much buzzed about hotel opened about a year ago and can easily be considered the anchor of the town.  It's not what one would expect for Picton, a town with a population of just over 4,500 (Source: 2021 Census).
THE HISTORY:
The Royal Hotel has a long history in Picton. Like many small towns across the country, the Canadian railway system helped to open up trade and economic opportunities. Travellers took to trains to explore our vast country and Picton was a charming stop for both business and leisure. The original hotel dated back to 1879 with the historic building still carrying elements from years past. The metal grate incorporated along the front facade is original as well as some of the brickwork.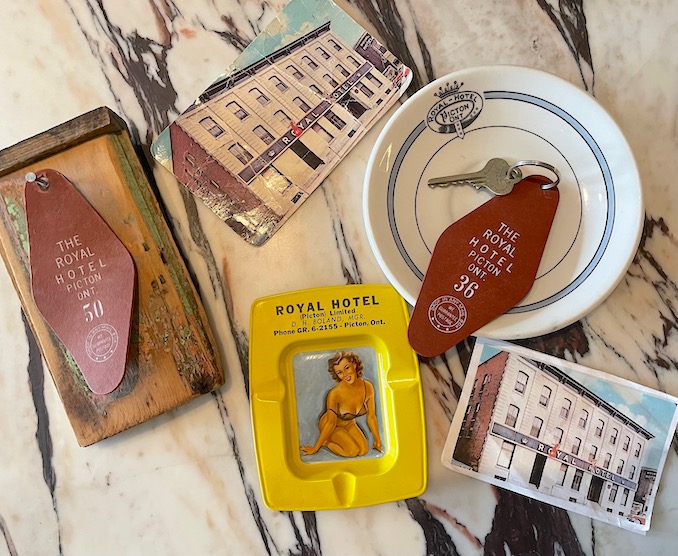 The hotel's history saw lucrative times also for commerce like "The Barley Days" that saw local harvests sent across to breweries across the border to the U.S.. There were also the fruitful canning years as Prince Edward County was known as "The Garden County of Canada".
But there were also harder times including the Great Depression as well as the time when the nearby military base closed in the mid-1960s. The glory days were gone and local towns and businesses struggled — including The Royal Hotel. It was always considered a meeting place until it eventually shuttered and most likely would be slated to be demolished. Hearing the locals and their memories of the place was a treat. Everyone had a story to tell. A public auction was held in 2008 where locals were able to scoop up whatever was abandoned inside. Locals tell us bars, chairs, and other antiques went for a song.
THE RESTORATION:
The decaying building sat for years until the Sorbara family, who moved from the city to a farm in the County a few years earlier, saw potential in the shuttered building and decided to purchase it. Greg Sobrara, you may recall was a former Ontario Liberal finance minister and his family are established Toronto developers.
Restorations began in 2016 and locals were very curious. The once-impressive and elegant central staircase was destroyed by a rain over the years that seeped through the decaying roof — you can see an image of the grand staircase of it as you walk (or sneak) into the men's bathroom on the main floor. We had learned about an exterior wall collapsed from weakened foundation. Even with the setbacks, including the pandemic, they were determined to bring breathe a new life into the historically significant property.
The Sorbara family enlisted the help of Sol Korngold to oversee the project. Korngold had a tech company downtown Toronto and his experience in the hospitality industry came from his learning as a silent partner at incredibly successful Stock T.C. located in the busy midtown area of Yonge & Eglinton in Toronto. It was clear when we met with Korngold that he had a vision not just for the hotel but also for the community.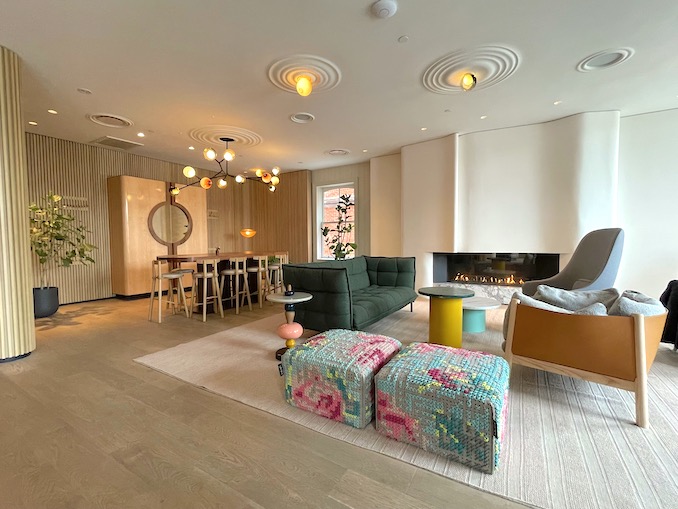 Korngold described this journey with a vision of creating something special. As soon as he mentioned Zita Cobb's name (Fogo Island Inn) it all made sense. He was at an event at the Design Exchange years ago and learned about her approach to business and community. Aha! I knew exactly what he meant! Unpretentious and unforgettable. Let the people and the place speak for genuine self. It wasn't about creating something that was transplanted from the big city rather something unique that inspires visitors to have their own story to tell. It was about maintaining that charm and feeling of being welcomed with a sense of belonging. And the county seems to pull together that feeling effortlessly leaving you longing to return. By the way, I'm already booked.
THE PHENOMENAL DESIGN:
This new life at The Royal Hotel is sophisticated with its luxurious Italian design balanced with clean Scandinavian lines. It's next level "hygge" in coziness yet airy and light in feeling.  There are charming details everywhere that would make any wanderlust swoon with delight. Korngold enlisted the design firm of Giannone Petricone Associates (Toronto) that was responsible for creating this beautiful space. Every detail is curious and a conversation piece from the subtly curved walls to the quirky gilded mirrors inside the women's washrooms on the main floor. Ask about the unique bar that eloquently anchors the lounge space. It opens up like a treasure chest. Staff tell us that this part of the hotel also offers weekly tastings with local winemakers.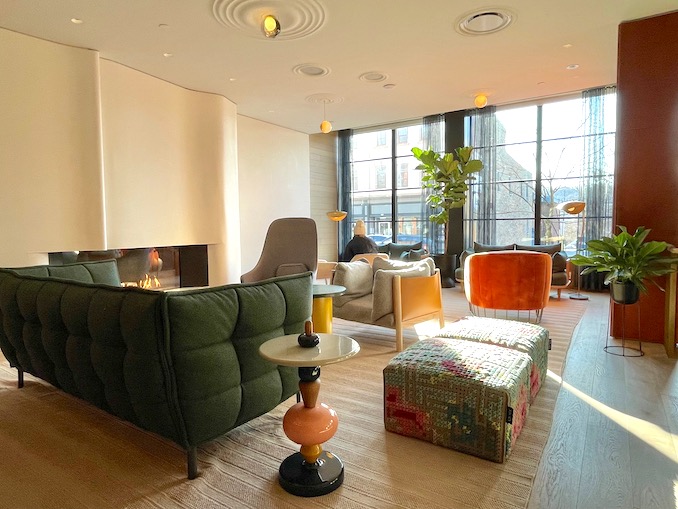 A favourite space is the "library" space located on the main floor of the hotel tucked into the back corner. A cozy nook that is a relaxing place to read or even pick up the acoustic guitar if desired. Be sure to stop and learn about the art installation at the entrance — a curious jacket that was once worn by a local with a great story. The historic building also carries elements from the original hotel dating back to the 1879. The metal grate incorporated along the front facade is original as well as some of the brickwork.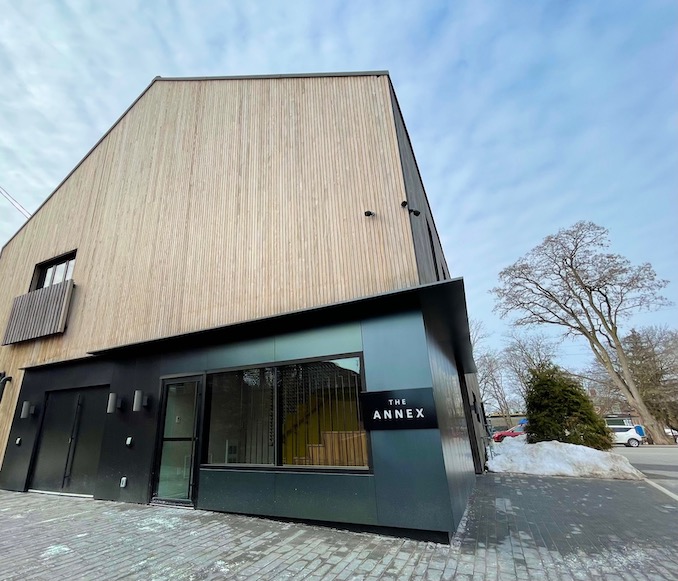 The Royal Hotel may appear large out front but surprisingly has 28 rooms in the main building — all named after apple and pears grown in the region. There are an additional five guests rooms located at the adjacent "The Annex" building that's anchored by an art gallery and showroom. Some suites offer more space for families and some are also pet friendly!  All beautiful and modern in design. We stayed in the luxe Empire Room overlooking the Main Street with an in-room soaker tub, sitting area, marbled bathroom and fireplace.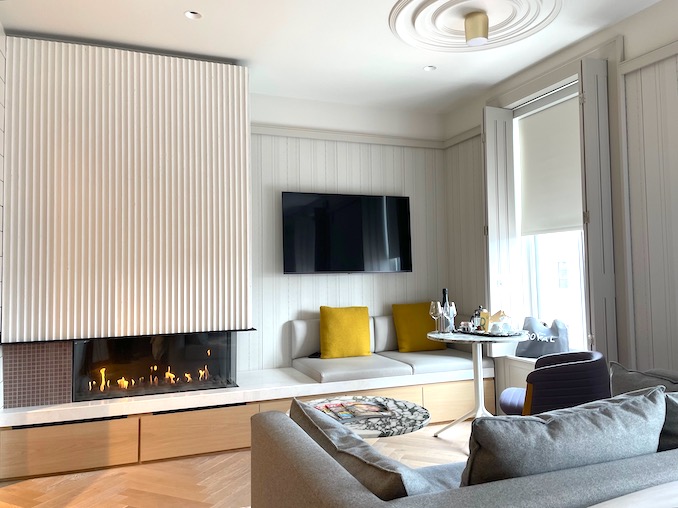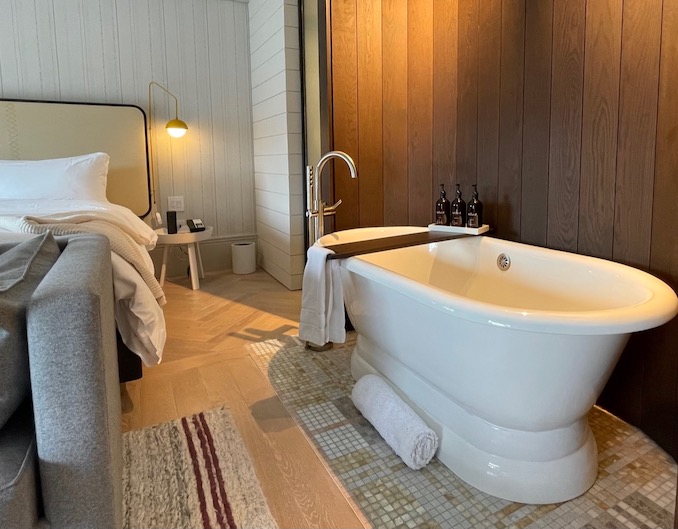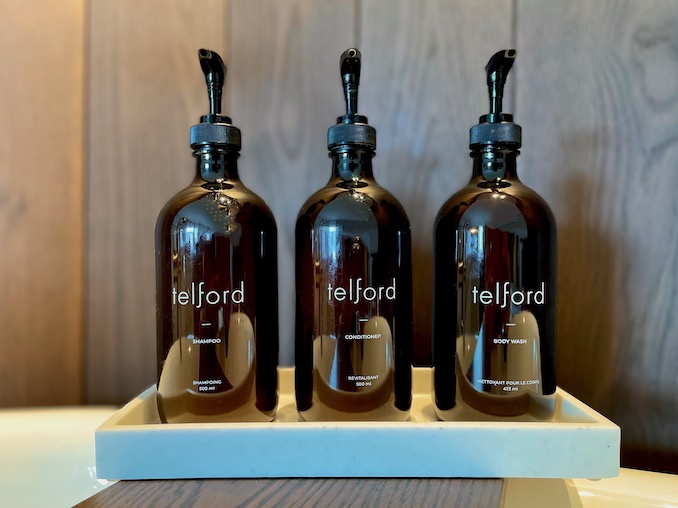 THE DINING:
This well-appointed luxury hotel also boasts two "must-eat-at" restaurants. The Counter Bar is opened all day and is a great casual spot for breakfast and lighter fare. We highly recommend you grab a few baked goods even if you're just passing through (pretty sure that almond croissant recipe is the same I devoured at Bar Centrale in Toronto — and it's MY FAVOURITE).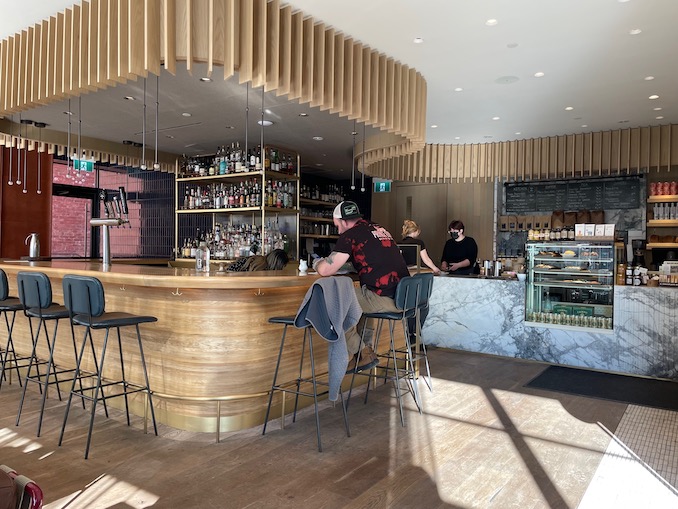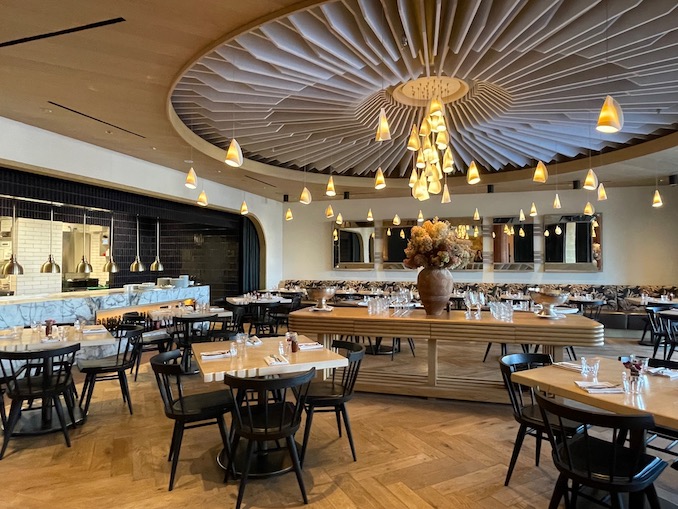 The Dining Room is a real gem for lunch and dinner. Chef Alberto Ponzo (formerly Le Sélect Bistro) offers a regional menu with his own touch. He explained that many of the ingredients are sourced from the hotel's 650-acre Edwin County Farms as well as other local growers. The menu reflects his Italian heritage but Ponzo tells us he also leaves room for seasonal features — currently the menu reflects maple season. The menu also includes customer comfort favourites (Duck Confit, Steak Frites, Burgers) that are well worth diving into. Ponzo also mentioned his pizzas are  sourdough based with the starter he brought back with him when he staunched at a restaurant considered the second best pizza in the world. Pastas are all hand-made in house. The cannoli recipe we learned was his mother's very own. When he mentioned how the move here from Toronto was "transformational" we understood what he meant. The way he emitted pure happiness and peace told us everything. No regrets.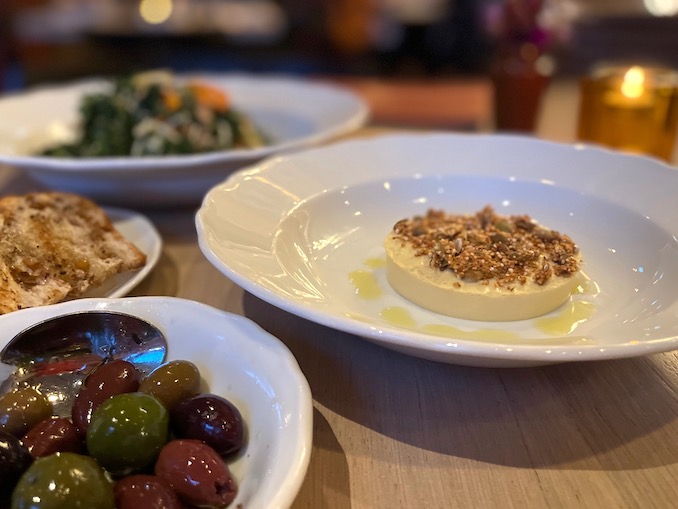 CHECK IN:
The Royal Hotel officially opened its doors in December 2021 as an exquisite boutique hotel and is considered to be the jewel of the county once again. For sure this hotel will be popular for summertime for families friends, and romantic getaways. Such a pretty locale for intimate weddings too! For more information or to book your stay, visit TheRoyalHotel.ca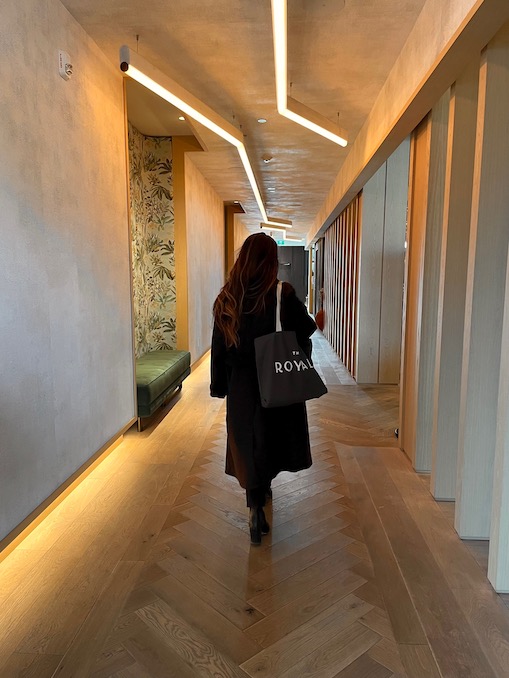 THINGS TO DO AT THE HOTEL:
The Royal Hotel Spa: currently uses Italian skincare brand [comfort zone] for their body and skin care treatments. Aside from their go-to facials and massages keep an eye out for specialty treatments. We spotted an intriguing "Ayurveda for Modern Life" consultation and treatment with Dr. Ayung, an Ayurvedic Medicine Teacher is brought into the establishment and will create a personalized treatment based on an assessment of your core nature and imbalances.
The Gym: located on the premises has two Peloton bikes, free weights, a leather punching bag in an airy space for guests to use.
Outdoor Pool: seasonal use
Outdoor Patio Space: casual and popular for intimate weddings, parties, and corporate events.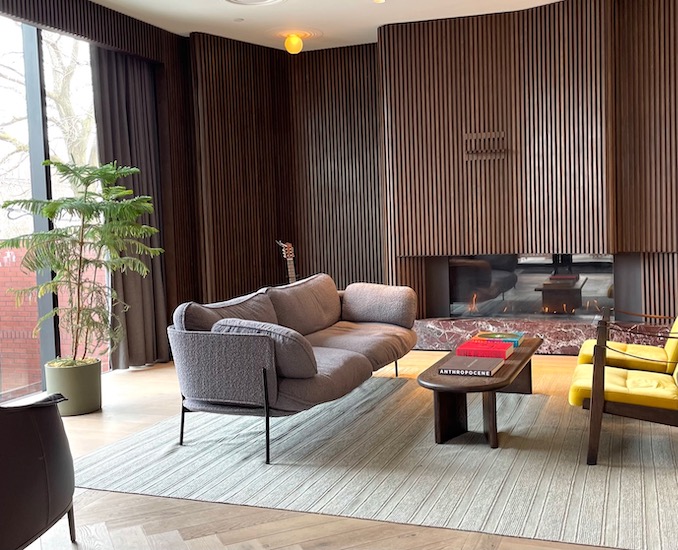 THINGS TO DO IN PICTON and surrounding PEC region:
The Royal Hotel in Picton is perfectly situated to explore the town by foot. It's also within a stone's throw to other the popular stops in the Prince Edward County area making it a terrific home base. PEC is also known for their wineries and just a drive away if visitors would like to venture  to a few but the hotel also invites local winemakers in for weekly tastings for guests. Keep an eye out for summer activities like live music, pop-up shops, farmers' markets and more.
Savon Du Bois:  visit Anne Du Bois, owner, perfumer and who is certified in aromatherapy in her incredible shop. She has created her own line of skin and body care using the finest ingredients for almost 15 years.  The space is filled with all sorts of beautiful scents, essential oils, and other natural products as well as offering a "refillery" concept for customers who are interested in minimizing packaging but still want high quality everyday items — think shampoo, liquid soaps, etc . She opened up this Picton shop four years ago to meet the growing demand for her products and services – she's set to make another move later this spring just a block away to a bigger space that will also offer her room to hold workshops and events. She's created scents for hotels, shops as well as individual customers. When we learned that we quickly booked ourselves in the next day to create our own scents with her guidance and knowledge. Anne also keeps the customized scents on file should you wish to re-order on your next visit or have it also shipped. It's a wonderful experience to book yourself into.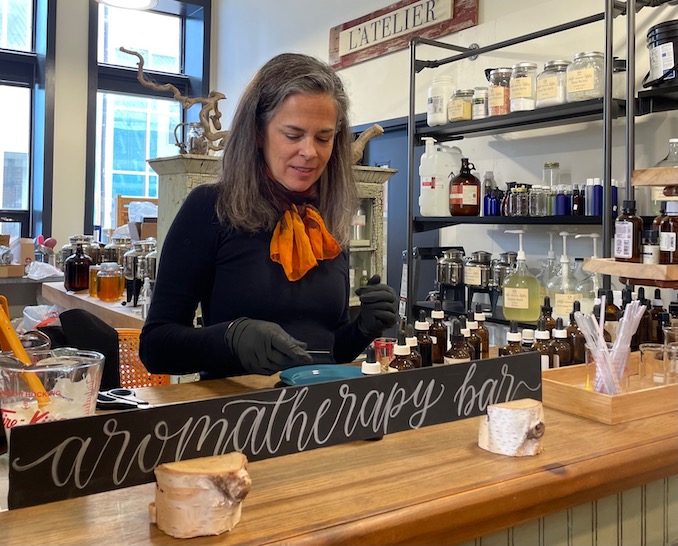 The Ye11ow Studio: has beautiful modern pottery pieces for the home made in-house by local artisans. You can actually see the artists in action creating magic on the wheel. Owner Dawn Middleton tells us she was born and raised in the area but left for the big city after high school and studied at OCAD as well as Sheridan College.  She had always thought Picton would be a nice place to retire but then when her partner, a landscaper, was offered a job to return, they decided to take a leap of faith. Both creative-types they felt this would offer them the space to grow along with the community…and their young family. Dawn and the other artisans here have that zen quality that absolutely makes you want to pack your bags and find that same joy. Bringing a piece of their work not only is a wonderful souvenir and everyday functional vessel but it also serves a reminder that dreams are worth going for.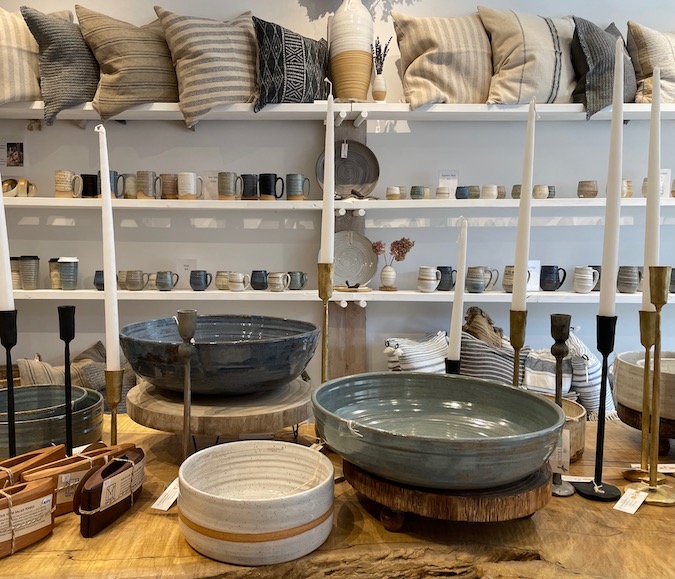 City Revival: Part of a small town charm is poking into a vintage or second hand store. They always seem to have at least one. City Revival on the Main Street of Picton definitely should not be overlooked if you're someone who enjoys rummaging through racks of unique finds. In this particular shop we had to rub our eyes several times as we sifted through racks of previously loved designer clothes – think Prada, Gucci, Ferragamo, Tiffany, TAG Heuer, Sentalier, Smythe and it goes on. We almost didn't want to reveal this place but it can be easily overlooked from the exterior.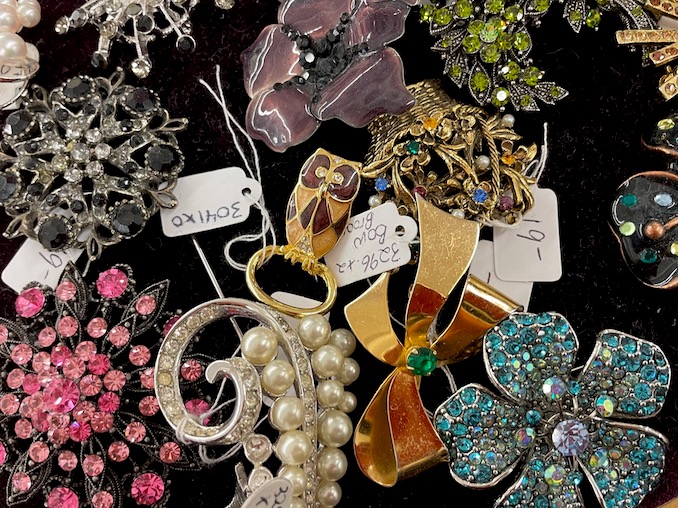 ZEST Kitchen Shop: is another super place on the Main Street where you can pick up a few items for your home, cottage, or as gifts. Amongst the kitchen gadgets we also found locally made cutting and charcuterie boards, preserves in hand painted jars and other nifty items.
Art Galleries and Art Trail: There are many artists within the community. You can pick up the local map and brochure at the front desk. It lists 13 studios to visit. You can also visit artstrail.ca
SHED Chetwyn Farms: Visit with the alpacas on this 55 acre farm in PEC. This modern-day farm and shop is where you can watch alpacas grazing in the fields and shop hand-crafted artisan goods by local knitters. The yarn used is spun from fleece produced on this farm.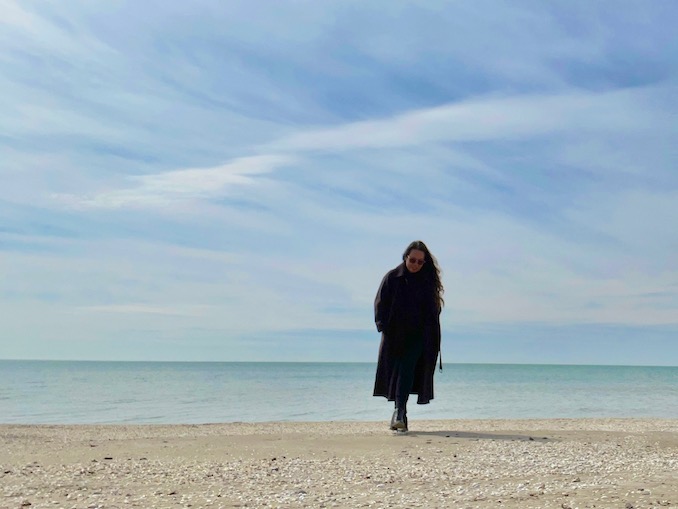 Sandbanks Provincial Park: *inquire about entry fees (seasonal). This is home to the world's largest baymouth barrier dune formation. The popular park has three expansive sandy beaches and incredible walking, running, and bike trails. Grab a picnic style meal from The Royal Hotel and enjoy the day along the shores.
The Mustang Drive-in Movie Theatre: Located in the heart of Prince Edward County, this drive-in movie theatre has been a popular spot since the 1950's. Keep an eye out for when they reopen for the season.