Trees for Life is an organization focused on planting native trees where people live, work, and play. We had the chance to catch up with Mike Hurley, Executive Director of Trees For Life, to find out more about what they do.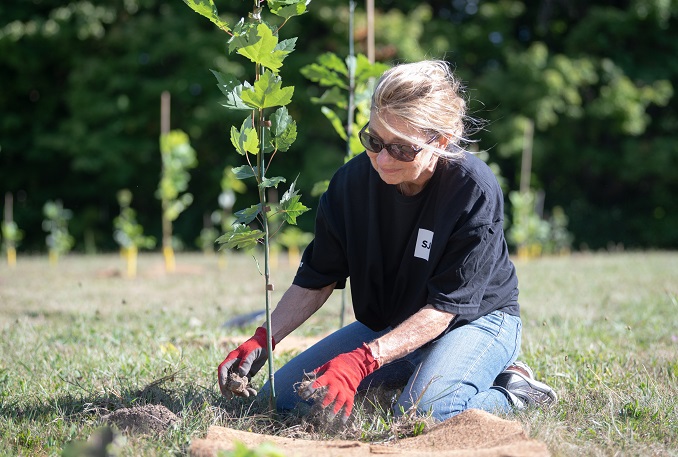 Describe your charity/non-profit in a few sentences.
Trees for Life is a Canadian charity driven to inspire, support, and mobilize community-led tree and shrub-planting initiatives. Its mission is to create a healthier, happier Canada by planting native trees where people live, work, and play. We support these groups with partner outreach and advocacy; funding and fundraising tools; and access to expertise, resources, and education.
Our first projects, the Highway of Heroes Tree Campaign and GrandTrees Climate Solutions, raised over $12.4 million to support the planting and stewardship of over 2.6 million trees in Ontario. Inspired by this donor and partner commitment, Trees for Life is using its insights and partner networks to extend our vision and impact nationwide. Launched with the support of the Government of Canada through Natural Resources Canada's 2 Billion Trees Program, the strength of our connections, combined with our unique community-led approach and science-based planting methods, ensures the most critical local needs are met and that the tree-planting capacity of our partners is enhanced.
What problem does it aim to solve?
With over 80% of Canadians living in cities and the world getting hotter, increasing the native tree canopy is urgently needed. Trees are a simple solution that we can all be a part of. Throughout Canada, countless tree-planting organizations do incredible work. However, many face substantial challenges regarding securing resources and funding. Trees for Life has found its niche here. We inspire, support, and mobilize community-led tree-planting groups by getting rid of the hurdles that get in the way of planting more trees. We bridge the gap and connect groups, including other ENGOs, civic organizations, corporations, funders, individuals, First Nations, and all levels of
government – we will work with anyone who shares our goals and values to help grow leafy canopies nationwide for generations to come.
When did you start/join it?
I joined in 2016 shortly after the Highway of Heroes Tree Campaign was officially launched.
What made you want to get involved?
The Highway of Heroes Tree Campaign was the first (and only) charitable cause I had ever witnessed that combined notions of environmental preservation with the need to honour and support our troops, two causes very close to my heart personally. Typically, these are causes associated with opposite ends of the political spectrum, so to be able to work on a campaign that has such power to bring Canadians together was also a unique opportunity that I felt I just had to get behind.
What was the situation like when you started?
The Highway of Heroes Tree Campaign was born out of genuine concern for climate change and inspired by the Canadians who gave the highway its name: those who serve in the Canadian Armed Forces, plus Silver Cross Mothers, families, and friends, those people who came out to stand on overpasses to honour the fallen as they were repatriated and driven from CFB Trenton to the Coroner's office. The campaign was in its very early stages, having only been launched less than 9 months before I joined, so there was a lot to do in terms of generating momentum and awareness. I had learned a lot about growing a charity with national support from the nearly 11 years I had previously spent with MusiCounts, Canada's music education charity and an organization I had also joined in its infancy. It was time to put my experience to the test and see if I could take what I had learned while growing MusiCounts and use that knowledge to help grow the Highway of Heroes Tree Campaign.
How has it changed since?
We recently planted the last tree of this campaign – the highway corridor is now reforested with 2.5 million trees – one for every hero lost at war while volunteering for military service and for all those that have served. The trees are not only a way to honour heroes, they also leave a lasting legacy in communities across Ontario. The HoHTC trees will clean particulates from the air and naturally filter water, including over 900,000 tonnes of carbon sequestered over the next 50 years, and produce the same amount of oxygen that 8 million people breathe in one day once fully mature.
Trees planted the closest to the highway will act as natural wind and snow breaks and help absorb stormwater and slow erosion, effectively making the highway a safer place for vehicles to travel for decades to come. This accomplishment has underscored the need to continue our work nationally as Canadian Trees for Life. We will continue the tradition of honouring heroes with living legacies, planting trees that pay tribute to the people in each of our lives who make our communities and our country a better place for all, and planting the right trees in the right places to foster healthy ecosystems and support biodiversity.
What more needs to be done?
Every year, according to the United Nations Environment Program, approximately 12 million hectares of forest are destroyed. And this deforestation, together with agriculture and other land-use changes, is responsible for roughly 25 percent of global greenhouse gas emissions. We can all play a part in helping to reverse this trend by planting trees, either on our own land or as part of a community. In fact, private landowners are key to helping municipalities increase their leafy canopies and fast. Governments simply do not have enough land for the trees we need to keep our planet and people safe.
How can our readers help?
Consider planting a Hero Tree to thank those who helped us carry on through the Covid pandemic, first responders, front-line and health workers, the military, a teacher, a coach, or in memory of a loved one lost or to celebrate the arrival of a new one. Or reach out to us, if you're looking for support for a local project. We'd love to hear from you. To learn more, donate, or suggest a project, visit our website, or follow @CdnTreesforLife on Twitter, Facebook, or Instagram.
Do you have any events coming up?
We'll have new opportunities in the spring. Please check our website, subscribe to our newsletter, or follow our social channels for updates.
Where can we follow you?
Trees for Life: Website | Twitter | Facebook | Instagram
Highway of Heroes Tree Campaign: Website | Twitter | Facebook | Instagram
PAY IT FORWARD: What is an awesome local charity that you love?
MusiCounts! Another organization I previously worked with supports a cause that is also near and dear to my heart. Help give children the chance to learn the power of music that might otherwise miss out!