One of our city's most beloved spas has re-opened with a fresh re-imagined space and equally fresh new approach to how they'd like us to view the spa experience. In today's world where we are all feeling the stresses of life, Stillwater Spa, invites us to nourish our souls. Here in the soothing dreamy space washed with soft white, subtle accents of gold, waves of watercolours and hints of nature is a place to restore the soul and recalibrate life. Here you're encouraged to just slow down and let your mind flow.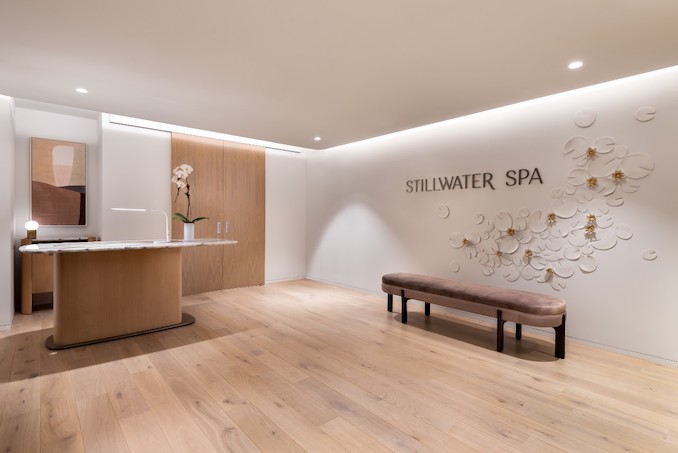 In the past, I would have told you this is a destination for luxurious pampering and in many ways it still is — but it's different. It was a place where you would find the "ladies of high society" cocoon in their fluffy white bathrobes well hidden away from the hustle and bustle of their social calendars. It was considered an escape or maybe somewhere once in a while where we would treat ourselves (or be treated to) for a special celebration- bridal shower, birthday, anniversary, a work promotion (hey, thanks boss!), or Mother's Day. It was in one word…glamorous in a very '90s kind of way.
When the popular spa shuttered in 2017 for renovations who knew that a global pandemic would  force them to press pause for just a bit longer like the rest of the world. A forced pause that, like many of us, made us really think about what's important and what we want to take care of going forward. A focus on wellness moved to the forefront Minimize the noise and overwhelming stimulants that take space in our minds each and every day.
Welcome to the new Stillwater Spa where your body and mind will both feel renewed.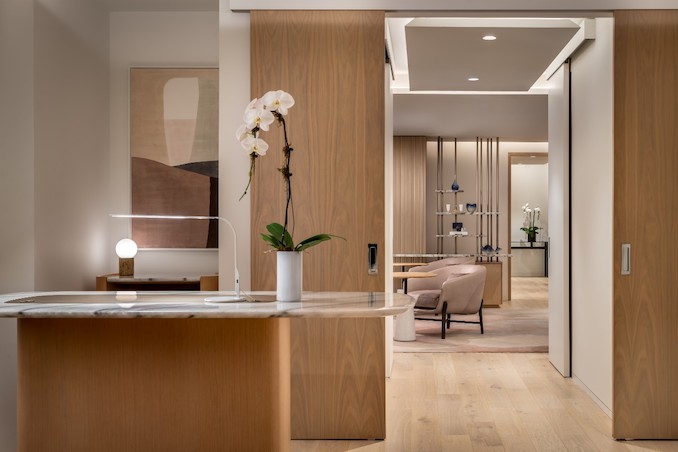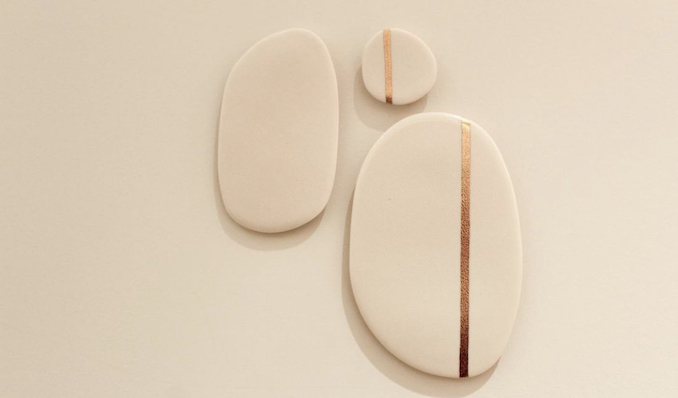 With a new spa director on board there seems to be a monumental shift in how Stillwater's positions itself. Yes, you will still have a luxurious experience but the focus is as much on you as it is on the space and what they have to offer.
First noticeable difference? The list of services is not going to overwhelm you. While there are several signature offerings, Stillwater places a priority on your needs  "in the moment". You can book yourself in for a massage but instead of 10 different styles and options, they've pared it down. Same goes for their facial and nail treatments. Why? Kerry Werner, Spa Director explains that we already have so many decisions in our lives to make and Stillwater doesn't want to add to our daily stresses. The goal is to bring the most optimal experience for that day. She would love each person walking into the space to reflect on their needs and wants, then trust they will be well looked after by their attentive staff.
Stressed at a spa? Come on now! But it happens. Who wants to be on a rigid schedule of be here, sit there, wait here, do this, do that, choose this,..or that, get up, repeat and goodbye? There's a time and a place for that perhaps — but it's more focused here.
I checked myself in for Stillwater's "Ultimate Aromatherapy Experience" — a 60 minute  blissful massage created to help "restore and rebalance with this customized aromatherapy ritual. Mind and body connect with individually chosen essential oils applied to calm and ground."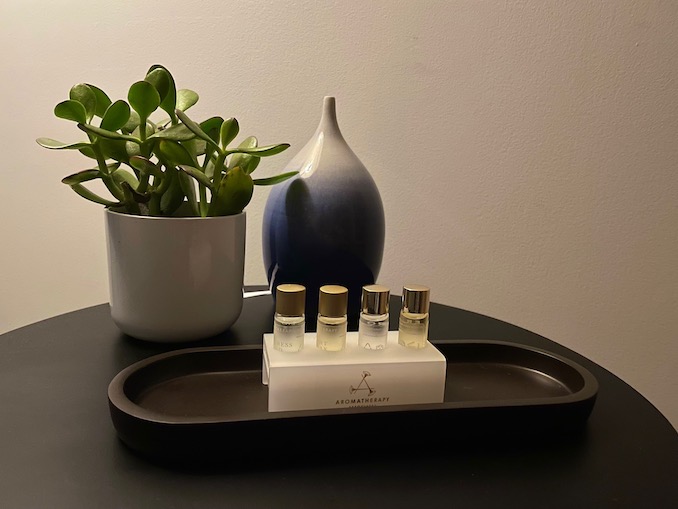 The word ritual meant it was more than "deep tissue" or a "Swedish massage". As a signature service, I wanted to see what would make this different than other services.
A licensed registered massage therapist welcomed me into her retreat — a minimally designed space with no distractions. I stepped into the light wood accented room with a warm glow of soft light. A single well appointed chair sat at the corner with a small table. A hook was on the wall for the fluffy taupe (not white) bathroom to be hung and duvet draped neatly over the long cushioned massage table.
She asked how I wanted to feel and what I wanted to achieve that day. I paused and thought, I wanted to feel renewed and ready for the world. My creative flow felt a little blocked and distracted.  With a nod of acknowledgement she brought out four small bottles of essential oils. I instantly fell in love with the first scent and didn't need to go any further.
The essential oil line here was created by Aromatherapy Associates whom I had learned have a direct lineage to the beginning of modern aromatherapy. Founders of the line, Geraldine Howard and Sue Beechey have been sharing the therapeutic benefits of essential oils after training under the renowned aromatherapist Micheline Arcier — who studied with Mauguerite Maury and Jean Valnet M.D., the original pioneers. The purposefully made and hand-crafted masterfully blended natural oils are considered the gold standard in the world of aromatherapy.
My massage therapist eased into the experience. Classical music was gently playing in the background. There were two other options if preferred — contemporary classical as well as spa music. Or nothing if that's what guests want. She had mentioned that visitors can also play their own music and bring AirPods or headphones.
I was pretty certain she could feel all the knots and kinks in my back and shoulders without me having to say a word. Methodically she moved them out of my system and I'm pretty certain my mind and body responded with a morning nap. There was definitely something subtly different about this experience. The essential oils, the movements and techniques all centred me.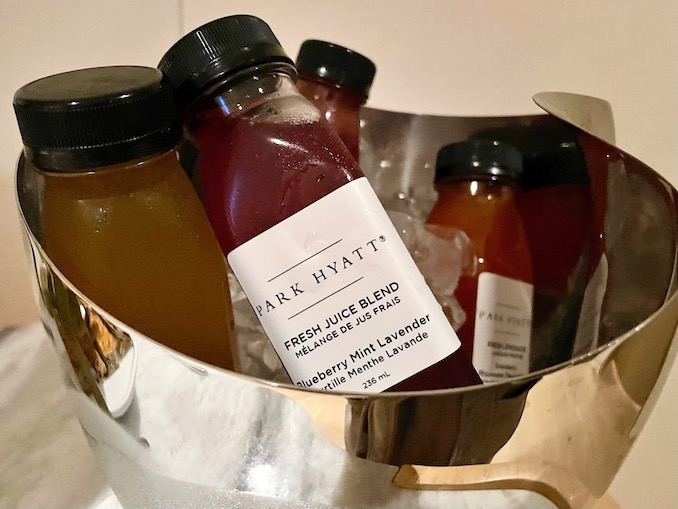 Returning to the quiet lounge area is where "spa bites" of fresh house-made Madelines, morsels of matcha tea cakes, mini oat bars, and mango jellies await. Along side the delights were individually bottled cold-pressed juices all crafted for spa guests to enjoy — the day's fresh pickings? A delicious Lemonade made with Strawberry, Rosewater, and Passionfruit, a Blueberry, Mint Lavender fresh blend, a Raspberry Hibiscus raw smoothie, and a Four the Greens juice with lemon and ginger. Werner mentioned the juices were locally sourced and will change with the seasons. And  a tea selection by the popular Sloane Tea Company was also offered as was a bowl of fresh fruit.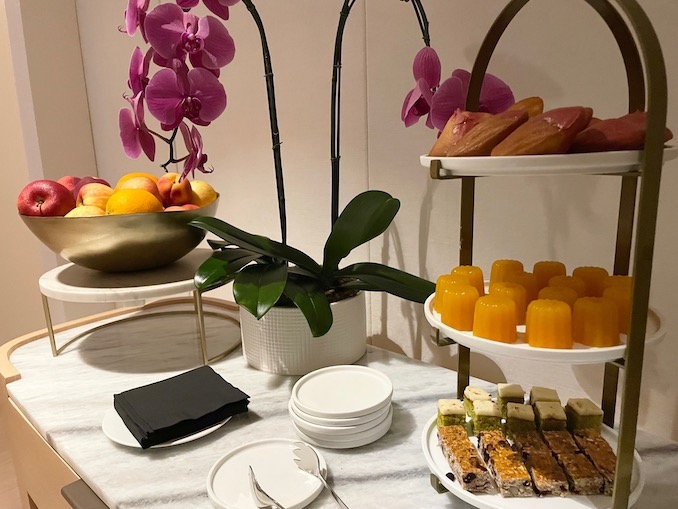 It's hard not to fall in love with the aesthetics here too. The much loved design team lead by world renowned designer Alessandro Munge of Studio Munge, who also worked on the Park Hyatt interiors, were also tasked to give the Stillwater Spa its refresh. It's much lighter, tranquil space and it's beautiful. Even the artwork has a presence, yet seamlessly integrated starting with the porcelain blossoms and lily pads on the wall in the welcome area.
There was no rushing here. Not even after my service where the massage therapist quietly whispered to take a moment to enjoy the calm. But there was also a steam and sauna room to enjoy should I choose to (before or after). I was ready to face the world again. Spa guests also have access to a beautiful and clean shower area within the change room (separate men's and women's).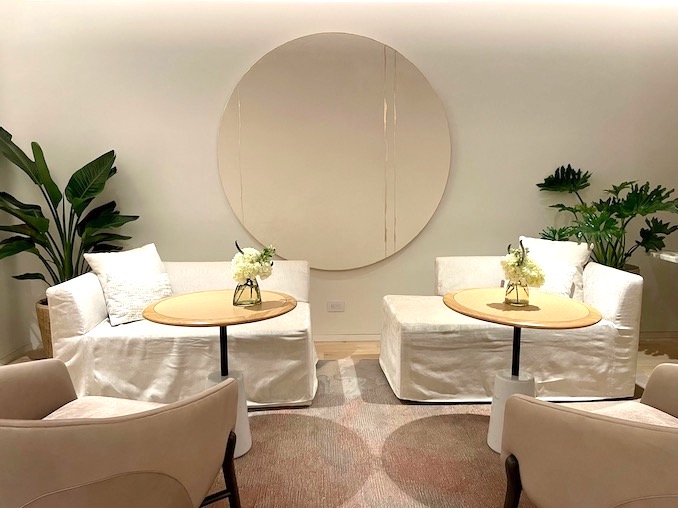 I met up with my friend Carole in the spa — she was also there to experience the new space and we enjoyed a little catch up. Another woman was there and we all reminisced about the grand old days of the previous Stillwater Spa. She had told us that she was a big fan of the spa and returned for the first time since it's refresh to try the new Rose Indulgence Body Ritual – impressed by her glowing experience I made a note to try when I return. By the way, there are two lounge areas – one that is quieter and another that is great for friends to chit chat. Attentive staff are happy to ensure your time here a luxurious and pampered one. We all agreed that the re-imagined space and their current philosophy was so needed in today's environment and reflective of the needs of those who live, work and visit our city.
Another noticeable difference? No "shop" filled with products to buy. No suggestion selling of beauty products. Refreshing! Maybe it's all hidden? I didn't see anything. But I should have asked if that aromatherapy blend was available for purchase but I floated out of there with my head in the clouds.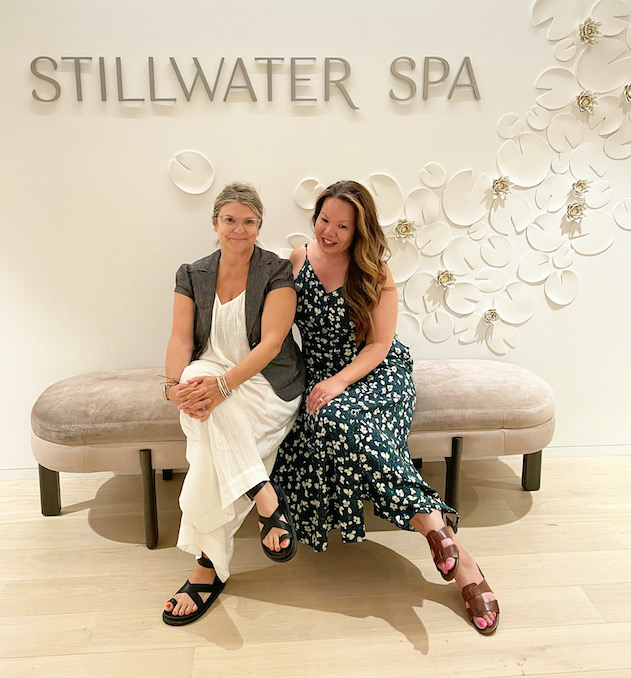 Stillwater Spa is located at the Park Hyatt Hotel in Toronto (Yorkville). Learn more about them here.
Thank you to Stillwater Spa for the experience. Looking forward to revisiting in the near future!