June The Destroyer is an art-pop duo from Toronto, formed in 2021. They play a minimalist style made of voices, guitar, and spare atmospherics. June's music strikes at the point between soft quiet and sharp tumult; it is the soundtrack for the afterglow. At every turn, it is a reminder of the magnificence and fire of deep connection, even when faced with anxieties and darkness beyond our paradises. June's lyrical social commentary explores intimacy structures, expectations, traditions, and facing the strange present and the uncertain future, together. June's low-lit, moody live performance invites the audience into their intimate world with a sharp eye and a unique elegance all their own.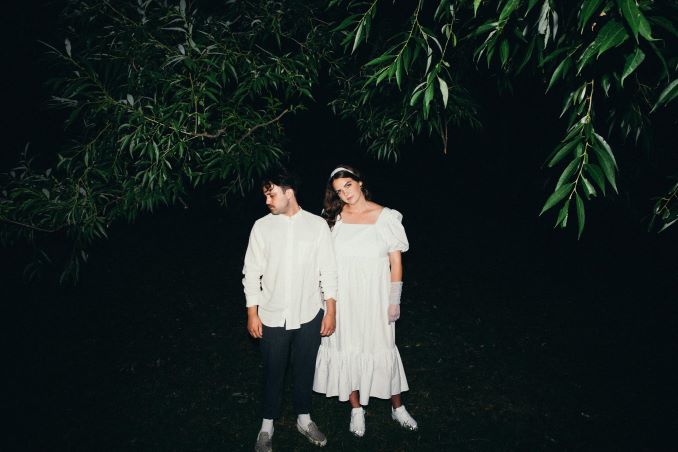 Name:
June The Destroyer
Genre:
Minimalist Art-Pop
Founded:
2021
# of Albums:
1
Latest Release:
"Wild Flowers" and June The Destroyer EP, our debut
Latest Single:
"Wild Flowers"
Latest Video:
Favourite band as a teenager:
We both LOVED Feist.
Favourite band now:
We still love Feist! She's our favourite.
Guilty Pleasure Song:
"I'll Never Break Your Heart" by Backstreet Boys, but we don't feel guilty about it!
Live Show Ritual:
Vocal warm-up, a drink for the stage, and a long hug.
Favourite local artist:
Chinese Medicine, an amazing new queer/BIPOC-fronted punk band
EP or LP?
LP.
Early bird or night owl?
Vic is an early bird, James is a night owl.
Road or studio?
Road, though it is very close.
Where can we follow you?
***
Rapid Fire Toronto Qs
Sneaky Dee's nachos, pasta from Terroni or a superfood salad from Fresh?
Definitely Terroni
Queen or College St?
Queen.
Trinity Bellwoods, High Park, Riverdale, Kew Gardens, or other?
Bellwoods, but we love Riverdale too!
Swiss Chalet or Roti?
Roti
Favourite local Restaurant:
Sugo