Having improvised across Canada for over a decade, the comic Hannah Spear holds multiple nominations from the Canadian Comedy Awards and a win for Best Actress from the International Academy of Web Television. We had the chance to catch up with her about her influences, projects, and comedy style.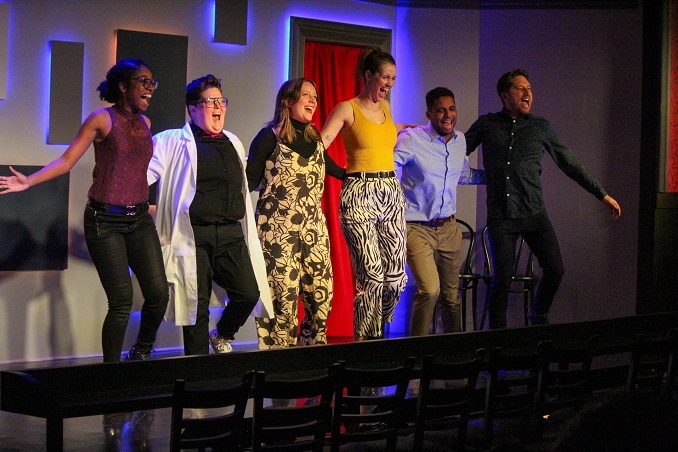 How would you describe your comedy style?
Meryl Streep meets Inspector Clouseau. Meaning; grounded acting meets chaotic physicality!
Who are some of your influences?
Kristen Wiig, Will Forte, Monty Python, Meryl Streep (see above).
Who was your favourite comedian growing up?
I didn't have a favourite comedian, really. However shows Little Britain and Black Books were regular viewings as a preteen.
Who is your favourite comedian now?
So many talented folks out there. Bo Burnham is definitely a favourite at the moment. Watch INSIDE!
What is your pre-show ritual?
The closest thing to a pre-show ritual I have is my subway commute to work with pump-up music blasting in my headphones. Lately loving new albums from Amine and Mitski!
What is your favourite place you have performed?
I performed at the Kennedy Centre in Washington D.C. once. That was cool.
What is your favourite bit you have written and why were you proud of it?
I co-created a structure for an improv scene for our last revue (the 85th) at the second city, called Psychic Twins. Tricia Black and I developed the idea from an actual visit we had with a "psychic" on Yonge street. I'm proud of it because it is completely spoken in one voice from top to bottom even though it is fully improvised. It is seamless, insanely silly, and when we're doing it- it feels like Trish and I are operating with a shared mind. It's very impressive, and yes I am tooting our own horn!
What is your favourite medium for listening or finding new comics/comedians?
Tik Tok! Comedy Bang Bang! And paying attention to the supporting cast on shows like "I Think You Should Leave". That's how I became aware of Patti Harrison, who is a revelation.
Tell us a joke about your city.
What's the difference between a snail and the 501 streetcar?
Riding a snail would get you to work on time!
*BOWS*
*audience boos and throws tomato*
*still bowing, gets pulled off stage with large cane*
Do you have anything to promote right now?
We just started writing our new revue at the Second City so now is a great time to come and see the show. We'll be trying new sketch ideas every single night!
Where can we follow you? 
PAY IT FORWARD: Who is another local comic/comedian we should know about?
Emily Richardson's tik tok makes me laugh so hard. Sam Hancock is an inspiring force of the future (watch out for 'A Boy's Memoir' coming soon to your internet), and Ajahnis Charley is a sketch and improv shooting star, who's dancing on HBO's 'Station Eleven' still rattles around in my brain.