We had the chance to catch up with Hisham Kelati about his comedy style, influences and his Juno nominated debut comedy album "Tigre King".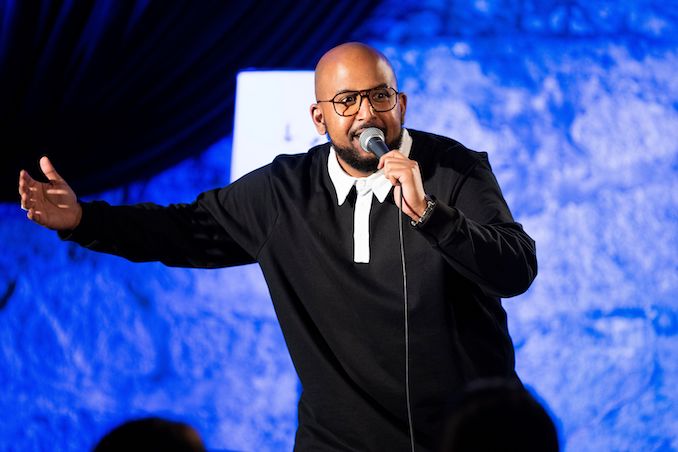 How would you describe your comedy style?
I'm a comedy storyteller for sure! I couldn't tell a short joke to save my life haha!
Who are some of your influences?
Russell Peters, Paul F. Tompkins, Eddie Murphy
Who was your favourite comedian growing up?
Dave Chappelle and Bernie Mac
Who is your favourite comedian now?
John Mulaney, Ronny Chieng, Ali Wong
What is your pre-show ritual?
Ginger ale and a quick panicked search of my pockets for my set-list
What is your favourite place you have performed? Why?
Three-way tie between JFL New Faces (experience of a lifetime), Comedy Bar (best comedy venue in Toronto) and an actual Pirate Ship (while it sailed!)
What is your favourite bit you have written and why were you proud of it?
It's my most requested joke about my mom's obsessive love of Seinfeld, and I'm proud of it because of how many people come up to me afterwards to say how much they really want to meet her!
What is your favourite medium for listening or finding new comics/comedians?
Netflix obviously but Tik Tok has been great for finding newer comics
Tell us a joke about your city.
The shawarma in Toronto. It's a complete joke. I know you wanted something actually funny, but I'm using this as an opportunity to highlight how TRASH shawarma in Toronto is!
Do you have anything to promote right now?
My Juno nominated debut comedy album "Tigre King" and the next edition of my monthly comedy show "Comedy Gang" at Comedy Bar
Where can we follow you?
I'm wild on Instagram!
PAY IT FORWARD: Who is another local comic/comedian we should know about?
Shoutouts to my favourites/rising stars Tamara Shevon, Leonard Chan and Cameron Phoenix!