We had the chance to catch up with the Toronto comedian Juliana Rodrigues about her influences, style and upcoming shows.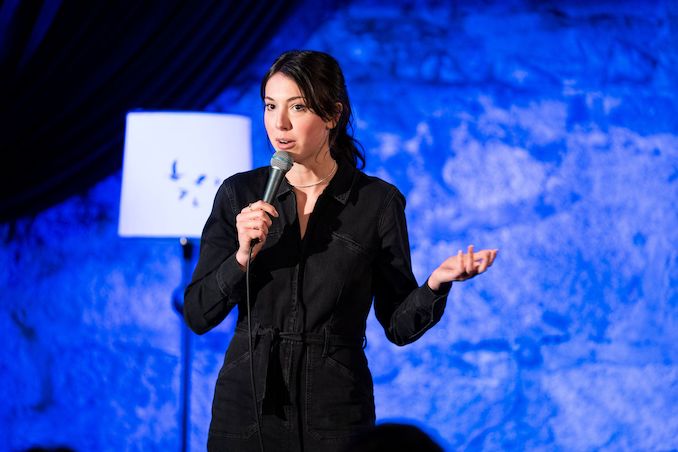 How would you describe your comedy style?
I'd describe my comedy style as sarcastic, maybe a bit cynical. I've been told I have too much "old man energy" for someone my age which I actually really like to hear. I like talking about things that are true to my real life, and it almost always comes from a place of discomfort.
Who are some of your influences?
When I first started I really liked Sarah Silverman and Dave Attell. Sarah Silverman because she's been doing it for so long and keeps finding success over and over again. It seems like whenever she's put in a box or labelled she spirals out with another project that is the complete opposite of that and it's really really good. Dave Attell because to me he's the purest form of what a comic should be. He just loves writing jokes, wears only black, and has this "phantom comic" energy. I saw him once walking around The Comedy Cellar in New York and he actually looked like a phantom. Just walking around with his hoodie on, and writing. It's great.
Who was your favourite comedian growing up?
Growing up I didn't watch a lot of stand-up comedy, but I did religiously watch this show called Video On Trial that was on Much Music. I didn't know she was a stand-up comic at the time, but Debra DiGiovanni was the first comic who I was a huge fan of on that show. I'd quote her jokes at school and tell my friends to watch it for her. I'm still a huge fan and it was kind of surreal the first time we met, she's insanely funny. She's really nice too, which is a hard combo to find.
Who is your favourite comedian now?
I can't say I have one favourite comedian right now but there are so many Canadian comics who I really admire. Sandra Battaglini is always a house favourite. I can never tell what's written and what isn't because her energy seems so in the moment, but her jokes are still so well written. She's very fun to watch and I always try to catch her set. Chris Locke is every comedian's favourite comedian. He's so insanely funny that it literally blows my mind, and he's very kind. He's always down to chat after a show and gives advice.
What is your pre-show ritual?
I wouldn't say I have a pre-show ritual but I listen to music before big shows and it fluctuates between Nicki Minaj and Jazz Guitar. I'll listen to Nicki to feel more confident and then once it starts giving me anxiety, I'll put on the Jazz. Then go back.
What is your favourite place you have performed? Why?
My favourite place to perform is probably the Rivoli. I don't think shows are happening there currently, but I think it's coming back soon. It's one of the first places I started performing regularly at and met many of my friends there.
What is your favourite bit you have written and why were you proud of it?
The funniest jokes for me to tell are the ones that are true to my real life. So like, anything about my upbringing is always fun.
What is your favourite medium for listening or finding new comics/comedians?
I mostly discover new comics from doing festivals together. Plus you get to hang out after shows and chat.
Tell us a joke about your city.
One of my favourite jokes about Toronto is from Nour Hadidi and I can't remember the exact wording, but the idea is that the Spadina streetcar is fuelled by piss (urine).
Do you have anything to promote right now?
Yes! I recently did a set for CBC Gem on The New Wave of Stand-up season 2. I'm also doing a CBC radio recording for Laugh Out Loud in May at Big Sound Comedy Festival in Parry Sound. So if you're in town, check it out. Plus the festival has a bunch of other amazing acts that tour and do all the fancy stuff so it's gonna be a great time. I'm also starting a bi-weekly comedy show in Toronto's west end called Good For You, every other Thursday at 8:30 pm.
Where can we follow you? 
You can follow me on Instagram and on Twitter
PAY IT FORWARD: Who is another local comic/comedian we should know about?
Keith Pedro always makes me laugh. He's also nominated for a Juno this year to be sure to check out his album.