We had the chance to catch up with the Ottawa comedian Janelle Niles about her comedy style, influences and upcoming shows.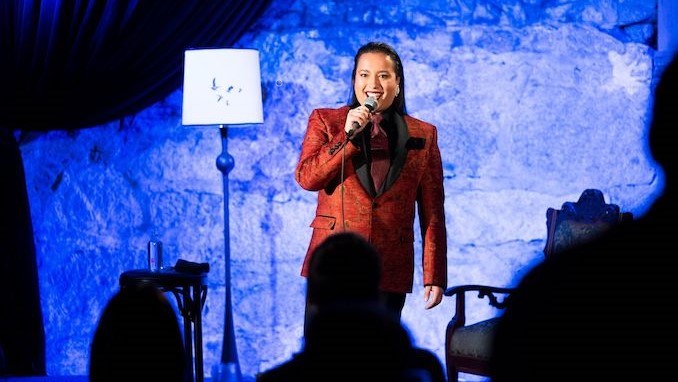 How would you describe your comedy style?
I would describe my comedy style as eccentric and politically aware. It comes from observation and life experiences. With my style continuously evolving, I'd check in on me 5 years from now, I may have found a different voice or style. The road doesn't end here.
Who are some of your influences?
There are many influences in my career, from the late Patrice O'Neil and Candy Palmater to the Queen of Comedy herself: Mo'Nique. I have found the style I've adopted would be the story telling of George Carlin and Paul Mooney. They tell truths in a comedic way, and these would be my biggest influences. My indigenous influence would be the late Charlie Hill.
Who was your favourite comedian growing up?
My favourite comedians growing up were Eddy Murphy and Richard Pryor respectfully. It kept me out of a dark place during my childhood. They took me out of my own head and brought me into theirs, and it was chaotic, which I was used to.
Who is your favourite comedian now?
Today I can say my favourite comedian would be Bill Burr, he has such a way of explaining his thoughts. It's like talking to your favourite uncle or friend of the family. Making you laugh at the BBQ with obscure opinions which hold no water but have a glimmer of truth. Bill Burr is a brilliant writer.
What is your pre-show ritual?
Breathing. I tend to practice my breathing and use my inhaler. As someone with asthma and a chest breather, I'll take a moment to open my lungs so I can belt out those jokes with ease.
Also, breathing calms the nerves. Not all the nerves though, we need some of them because the jitters tell us we still care about comedy and making people laugh.
What is your favourite place you have performed? Why?
Comedy Bar in Toronto in the main room. The momentum of the audience and the ambience of the room fit well together. I haven't heard an audience laugh so honestly in a long time. It was so infectious I started laughing with them. I told them on stage "I can't tell jokes like these in Ottawa" and boom another big roar of laughter. Smart crowd and willing to laugh.
What is your favourite bit you have written and why were you proud of it?
My favourite bit/line would be "Well steal my land and call me Rebecca." It has a layer to it, I don't want to give it away, but I will. It's for Matoaka or how Disney portrays her, Pocahontas. Our stolen sister. When they took Matoaka to England they renamed her Rebecca. The joke is a placeholder for me to see if the crowd is still on board with my style of humour and they usually are.
hese are jokes with a glimmer or truth. I'm proud to be able to say it on stage and get the laugh it deserves.
What is your favourite medium for listening or finding new comics/comedians?
I am an enthusiastic fan of comedy. I attend multiple shows a week as an audience member to listen and find new local comedians. Most comedians often go to shows when they are booked on them, I go as much as possible regardless. This is also how you learn as a green comedian, seeing professionals perform live stand-up comedy. All my disposable income goes to comedy shows. It's like I'm paying for comedy college, Trevor Thompson's comedy college.
Tell us a joke about your city.
I was told 'to be funny in the nation's capital' I had to be smart and clever. However, advice from fellow comedians on style and jokes is like eating fish out of the Ottawa river, don't.
Do you have anything to promote right now?
I run Got Land? indigenous comedy show. How show dates are as follows:
May 6 th – Ottawa Yuk Yuk's – Just for Laughs Showcase with Got Land? Indigenous comedy show
May 8 th – Toronto Yuk Yuk's – Got Land? Indigenous Comedy Show
May 20 th – Ohsweken Got Land? Comedy show by Branford and Hamilton Ontario
Tickets available for Got Land?
Where can we follow you?
Facebook | Instagram | Tiktok | CBC GEM | Website
PAY IT FORWARD: Who is another local comic/comedian we should know about?
Trevor Thompson: All Canadian boy raised in Metcalf Ontario, full of energy and disdain for his life choices after quitting his government job for stand-up comedy, but never gave up on the dream. Trevor runs a weekly show on Twitch called Trevor's pad, which used to be In-person Live at Yuk Yuk's until the pandemic moved comedians to the internet. He is a gem and talented comedian who after 17 years need the recognition he deserves. Talented and well dressed too.