Dan Galea is an Actor, Producer and Comedian. He just released his debut musical comedy album, Inter-Dan-Mensional, executive produced by Scott Thompson of Kids in the Hall. The album features a collection of original songs that are both hilarious and catchy. Recently we spoke with him to find out more about his style and projects.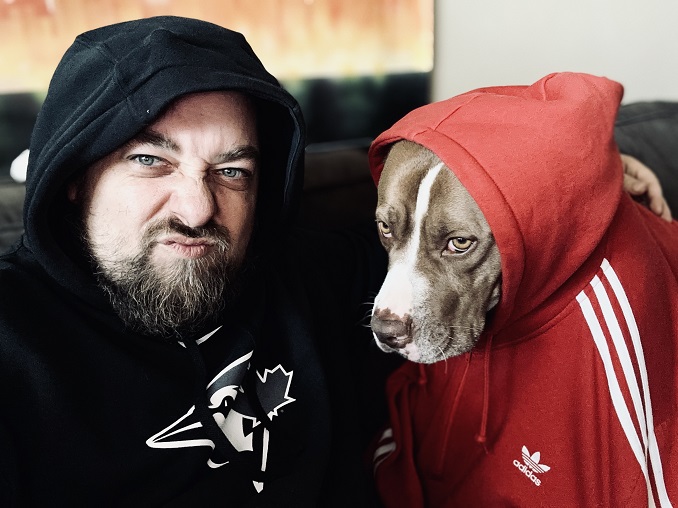 How would you describe your comedy style?
Well even though it probably would have benefitted me, I don't really just do one thing. I do Sketch, Improv, Stand-up and Music and I try to bring elements of all those things to the stage with me.
Who are some of your influences?
Larry David, Trey Parker and Matt Stone, Steven Wright, Norm Macdonald, Weird Al, Adam Sandler, Matt Berry, Steve Coogan, Mr. Show, Monty Python and Kids in the Hall which is why having Scott Thompson involved with my upcoming album INTER-DAN-MENSIONAL is an absolute dream come true. Scott has truly been so supportive of me and it means a lot.
Who was your favourite comedian growing up?
My favourite comedian growing up was probably Adam Sandler, I pretty much played his first album non-stop.
Who is your favourite comedian now?
My favourite comedian now would probably have to be Matt Berry. I love everything from Garth Merenghi's Dark Place to Toast of London. He also does many things including music, comedy and acting. If you are asking about stand-up I am forever a Norm Macdonald fan.
What is your pre-show ritual?
Before every show I drive to the CN tower, go all the to the top and yell "I'm gonna kill tonight!" Then (if I don't get in the trouble for threatening the whole city) I go stand on the glass floor for a second to really make me feel alive. Then I head back down via the elevator, go to my car and drive to the show so pumped I can barely contain myself.
What is your favourite place you have performed? Why?
My favourite place to perform is probably at The Garage Show. It's a show I produce with my friend Helder Brum that takes place in people's backyards all summer. The show has been going on for over 8 years now.
There's something magical about it. I don't know if it's because it's free or the BYOB or what but people love it and you really feel appreciated and acknowledged there! The laughs are plentiful and the jokes are solid! Come on out this summer!
What is your favourite bit you have written and why were you proud of it?
I recently wrote a song called Positive Song. It's a death metal song where all the lyrics are motivational and positive, but the tone is dark and grungy. The message "Be thankful and stay positive". I love this because I always wanted to be in a Metal band and now I can pretend and people seem to really like it!
What is your favourite medium for listening or finding new comics/comedians?
Well, personally I find that Toronto is fully loaded with some amazing talent of all kinds. I look no further than my local comedy club or bar with a comedy night or even a backyard from time to time! A lot of people out there are as good as it gets. Let's lift up our local comedians and help them shine as brightly as they deserve. Basically, nothing beats live comedy, it's just better.
Tell us a joke about your city
What's mind-blowing, totally non-sensical and will likely never end? Eglington Construction.
Do you have anything to promote right now?
– My Debut Musical Comedy Album INTER-DAN-MENSIONAL just came out.
– Keep an out for The Garage Show, Comedy On The River and The Tulip Variety show.  See more info on my website.
– My Podcast in support of my Album, "Album and a Podcast" will premiere in mid-April.
Where can we follow you?
Website | Instagram | Twitter | Tiktok | Comedy Records
PAY IT FORWARD: Who is another local comic/comedian we should know about?
My favourite local comedians right now are Ben Stager, a hilarious comedian who does stuff at Wenona and Tallboys; Bita Joudaki, one of the funniest stand-ups in the city; Al Val, an amazing comedian who has done all the festivals and has an amazing Tim Tok following; and Freddie Rivas, a comedian who has a raptors podcast called the Confederacy of Dunks and a WNBA Podcast called The Pick Up. He's also the warm-up guy for Family Feud!