Cat and the Queen is the brainchild of songwriter Cat Montgomery. Playing piano from a very young age, Cat combines her musical skill with her work as a theatre artist to create an unmatched live experience. Early on in Cat's music career, her performances were more cabaret and satirical in style and content; writing spoof tunes like Waitress 86'd and Just Another Suicidal Day in Vancouver. These 'funny' songs allowed Cat to cut her teeth on stage as the quirky, talkative, fly-by-the-seat performer self she is. Her style and songwriting quickly evolved. Always theatrical and in the moment, Cat has a raw performance style that is unique and exciting.
Her energy is not lost on her recordings. Loba Loca, Cat and the Queen's first full length LP, captures Cat's effervescent presence. A moody but optimistic journey, this album invites you to ride the wave with Cat through love, fear, and everything else encompassed by personal development. Cat's newest release, Heart For A Ride (due out January 9th), explores 6 songs in two different genres. Side A: a solo electro pop vibe. Side B: accompanied by her band The Royals, it is raw, explorative and with a live-off-the-floor sensibility.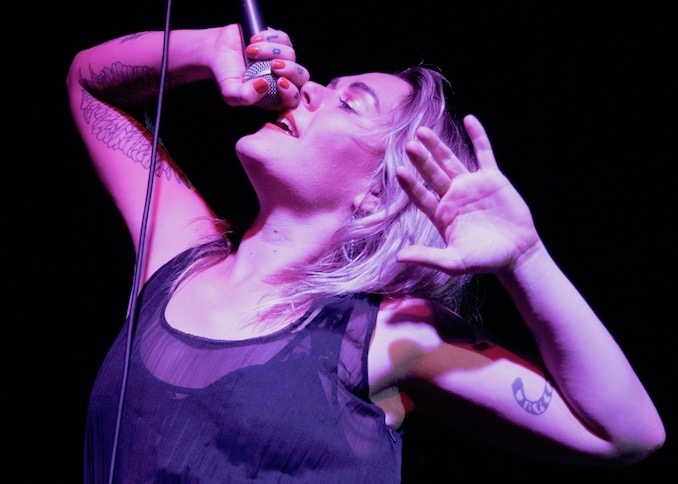 Name: Cat and the Queen (Cat Montgomery)
Genre: indie alternative pop rock (hm..)
Founded: 2013
# of Albums: 3
Latest Release: Heart for a Ride
Latest Single: "Hot Bath"
Latest Video:
Favourite Restaurant:
Anywhere there is a taco
Favourite band as a teenager:
Tori Amos to the maxxx
Favourite band now:
Creedence for life
Guilty Pleasure Song:
"Whataya Want from Me" – Adam Lambert thank you
Live Show Ritual:
Dry shampoo and a solid dump
Favourite local artist:
Prancer and Marty Topps
Sneaky Dees nachos, pasta from Terroni or a superfood salad from Fresh?
OK. So I worked at Sneaky Dees on and off for 7 years. They're a solid Greek family that don't eff around when it comes to feta portions. So Dees, hands down. Fun fact, Greek Nachos are on the menu because of this guy (cue 2 thumbs point to me).
Queen or College St?
I mean, The Little Jerry on College has gotta be my favourite record bar. And, it's across the street from Sneaks. So, College? But not College and Bay. Gross.
Trinity Bellwoods or High Park, Riverdale or Kew Gardens?
Woah. Kew Gardens. Where's that? I'll say Kew Gardens.
EP or LP?
"Green Jacket, Gold Jacket. Who goes a shit!" – Happy Gilmore
Early bird or night owl?
Early bird. Me like coffee in the morning.
Road or studio?
Gimme the road. Oh man. If I could be in a random hotel in Denver booked for a show, hashtag living the dream.
Swiss Chalet or Roti?
Roti. ROTI. FOR THE LOVE OF GOD, ROTI!
Where can we follow you?
On Instagram
Any shows or albums coming up?
Yesh. January 9th, vinyl release party for Heart for a Ride at the Horseshoe Tavern.