Many of us had seen or heard of the runaway hit movie, Bend It Like Beckham by filmmaker Gurinder Chadha. When it first hit the big screens in the UK 2002 it made a cool $11 Million (British pounds) before jumping across to North America in 2003. The film surprised and delighted critics and audiences alike ultimately grossing $76.6 million worldwide becoming the highest-grossing Indian-themed film since Gandhi.
The coming of age story is about a South Asian Sikh teen who had a passion for football (soccer) but struggled with her cultural and family expectations of what it meant to be a girl. The heartwarming story was recreated as a musical and took to the stage in London's West End in 2015 and received great reviews. Now, Bend It Like Beckham: The Musical makes its North American Premiere on stage at the Bluma Appel Theatre, St.Lawrence Centre here in Toronto until January 5, 2020.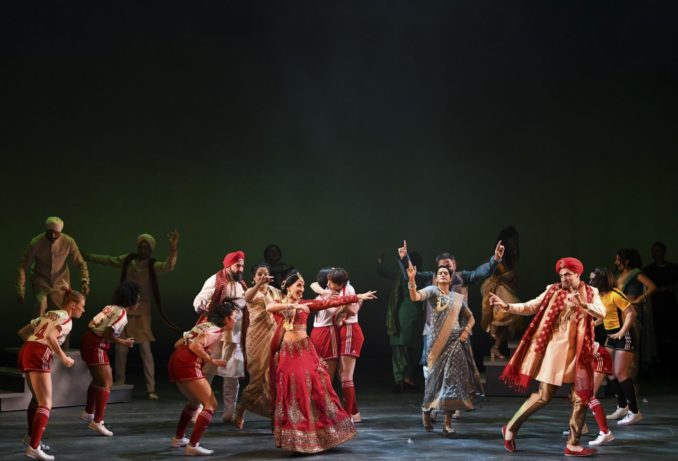 Bend It Like Beckham: The Musical is a feel-good family comedy about bending the rules and living life on your own terms. Jess (Laila Zaidi), a teenage girl, desperately wants to play soccer but her traditional immigrant parents disapprove. It's not what respectable girls do. The story is set in West London and follows the lives of two teenage girls from very different backgrounds — one from a traditional Sikh family the other from a single parent caucasian family. They share a common passion for the sport but feel pressure from their families to conform to the ideals of how girls should look, act, and behave. When the opportunity for both of them to be scouted by an American college comes around they need to determine their next steps. For Jess, it's going against her family's wishes.
Even almost 20 years later the storyline still resonates with many around the world. "People who watched the movie in 2002, they have their own kids and are now sharing this story with them," said Gurinder Chadha recently as we met prior to the Musical's official opening night performance. "People tell me how much it means to them and I think when making a film that's a coming of age story and you hit people at the right time, it's that sort of film that sticks with you forever."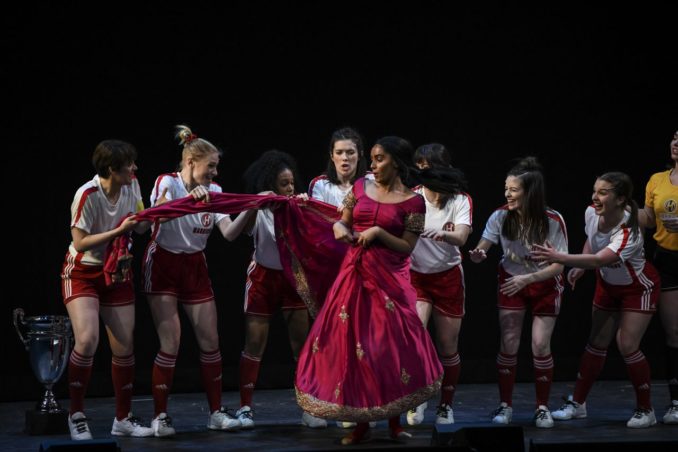 Bend It Like Beckham is very much a female empowerment story for young women and for the parents in the modern world to both learn from each other. "It's a global storyline. I wanted to first make the film because girls were always told what to do, how to behave, what they can do and what they cannot do. I wanted to make a film about a girl and how she stands up to all of that and follow what she wants to do but not necessarily be rebellious. She actually takes her parents with her," said Chadha.
There are many nuances in negotiation between the girls and their parents but that also applies to boys as well. "Yes, it's seeing both sides and how each side navigates – it's a very universal idea between kids and their parents. We all want to do things that make our parents proud of us but at the same time, we may want to do things that our parents might not approve of. That's always been relevant."
We were interested in the global reaction to allowing girls to do more than what their traditional cultures would deem acceptable. Chadha recalls an interview she did where an Asian journalist questioned her motives asking "why would you encourage girls to have fun, play soccer and have fat ankles?"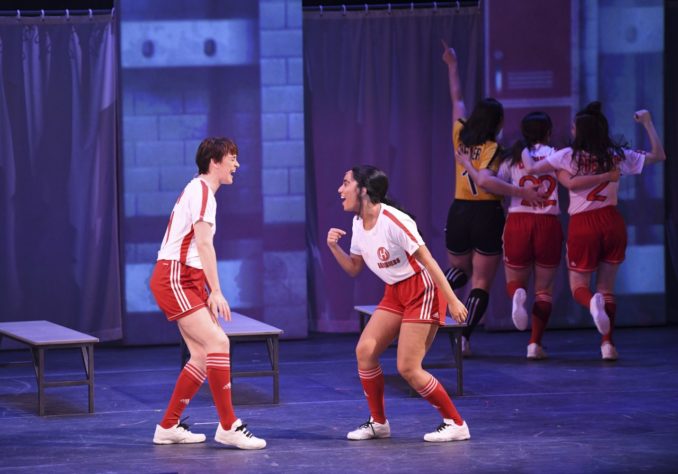 Her response was to give girls the courage to speak up for themselves.  Girls have a lot more freedom to express themselves than ever before but Chandha tells us there's still pressure for girls to behave in a particular way.
"Bending" as Chandha explains is a cultural reference as well as a nod to soccer star David Beckham. "What David Beckham does is, yes, he's able to kick a ball but it's not in a straight line. It sort of goes bananas into a curve. Most of the stories about us growing up were if you didn't do what your parents expected and you suddenly break the rules, it's was considered a culture clash. But we weren't clashing culturally. We were negotiating. We were bending the rule to get what we wanted instead of breaking the rule. That's where the term bending came from."
So, how did the musical idea come about? Chadha was at a performance of Billy Elliott The Musical and was really wowed by it. "There was interest from fans for me to work on a sequel to Bend It Like Beckham, but I could never really quite see that in my mind. When I saw Billy Elliott, I began to think if this was possible."
Chadha met with Howard Goodall (musician) and Charles Hart (lyricist). She started telling them more about characters and shared her thoughts of how a particular song would be sung in a particular way. "Then we delved a little deeper into my world and I was not expecting the beautiful songs from Charles and Howard that came out of that process. That's when I got really excited about a musical."
The musical offers a deeper and more emotional experience. The music and choreography are energetic and exciting. It scores all the points for a richly satisfying and well balanced story. "It's telling a story about football on the stage and suddenly these women who are on the team perform in dance sequences that are soccer-related but we also haven't seen this combination before. The women look so powerful and athletic and that's the point," said Chadha. We can thank the creative choreography geniuses Gino Berti and Daniel Exralow along with Longinus Fernandez for the talented moves. BTW, Fernandez who worked on the Indian dance sequences in the musical also worked on Slumdog Millionaire.
So, why Toronto as a starting point for the North American run? Chadha mentioned that it was not her first time in Toronto. She's been here during TIFF and it's where she first met her husband and really enjoys the city and its diversity. When she came into the city for the first few preview nights of the Musical she was really happy to see the mix of audience members both in age and background including many kids. "From where I was sitting in the audience, I could see people laughing, smiling and then some with tears in their eyes. This story resonates with so many."
Bend It Like Beckham, winner of Best Musical London Critics' Circle, is now on stage at the Bluma Appel Theatre, St. Lawrence Centre until January 5, 2020. It will leave you wanting to dance in the aisles with the joyful outcome. For more information visit www.benditmusical.com
Also, there is a Pop-Up Dinner Experience curated by Celebrity Chef Vikram Vij (Vancouver) prior to the musical worth checking out. The four-course prix fixe menu must be booked in advance. Details are on the site .