When we think of Chinatown, Dundas and Spadina immediately comes to mind. But did you know that Chinatown actually started on Dundas between Bay Street and University Avenue? Chinese immigrants started to settle in the area in the early 1900s and the community slowly grew. There were restaurants, grocery stores and other businesses to help support the families living there. However, when construction for City Hall happened in 1960s businesses and families began relocating and went a bit further west to where most of us are familiar with. Today, we also see pockets of Chinese communities just north of the city in Scarborough, Markham and Richmond Hill.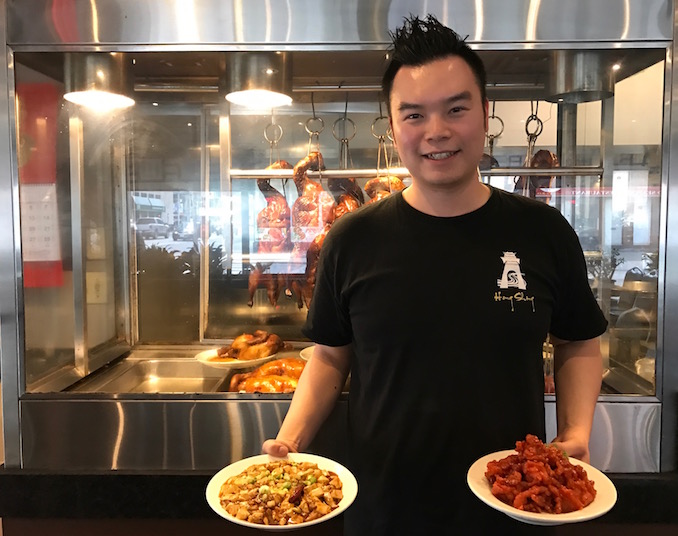 The original Chinatown strip has pretty much gone unnoticed for the past few decades. Iconic Sai Woo has long closed and even Spadina Garden has left. Most have been replaced but recently there's a renewed interest simmering in the area if you look closely. Yes, there's a Starbucks but there's also a Tsujuri and a Chatime. There are asian beauty shops, Japanese izakayas and ramen spots, and middle eastern eateries.
But I've also noticed that Hong Shing is still standing in it's original spot at the corner of Dundas and Centre Ave. It seems like it's been there forever and it has been one of my drop in spots when I was passing through the area and craved a comforting bowl of rice or noodles. It's one of those places where people say "Oh, I remember when…" with fondness. Friends would tell me about their go-to favourite  dishes. I tell them mine was beef brisket rice noodles in a hot simmering broth or just a dish of soya chicken on rice…and some would say it was their General Tso chicken. I would just smile knowing that it was one place downtown that could make really good westernized "Chinese" dishes as well as my traditional comfort foods.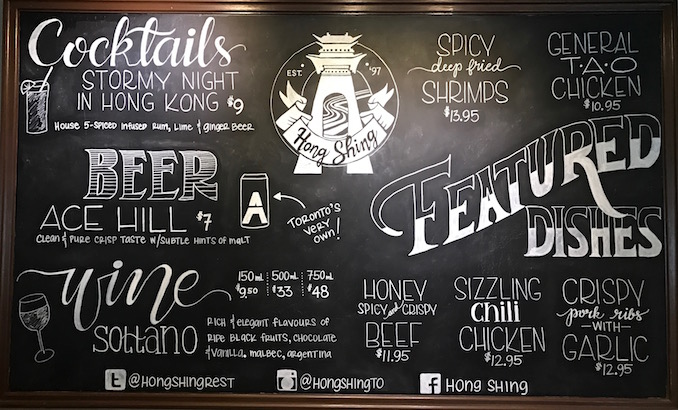 There's something to be said about the establishments that have that staying power especially in this foodie city. As we approach Chinese New Year, I wanted to spend time with the owner of Hong Shing Chinese Restaurant to find out what is the secret to its longevity.
Hong Shing is a family-run business since it's humble beginnings twenty years ago — a long time for any restaurant in this city. Last year, the ownership was turned over to the only son of the family, Colin Li. He grew up helping his parents at the restaurant and upon graduating from University discovered that he had a desire to take on the family business. So, he's been focused on learning all aspects of the restaurant business. Fortunately, he's got friends in the industry that he can go to for advice. But of course, like any new generation he's got some plans of his own.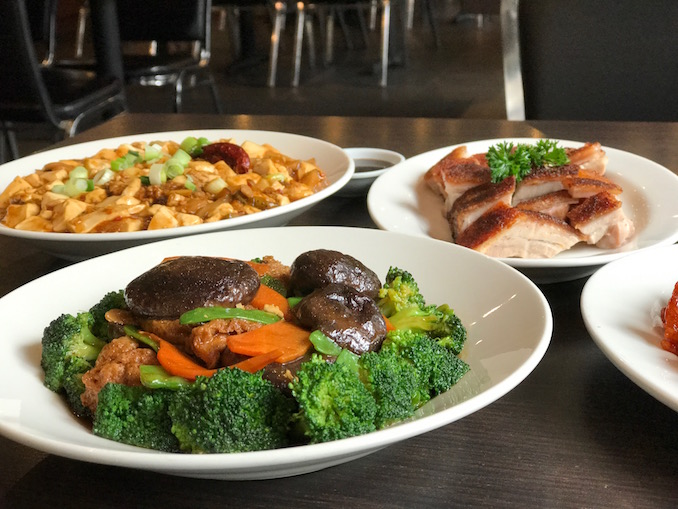 When it comes to downtown Chinatown eating establishments most people automatically recall cheap "hole-in-the-wall" places to get your late night fix after a night at a sports event or clubbing. The restaurants were often the go-to places because you could get quantities of food after hours. Li admits that staying open till 5:00 am has always been a draw for the younger crowd at his family's restaurant. You could even sometimes spot celebrities that late at night, but he won't share who. I had heard the 6ix God himself was often spotted there but Colin respects their privacy and won't confirm or deny but just laughed when I tried to pry.
While Li always knew this reputation amongst the Chinatown eateries, he wanted to refresh his family business and give diners a more contemporary atmosphere away from the stereotypical house dishes written on paper and taped to the walls or the daily specials on the chalkboard and sticky floors found at other establishments.  Why change it if it ain't broken? Since the restaurant is opens everyday of the year (except Christmas Day, for now) it would be hard to do anything drastic. Like many old timers set in their ways, he had to convince his parents that the investment in change would be good for business. The food was already a draw but he wanted to update to the environment. "I knew that in order to move with the times we had to make some changes but it wasn't easy at first." said Li. "It all started with the street sign and updating the font and colours. My family felt that it was a big change in the restaurant's identity." They all survived that change but Li knows he has to prove himself every step of the way to earn everyone's trust.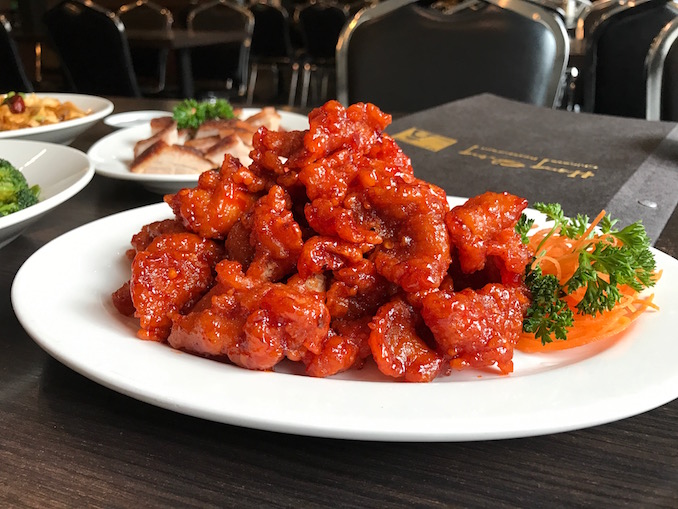 Then, other slight changes happened slowly over the past year. Aside from updating decor Li has been reviewing the menu and has done some slight modifications. Li realizes that balance is key to making changes. "Our menu was 160 dishes and we've now brought it down to 145," said Li with a smile.  Surely not a heavy chop but Li explains that there are so many customers who have favourites and he respects that. He's also updated the chalkboard giving it a modern graphic arts treatment that is definitely eye-catching. "One of my goals is to continue to attract the younger generation so they can grow with me, and continue to learn and appreciate Chinese cuisine."  Li also hopes to inspire young chefs to also take interest in learning the techniques and traditions because in a few years the older chefs will start retiring and some of these techniques will be a lost art.
When asked what are some customer favourites, Li mentioned that their Spicy Shrimp is definitely a favourite and there are days where he would look around the restaurant and every table has ordered it. The General Tso Chicken is a solid favourite as is the Honey Spicy and Crispy Beef that has been a signature dish of theirs for many years. "Both the General Tso and the Honey Beef are done differently here," explains Li. "Our chefs actually marinate the meat first before doing the next steps. Most restaurants just fry them up but people say ours is tastier." I can agree. Another stand out is their BBQ selection of roasted duck, pork and soya chicken. Li mentions his BBQ chef quite well known and highly respected in the Chinese restaurant community with over 35 years experience. "Tim is considered a Master Chef in that area and he's dedicated. He comes in really, really early and restaurant doesn't even open until 11 am."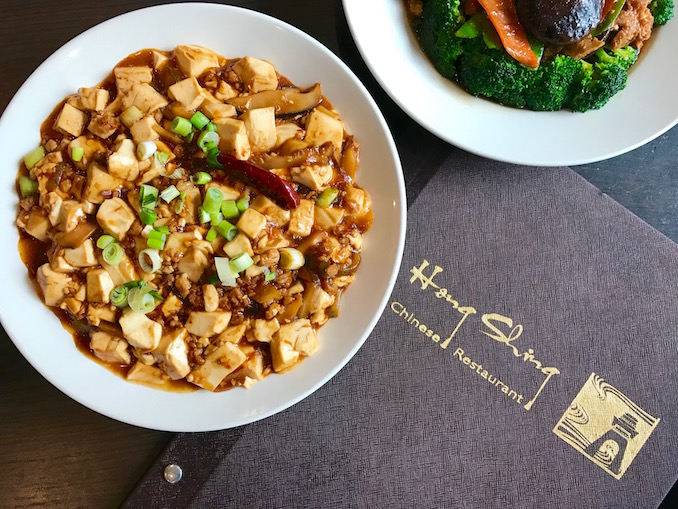 Li's boldest move since he's taken over the reigns was  adding on a cocktail bar list that goes beyond the usual offerings of beer and pop. He went to learn from some of the most reputable sommeliers and mixologists in the city. Now the restaurant is testing out the waters of offering some signature cocktails to the customers. Worth trying is the "Stormy Night in Hong Kong" that is described as sweet, savoury, spicy and tangy reminding you of that night in Hong Kong that is made with Chinese 5 Spice infused rum, lime and ginger beer.
His family also believes in giving back to the community so last year, Hong Shing began sponsoring an inner city men's basketball team. "So many of our loyal customers have a passion for sports so it was a good fit for us." said Li. The team starts up again in a few weeks up at the HoopDome facilities in Downsview.
"I've learned through speaking with our customers is that Hong Shing has been more than a restaurant. It holds so many great memories for people and we love hearing their stories. It's a special place for so many. We're fortunate and grateful to have a strong and loyal base of customers."
For more info, check out the Hong Shing website.