We brought our appetites north of the 401 for the latest restaurant opening to experience Korean BBQ. Busan Galmaegi located on Yonge Street just a few blocks past Finch is a cozy new spot for those willing to take the extra steps.
Booths for two or four people are set up with a large grill at the centre of each table but what makes this establishment different from others is the three type of grilling offered…all in one meal, if you choose. What you order will dictate what style of grill they will place on the heating element: Cast Iron grill for raw cuts (the pork skirt meat and the beef rib are equally delicious), Grid Iron for the house specialty marinated meats – highly recommend the Galbi (beef) and the chicken. The third grill is a Stone Plate used for cooking up delicacies including intestines – a popular dish in Korea!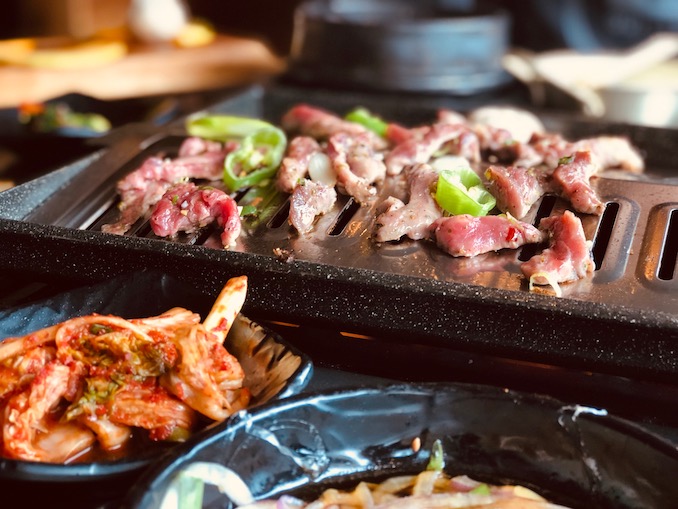 Restauranteur Eun Tae Park (Daldongae and Chicken in the Kitchen) wanted to offer Torontonians a real Korean dining experience. Having been in Canada for ten years, he's witnessed a transformation in the city with foodies interested in more authentic flavours and cooking techniques. Park wanted to showcase the food of Korea the way he remembers from his motherland and dishes he longs for.
But why three different grills? Each one serves a different purpose but to bring out the best in meats like dry-aged beef. The Cast Iron Grill evenly distributes the heat on contact allowing for a more uniform grill while searing in the natural flavours. The Grid Iron is a mesh net type of grill that lays flat on the heating element. This grill allows for more direct flames to hit the meats which gives a more caramelized finish ideal for marinades.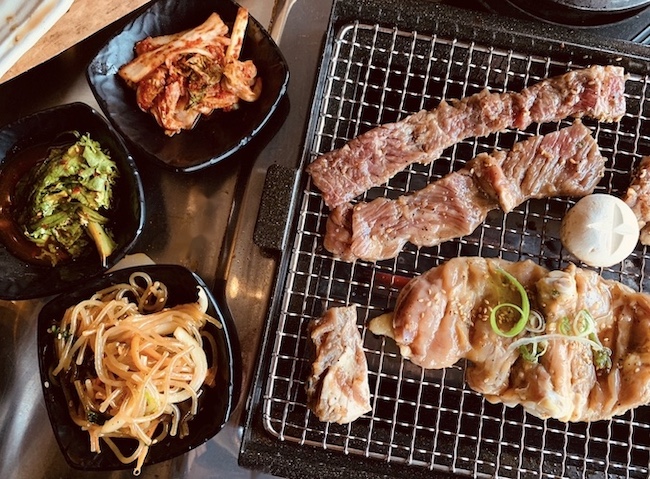 The marinated meats are done in house and the fresh cuts incorporate with five ingredients. In addition, their secret sauce? The chef blends a Korean peach juice into the marinade for a more tender grill.
As in many Korean restaurants, a plethora of appetizer size side dishes will arrive before the main entrees for grilling. The day we visited the selection included marinated eggplant, chestnut gelee, jap chae noodles, spiced lettuce salad, broccoli, and of course, kimchi.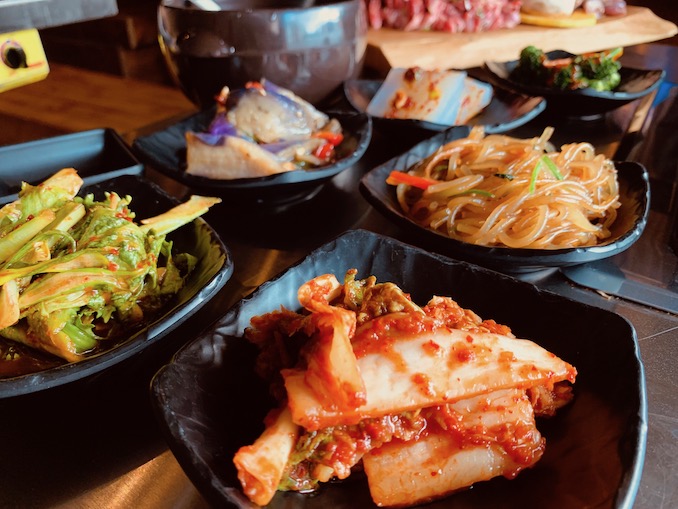 The menu also offers up accompanying dishes including a cold radish soup – a type of palate moderator to bring your taste buds back to neutral in between entrees, cold and spicy noodle soups that are not commonly found in other Korean BBQ restaurants in Toronto.  However, in the middle of winter, we were really happy to enjoy the grill selection and feeling the warmth of the grill and suggest saving the cooling dishes to try in the summer months.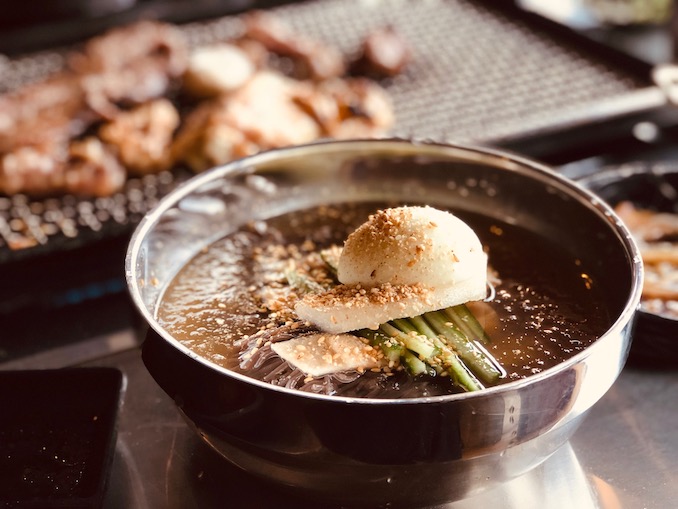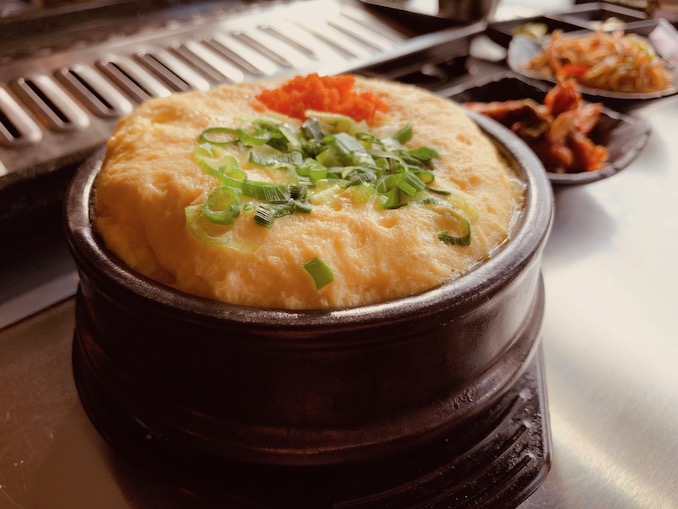 Two great side dishes we really enjoyed included a traditional steamed egg (gyeran jim) with fish roe dish served in a hot stone bowl as well as a soft tofu stew (soondubu jjigae). Both comfort dishes that we love with a bowl of steamed rice but also balances the grilled meats nicely.
What else should you know? Korean BBQ is interactive where you're doing the grilling.  Each table is provided with a set tongs – use these to move the raw meat onto the grill and to cook. Then use your personal utensils to eat once the items are cooked.  It's up to you to cook the meats accordingly. Large kitchen shears are also brought to the table that are handy to cut up larger pieces of meat once cooked. Lastly, don't hesitate to ask for any explanations. Staff is happy to guide you through. Have some Soju and enjoy!
Busan Galmaegi Korean BBQ is located at 5935 Yonge Street. Open daily from 12 noon till late. Check out their website. Reservations recommended.