The inviting harmonies of Wild Rivers provide a shimmering texture to the band's new EP, Eighty-Eight. However, dedicated fans know about the depth of Wild Rivers – from the alluring melodies that take unexpected turns to the undercurrent of emotion in their tightly-crafted lyrics.
Wild Rivers is composed of Khalid Yassein (vocals, guitar), Devan Glover (vocals), Andrew Oliver (guitar, bass) and Julien Laferriere (drums). The Toronto-based band has accrued more than 35 million streams on Spotify, toured consistently across the U.S. and Canada, and earned a reputation as a band that makes a powerful connection with listeners.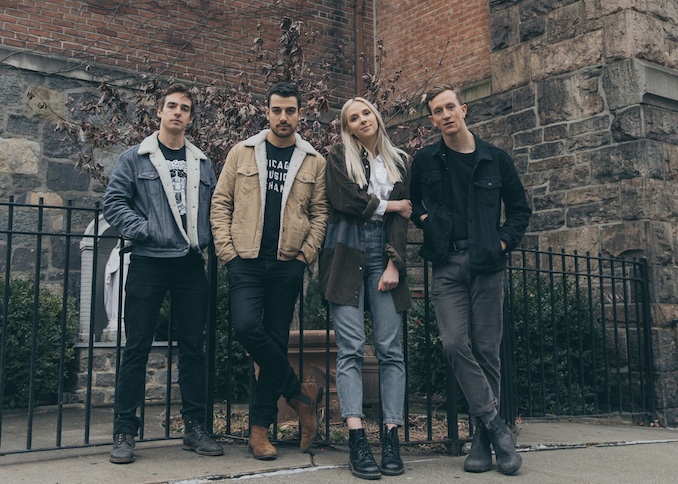 Name : Wild Rivers
Genre: Folk 'n Roll & Country Soul
Founded: 2015
# of Albums: 1 album, 1 EP
Latest Release: EP – Eighty-Eight (released June 2018); Moving Target (Single, released Jan 25 2019)
Latest Single: Moving Target – released Jan 25
Latest Video:
Favourite Restaurant:
Devan: Fresh (amazing vegetarian restaurant)
Khal: Sima sushi (sushi in Kingston)
Andy: Black Cat Coffee – best breakfast sandwich in the city
Julien: Freshii (way better than Fresh)
Favourite band as a teenager:
Devan: Coldplay
Khal: R.E.M.
Andy: The Strokes
Julien: The hip
Favourite band now:
Devan: Coldplay's still up there! Bombay Bicycle Club, The Lumineers, The Paper Kites
Khal: Dawes
Andy: Nathaniel Rateliff, Bahamas, John Mayer, Tame Impala
Julien: Daniel Romano/Attack in Black
Guilty Pleasure Song:
Devan: What Makes You Beautiful – One Direction (TBH: there's no guilt! It's an amazing song.)
Khal: Bad Boys 4 Lyfe
Andy: 21 Questions (Feat. Nate Dogg) – 50 Cent (Nate Dogg was the king of hooks)
Julien: anything by Paramore
Live Show Ritual:
We huddle up side stage, and take turns giving cheesy inspirational speeches before the show. Then we say TEAM and bonk heads in the middle.
Favourite local artist:
Devan: Andy Shauf, Charlotte Day Wilson, Daniel Caesar
Andrew: Bahamas, Andy Shauf, Lost Cousins, Matty, BadBadNotGood
Khal: The Weather Station
Julien: FET.NAT
Sneaky Dees nachos, pasta from Terroni or a superfood salad from Fresh?
Devan: Death from above nacho
Andy: Give me those DFA Nachos
Khal: superfood salad to avoid the nacho guilt
Queen or College St?
Devan: Dundas west
Andrew: Dundas West all the way. Little Portugal FTW
Khal: Dundas West
Trinity Bellwoods or Highpark, Riverdale or Kew Gardens?
Devan: Trinity Bellwoods! My favourite place in Toronto (in the summer)
Khal: Riverdale
Andy: Trinity Bellwoods (Dufferin Grove beats all)
Julien: Trinity Bellwoods is my home, now
EP or LP?
Dev: Hmm this is hard… but these days I might say EP.
Khal: LP
Andy: Double LP
Julien: single
Early bird or night owl?
Dev: Both? I don't get very much sleep
Khal: 100% night ow
Andy: Owl.. whoooo whooooo
Julien: both
Road or studio?
Devan: Studio
Khal: Studio on the road
Andy: The Stu
Julien: my only love is the road
Upcoming shows?
February 27 – Toronto, ON – Opera House *
February 28 – Hamilton, ON – Mills Hardware *
March 1 – Guelph, ON – University of Guelph
March 2 – Burnstown, ON – Neat Café (SOLD OUT)
March 4 – Montreal, QC – Quai *
March 5 – Quebec City, QC – L'Anti *
March 6 – Kingston, ON – The Ale House *
March 7 – London, ON –Rum Runners *
* with special guest Cat Clyde
Where can we follow you?
Facebook | Twitter | Instagram | Website