The first ever Canadian Flowers Week (September 13 to 19) is on our radar — an initiative by Natasa Kajganic, founder of the Toronto Flower Market created to celebrate local blooms and the Canadian growers that nurture them. The purpose of this week is to promote the local flower movement and support not only the people in the industry but also the environment. The local floral industry wants to encourage conversations and awareness by engaging the public, policy makers and media. It aims to help Canadians make conscious purchase decisions by providing education about growing seasons, inform them about what's available and when, and where they can buy local blooms.
No surprise to learn that most of the flowers sold in Canada are imported from the U.S. and South America. However, according to pickOntario 97% of people want to buy local flower but don't actually know what's in season. We've learned there are over 2,000 greenhouse and field growers and over 250 flower varieties are grown throughout the year right here.
Canadian Flowers Week isn't just an opportunity to purchase some fresh stems from local growers and florists, you will also want to check out the roster of events planned.
On September 13, head over to the Gladstone Hotel between 12pm to 2 pm for the launch of Canadian Flowers Week at the Cutting Garden. Local forests and growers are bringing crates of flowers for guest to cut their own bouquets. The event is free. There will also be flower installations by local florists. Other events are listed at canadianflowersweek.ca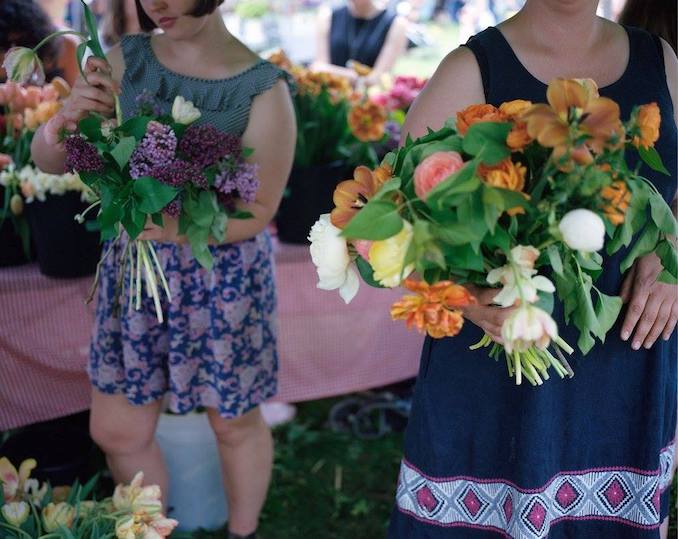 We had a chance to chat with Natasa Kajganic to find out more…
Buying flowers all year round is a great idea, so what should we be looking out for this coming fall months to support our local and Canadian flower growers?
Fall is a wonderful time for flowers, especially as we head into a season of dormancy in our fields. The greenhouses are in production and the field growers are in the last stretch of abundance. The big headed blooms – dahlia and hydrangea are falls show stoppers. For an array of texture and colour, lisianthus, zinnia, flowering kale, mums, calendula, cosmos, marigolds are perfect for mixed arrangements. For delicious scent — freesia and lilies. And for dependable, available throughout the year blooms – snapdragons, gerbera, spray roses and orchids. There really is a lot to chose from! The key is hitting up your local flower/farmers market, asking your go-to flower retailer what they have that is in season or looking for "Grown in Canada" or the province you live in labelling at the grocery store.
When we purchase homegrown flowers it is also more environmentally friendly. What interesting facts can you tell us about that?
Many of the flowers sold in Canadian are imported from the United States and/or South America. And while there are fossil fuel implications to the environment due to travel, the most important thing to consider is how choosing to buy Canadian grown flowers benefit our country.
Due to strict regulations set by the Canadian government, Canadian growers have to abide by strict ethical and environmental production processes – which also means no pesticides!
And in recent years, there has been an increase of small scale field flower growers, who by the act of cultivating flowers are preserving our farm land and giving animals, insects and birds a place to live and thrive.
The more consumer awareness around locally grown – how and where flowers or food is being produced, the better. It holds our growers accountable to using sustainable agricultural practices. Whether it be pursuing organic certification to reduce environment impact, or implementing ecological practices like installing a water recirculation system to preserve renewable resources, the benefits of choosing local are long lasting.
We can't control the regulations and growing processes outside Canada. But we can decide to support our local growers who are working to make better environmental decisions regularly.
On an aside, even florists are trying to be more environmentally friendly (not just by buying seasonal & locally grown flowers) by not using oasis foam in their designs. Instead finding alternatives to building out their installations that are not damaging to our planet  https://www.instagram.com/nofloralfoam/
Thinking all year round, what are some of the most popular blooms grown in Canada?
The most popular blooms change with the season. Not your typical flower, the anthurium has become more popular flower for it's uniqueness. Plus it's a great flowering indoor plant for those that don't have a green thumb! Ranunculus are the romantic, multi-layered petal bloom which is available throughout the winter months. We think it's more romantic than the rose and a perfect local alternative on Valentine's Day. Tulips in the spring, because after a long winter we are desperate for some colour and life. Tulip varieties are plentiful as both greenhouse and field growers are in production and provide a range of options in shape and colours. Peony take over the month of June! Her presence is very short and so very few can say no to the busty, full of scent bloom. Then throughout the summer, field blooms are a hit from the delicate cosmo to the garden rose, field blooms introduce new varieties that people don't typically see in stores or can be flown in from another country because they wouldn't survive the travel time.
How about the lesser knowns? Any surprises that people aren't aware of?
The industry has been more creative with their "filler" greenery adding basil and dill to arrangements for both shape and scent.
There is a grower in the Yukon, who in the summer is challenged with 24hrs of sunlight. This year she grew anemone for the first time!
Eryngium is a blue, spikey flower that we are seeing more in wedding arrangements, bouquets and boutonnieres. I'm not sure if it's because of the something blue tradition but they add some edge to the more traditional billowy shapes.
Nasturtium is a versatile outdoor flower that maybe one of your tastiest blooms in the garden. With a bit of a peppery bite, they are great for garnishing dinner plates or tossing in a salad.
Are there growers that allow us to pick our own in Ontario?
Garden Party Flower Farm in St.Agatha, Ontario hosts "pick your own" flower days every Saturday and Sunday from June through to Thanksgiving. There is something very therapeutic and intentional when you cut your own bouquet of flowers. You enter the process delicately and consider the growth process, making your action of cutting the stem from the root that much more thoughtful. It's obvious to say this, but there is a closer connection and deeper appreciation for a flower when you visit it on a farm then when you purchase it from the checkout line in the grocery store.It connects you to the process in a way that makes you appreciate nature's cycles and the time it takes for it to flourish, rather than oogling over the beauty of the bloom that sits in a vase in your home. I highly recommend it. It's a wonderful experience.
How about tours? We hear they are offered in various provinces. What are some in Ontario that we should put on our radar?
On September 16th, Ontario is hosting the Petal Path, where growers sign up and open their farm gates to the public. Participating growers guide guests through the growing process, tour the farm to see how our flowers are cultivated. Throughout the year, growers host their own events and PickOntario have launched a Petals and Plates series, where they sell tickets to a dinner in a greenhouse or in a flower field. More and more, our growers are welcoming the public to see first hand how flowers are produced through special experiences.
Most of us have heard about the sunflower farm overwhelming experience this past summer with people wanting to visit. What do Canadian flower growers want to tell those who are absolutely willing to drive for hours to get those beauty shots?
It's hard to deny the opportunity to run arms wide open with glee through a flower field, we know, we've done it ourselves. But it's important to remember that the flower field is on someone's property. So the best thing to do is ask for permission. We have no idea what action (walk, run, stand, etc) can damage the crop – which a grower has spent time and money to cultivate. Be considerate, it's someone's home and business. And of course, be safe. Don't put yourself or anyone else in danger.
Canadian Flower Week is also about the creative work of Floral Designers. Can you share any trends you're seeing for this upcoming fall and/or winter seasons?
Installations! Whether it be for weddings, events, or on the side of the street (Lewis Miller Design in NYC has been beautifying the streets of New York with flower flashes – they are brilliant) everyone is looking to create a flower installation that people can engage with, something that transforms the space in a way that table arrangements can't.
What are your personal favourite Canadian grown blooms?
My favourites change every year 🙂 Last year I loved the cosmo for their cheerfulness, this year I was introduced to a local carnation and it had scent! Carnations throughout the years of mass production have lost their scent in favour of ensuring they last longer and have a longer stem length. I much rather a smaller carnation if it means it has scent. I love a vase full of a single colour of gerbera daisy. Anemone are my go to throughout the winter. But I think my all time favourite Canadian grown bloom are tulips. At the spring Toronto Flower Markets, I buy one of each tulip type available and then put them all together in one vase. I don't know if it's coming out of the winter, but there is so much hope and happiness in that arrangement. It's one ritual I do every year.