We love getting together with friends over the festive season! We're happy to say goodbye (and really good riddance) to 2017 and to say hello to 2018. Whether you're looking for something quiet or something a little naughty, here are a few great new spots to find your comfort and joy this holiday.
WHAT'S NEW:
BOSK Winter Garden at Shangri-la Hotel: (88 University Avenue) If you think you can't enjoy the outdoors in Toronto during the winter months, this beautifully created winter scape will definitely change your mind. A cozy and luxurious setting takes us outdoors at Bosk's patio. The picturesque setting was designed by House and Home Magazine complete with plush seating, fire pits, heat lamps and no shortage of warm blankets. Escape here for mulled wine and nibblies surrounded by twinkling lights.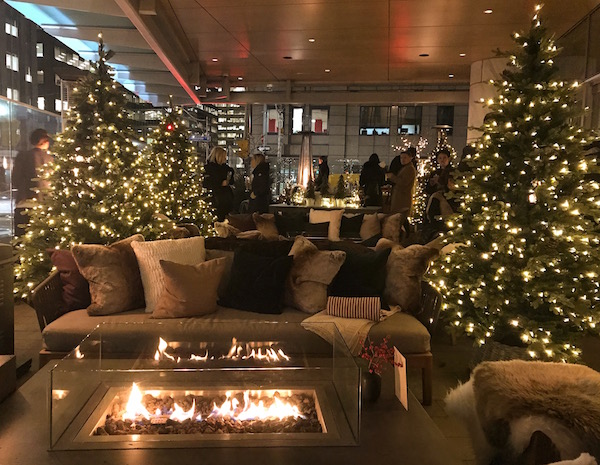 BACCHANAL: (60 Sudbury Street) This neighbourhood bistro with sass features a modern french menu and excellent cocktail menu. Linger with friends over fresh treasures from the raw bar, nibble on apps like their Pate de grand-mere (pork & duck liver) or savour over the hearty Steak Frites. Absinthe lovers should ask for the "not-so-secret-but-secret" menu. Save room for the Baba au Rhum.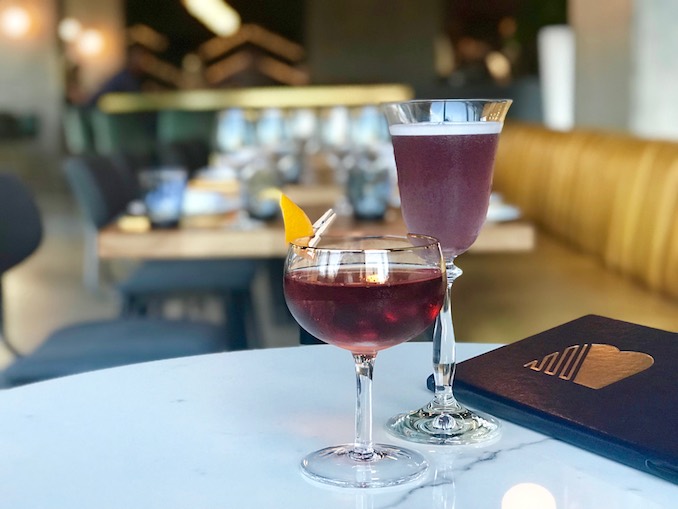 LOBBY LOUNGE at Bisha Hotel: (80 Blue Jays Way) It feels more like you've stepped into a rich and inviting bar in Europe as you pass through the dramatic velvet curtains.  This long marbled lounge serves up popular snacks and meals and a great selection of cocktails. Sultry and sexy indeed. Try and nab a table near the fireplace. Located on the main floor.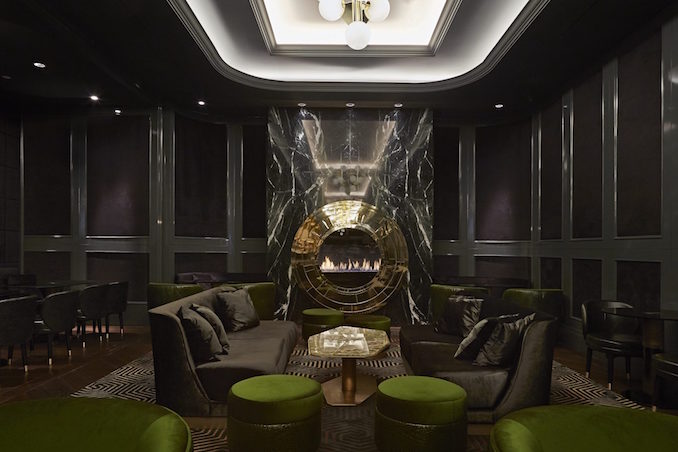 GOLDIE: (619 King Street West) Slip into the cozy and inviting new upscale bar and lounge with rich velvet accents and fringed chandeliers also has a separate Louis XIII private room. The kitchen is led by Executive Chef Romain Avril (Lavelle) who designed and developed a playful but elevated food menu. The cocktails here are by Jake Dolgy.
THE CIVIC at The Broadview Hotel: (106 Broadview Avenue) located on the main floor of this east side boutique hotel this restaurant welcomes  locals and visitors alike. Restauranteurs Erik Joyal and Executive Chef John Sinopli offers up old time classics with modern sensibility. Share the cod croquettes and mushroom toast made with sautéed mushrooms over house-made brioche.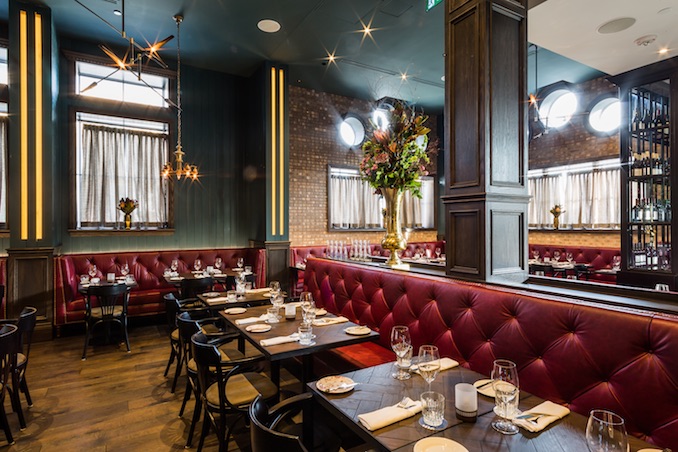 CRAFT Beer Market: (1 Adelaide Street East)  This new two-storey restaurant houses over 400 seats featuring Ontario's largest selection of craft beers from new and well-established classics. When you enter, you'l be greeted by a glass enclosed keg room. Stainless steel draft beer lines connect the keg room to the restaurant's centre focal point – an oval shaped bar lined with 160 taps ready to enjoy. And it's not just about the beer, the menu includes many comfort foods as well as Ocean Wise sourced dishes. Shrimp Tacos are a must.
WHAT ELSE IS FESTIVE IN THE CITY?
The Nutcracker High Tea at The Shangri-La Hotel: (88 University Avenue) Themed after the second act from the Nutcracker Suite. Along side the savoury morsels, the sweet treats are gifts from the Sugar Plum Fairies; Santa triangles reflect chocolate from Spain, fruitcake reflects the tea from China, Chocolate logs represent coffee from Arabia, and the panna cotta represents the candy cane from Russia. Reservations strongly recommended as this is a popular High Tea. Live music entertainment serves as the perfect backdrop.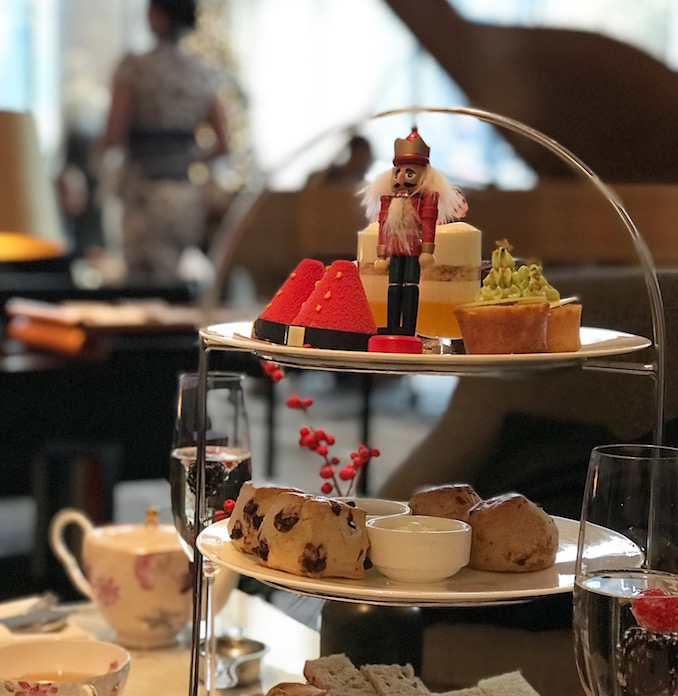 The Ritz-Carlton Express: (181 Wellington Street West) families are invited to bring their kids along to experience the hotel's dazzling sugary display. All aboard the Ritz-Carlton Express made with 700 lbs of chocolate in tis life-size locomotive. Train also features a complimentary candy cane station inside the car. If you visit on the weekends they too are hosting a Nutcracker themed afternoon tea at the DEQ Lounge. Reservations recommended.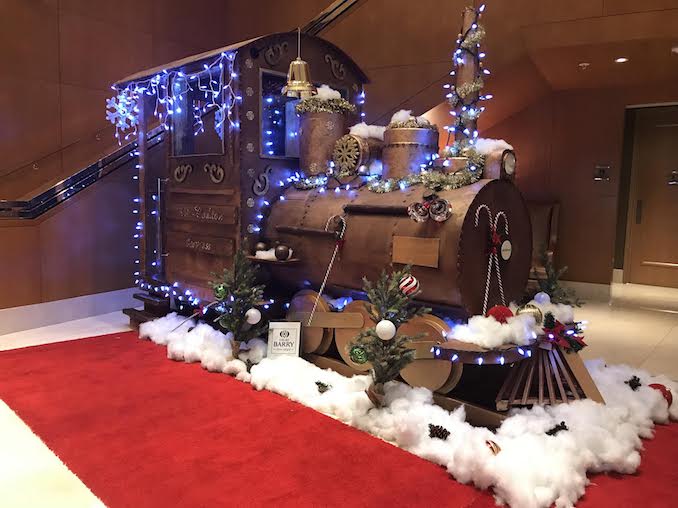 Festa dei Setti Pesci (Feast of the Seven Fishes) at Fabbrica Restaurant (December 22 only):  Shops at Don Mills. Chef Mark McEwan & Chef Missy Hui will take guests on a tour across Italy with their luxurious pescetarian menu served in true Italian family style. Seafood lovers will indulge in shrimp, oysters, cured salmon and more. Then, the feast continues with Fritto Misto, Salt Cod Arancini, Mussels Marinara, Linguine with clams, white wine, garlic and a whole grilled Bronzino Puttanesca. Reservations required. ($95 per person, wine pairing addition $22 per person)