Adam House charity looks to deliver a clean and secure living environment to people and refugees who are not familiar with the surroundings of Toronto. We recently chatted with the founder of this wonderful charity who gave us an explanation of how they provide resources to refugees.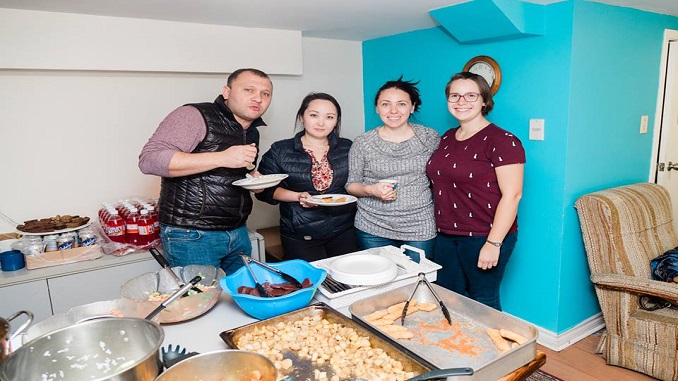 Describe your charity/non-profit in a few sentences.
Where would you go if you had nothing and you knew no one? This is a question we ask people to ask themselves. Having nothing and knowing no one is often just the beginning of the barriers our residents face. Often times there is a language barrier. Refugee claimants are dealing with numerous issues—trauma that was experienced in their home country and on their journey to Canada, and often living with the anguish of leaving family behind.
Adam House provides refugee claimants with clean and safe living accommodations. The staff at Adam House provide assistance and advice with immigration procedures, primarily to our residents and former residents. We provide referrals to legal services, medical assistance, and community resources. However, Adam House is much more than shelter or the services we provide. Adam House is home. A place where residents find friendship and support-from our staff and each other. Adam House is also a place where refugee claimants can find hope for their future, as we pray with them through their difficulties, and celebrate their successes. We encourage our clients to contact us for continued support, even after they find permanent homes and move into the community.
What problem does it aim to solve?
We aim to solve the problem of homelessness amongst newly arrived refugee claimants in Toronto. We also provide immigration and settlement services so that our clients have the information and help they need to have the best chance of a positive decision regarding their refugee claim, and to settle well.
When did you start/join it?
I joined Adam House in February 2002, just after the building was purchased.
What made you want to get involved?
I wanted to get involved because I was excited about the opportunity to provide a warm welcome to Canada, for newcomers from around the world.
What was the situation like when you started?
When I first started at Adam House, the building had just been purchased and it took several months to renovate to suit our purposes and start providing housing for refugee claimants. There were almost 40,000 refugee claims made in Canada that year. Refugees stayed with us for 8 weeks maximum, and one of the first questions they asked us was, where they could buy a phone card.
How has it changed since?
The numbers of refugee claimants in Canada have gone up and down over the years, with the number as low as 11,000 in 2013, and back up over 40,000 in 2017. The changes are usually the result of legislative changes here in Canada, but can also be impacted by world events. Refugees now stay with us for 4 months, rather than 8 weeks. This is due to changes to the refugee claim process and the difficulty of finding affordable housing. Now one of the first questions they ask is, what is the Wi-Fi password.
What more needs to be done?
With the rise in numbers and the increased length of stay, we find we are turning away several refugee claimants each week. Many refugee claimants are unable to stay in refugee specific housing and are residing in homeless shelters, which is not appropriate shelter for refugee claimants who have already been traumatized by the situation in their home country, having to leave friends and family, and the journey to Canada. We need more refugee specific shelter space, and more affordable housing options in the city.
How can our readers help?
We are planning to open another home with more beds; however, we need financial resources. Readers can partner financially at our website. They can also contact us to see what gifts in kind we might be collecting at any given time.
Consider renting to a refugee or refugee family.
Do you have any events coming up?
We will be celebrating World Refugee Day with an International Food Fair on Sun, Jun 9, 2019.
Where can we follow you?
Twitter | Facebook | Website