For almost two decades, Pure + Simple spas have connected wellness-seeking Torontonians with a holistic and all-natural spa experience. Pure + Simple's natural approach to beauty is built upon admirable core values like making safe and ethical all-natural products that promote sustainability and ethical spending – their skin care products are made in Toronto.
Every Pure + Simple product on the shelves and used in spa services are free of harmful ingredients like parabens, petrochemicals, silicones, phthalates, sulfates, synthetic fragrances and dyes. The business has lead the beauty industry forward with award-winning, Cert Clean certified organic products. It's these commitments to quality, ethics and the natural world that make Pure + Simple exceptional.
Microderm Mission!
Having never tried microdermabrasion before, I accepted Pure + Simple's invitation to try one of their most popular spa services – the 60 minute Sea Salt Microdermabrasion facial. You know you are ready for microdermabrasion when basic face scrubs and fruit acids are not doing enough to improve your skin. If post-acne scars, clogged pores, sun damage and uneven skin texture are ongoing concerns, then it may be time to try microdermabrasion.
The treatment is not as daunting as it sounds – don't be afraid! Microdermabrasion is an intensive exfoliation of the skin using a machine that sprays an exfoliant (like sea salt or crystals) to remove dead skin cells from the skin's surface. In keeping with Pure + Simple's mission to use only natural substances, the spa uses sea salt to abrade the skin, as it is more refining and naturally anti-bacterial.
The Sea Salt Microdermabrasion treatment is recommended for people with fine lines, sun damage and acne prone skin. Anyone can have it as long as your skin is not super sensitive or in the midst of an active acne breakout. If microdermabrasion works for you, then having four treatments a year is acceptable, combined with regular facial care at home or at the spa. The procedure is safe to have once a month if you like, but more than that is overkill on your face. Final results take a few days; the skin needs to rebound from the treatment, typically in three to five days you will see full results.
Here's What Happened
The Pure + Simple Sea Salt Microdermabrasion began with a cleansing of the face, followed by a skin analysis and a preparatory exfoliation. Next was a hydrating facial massage with steam and P+S restorative raw argan oil (the neck and shoulders were also massaged). This was probably the longest facial massage I have ever experienced – it was lovely.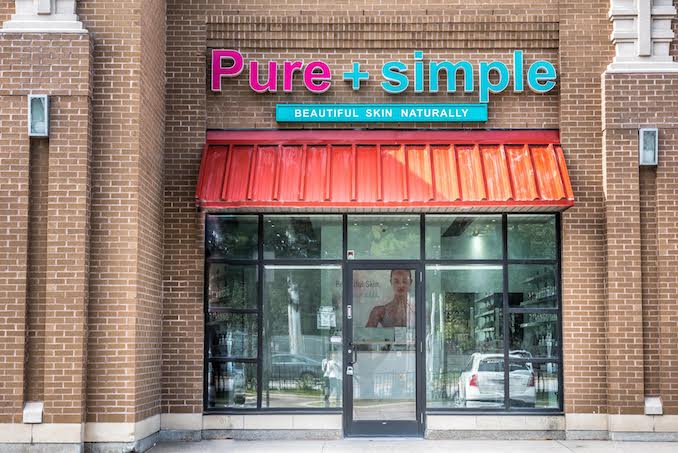 After the massage, the microderm procedure was clearly explained by my esthetician. The microdermabrasion machine uses a variable flow of vacuum suction to keep contact while the salt buffs and resurfaces the skin. I felt a sucking sensation on my face that was a bit scruffy. The procedure didn't take long and it felt fine on my skin.
Next my esthetician cooled my face with a P+S Black Charcoal Detox Mask; it contains natural algae and rose for purification and hydration. As I was headed straight home after the facial, she then applied more healing and nourishing argan oil to my face. Of all the products used in the facial the argan oil was my favourite. I was happy to discover it's sourced from an all-female co-op in Morocco. I totally support that!
This was an educational experience for me and as a newbie to microderm treatments I would positively recommend the Sea Salt Microdermabrasion facial. My skin looked much healthier and bright plus it felt extra soft. Five days later my skin looked younger and brighter – it really made a difference to my appearance.
As summer comes to an end and tans begin to fade, those of you who have overdone it in the sun might think about treating yourself to a rejuvenating Sea Salt Microdermabrasion facial to repair skin damage. Look into it!
***
To check out the Pure + Simple spa menu and book a treatment visit: https://pureandsimple.ca/. Open seven days a week at six GTA locations including King Street, Yorkville, Yonge & Eglinton, The Beaches, Oakville Mississauga and Richmond Hill.
Pure + Simple offers monthly specials on spa services and products. An excellent way to try out a new facial or body treatment at a reduced cost. Treatment packages are also available at any time.
About Pure + Simple
Pure + Simple is an all-natural skin care and wellness spa for people seeking products and spa services that complement their healthy and natural lifestyle. Founded in 2000, Pure + Simple was one of Toronto's first all-natural spas, located at Yonge & Eglinton. Since then Pure + Simple has expanded to six locations in the GTA and one in downtown Waterloo.
The Pure + Simple brands include: Pure + Simple (good for everyone); the Holistic Vanity and Minimalist lines are richer and more moisturizing, anti-aging and cover targeted skin care needs. For instance there is Holistic Vanity for Redness Relief, Acne Care, Damage Care and Extra Care (for extra sensitive skin). You can purchase P+S skin care at any spa location and online without having to have a spa service.
Besides Pure + Simple's own in-house lines, the spas stock top Canadian brands like Sahajan, Bella Aura, Fitglow, basd, Skin Essence and Chorus.
Visit their website for more info.