Our latest featured business is BookBack, an app to help you buy and sell your school books. The app was founded by CEO George Khalife, the CTO Elie El Ajaltouni and the CDO Hikmat-Tony El Ajaltouni. We recently got to chat with George about the company.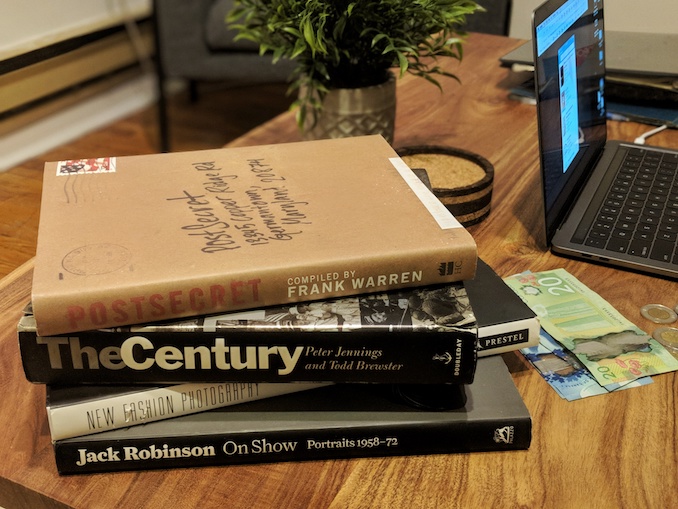 What is your business called and what does it do?
Our business is called BookBack – it's an app for students and general book lovers to buy and sell books more easily.
What made you start this business?
Having been graduated for almost 4 years now, I realised that the book exchange process hasn't changed – students are still using Facebook groups and Kijiji which is not the most seamless process. So we wanted to introduce a platform that can be used by anyone anywhere in the world to quickly upload and/or search for books.
What problem does this solve?
We believe that books are meant to be an investment, not an expense. Students already have enough expenses to deal with from student debt, to student living – so having a marketplace where they can buy books at a discounted price and sell old books they no longer need to make some extra cash is a pain-point we're passionate about addressing.
Who are your clientele/demographics?
Our most direct clientele are students in university and high school. We do want to narrow our targeting to start and are focusing mainly on Ottawa and Toronto (where we have already-established networks with universities and students). Once we gain traction from the market, we'll start scaling the App into new regions and broaden the feature set to provide more value to users.
How does your business make money? How does it work?
For now, we won't be making money directly from the App. It's free to download and use. Eventually, we'll be able to monetize through ads on the App and possibly introducing automated payments whereby we would take a cut from every transaction (more on this soon!).
Here are the core features for how it actually works:
1) Scan a book you want to upload the information very quickly
2) Search by title or author of a book you're looking for
3) Chat with users in your local area
4) Meet up to make the exchange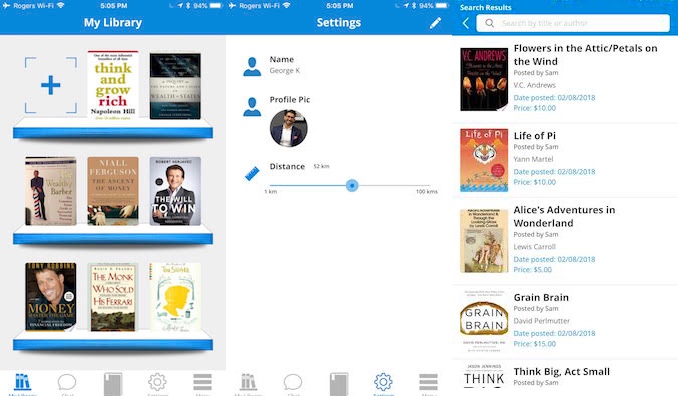 Where in Toronto can we find your profession?
The thing I love most about Toronto is that it's quickly becoming an awesome Tech-Hub, one with a great ecosystem of talented entrepreneurs, motivated investors, and passionate stakeholders. This is our time to bring the city to the global stage and show the world what we have to offer. Just take a walk down King St and observe the many cool startups popping up. The 6ix is about to blow up.
What is the best question a prospective customer could ask a member of your profession when comparing services?
"Why BookBack over other platforms like Facebook, Kijiji or Amazon?"
We wanted to keep BookBack straightforward and simple to use. The cool thing about version 1 of the app is that we enabled features that we knew would really reduce the pain-points for users (after conducting research). For example, by using the scanning feature, a user can upload a book in less than 15 seconds. Also, the fact that the app relies on the location of the phone means that it can be used anywhere by anyone (it's not restricted by geography). This gives people the advantage to use the app in their local communities and buy/sell books more easily. For students, this also means using one app to keep track of all conversations related to the exchange and completing it safely in a public setting, like on on campus.
What is the best part about what you do? What is the worst part?
The best part is when you actually launch a product you've been working on for a while and see it come into fruition. There's no better feeling knowing people are using your product/service – one that actually solves a problem out there and makes people's lives easier.
The worst part is what Reid Hoffman, Co-Founder of LinkedIn, calls "The Valley of the Shadow" – a period of self doubt and questioning whether or not to continue. Getting past this gloomy phase and overcoming the fear is always worth it, so long as you're working on something meaningful.
What is you favourite jokes about your own profession?
That entrepreneurship is glorified and romanticized, and while we go through this grind because we truly love it – it is a daily hustle. This game requires a lot of perseverance and commitment, so you really have to choose something you love and go after it no matter what.
PAY IT FORWARD: What is another Toronto business that you love?