Beautiful summer evenings in the city are made to be accompanied by flights of beer on a patio. If that isn't an official pairing yet, I have decided to make it one.
Northern Maverick Brewing Co. is a delightful local brewpub at Bathurst and King and not only does it have the perfect people watching patio, it also has a beautifully styled interior where in some places you can spot the brewing in process!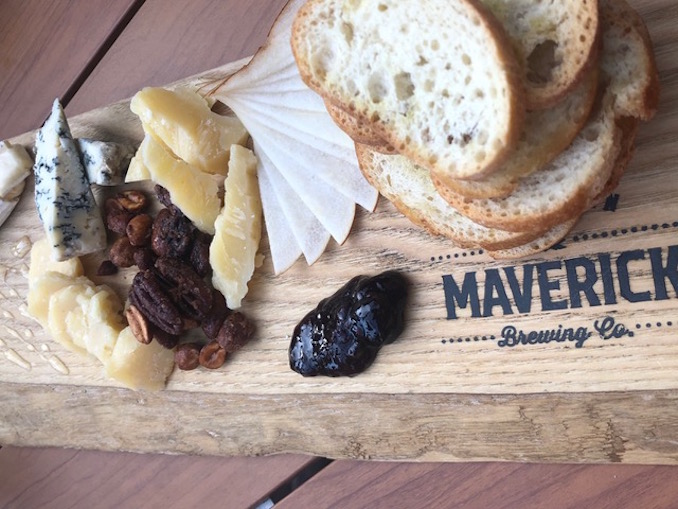 As I said, sunshine and flights make magic summer nights. I tried the delicious crafted lager (which was a caramel bread treat!), the citrusy Enforcer IPA and the Destroyer IPA, the slightly sour Gosezilla and the malty Stout. I have to say, while there were some strong contenders, the lager was definitely my favourite.
Speaking of great accompaniments; I washed down my flight with tailored cheese board. Honey loves her cheese and Northern Maverick know what they're doing! The manager even slipped on a two year aged Gouda from "the back". Yum! I hear the bacon jam is a must when it comes to a cheese pairing, too! The beer nuts also provided a lovely little crunch.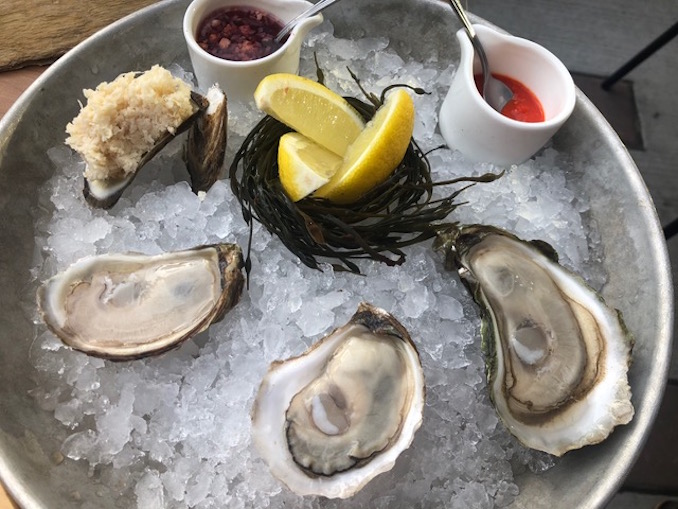 Northern Maverick have Oysters, too! I tried three from the East Coast, my favourite being a juicy fella from PEI. Psssst, on a Sunday, there is buck a shuck from 4pm!
So many items on the menu looked great as they came by me. The Bao Chicken, in particular, looked a treat! At the moment I am not eating meat (shh, Oysters don't count) so I tucked into the ample vegetarian offerings. For those keeping it meatless, may I recommend the squash ricotta cakes. If they are two of you, you could share these with a kale caeser, like I did.
My favourite morsel of the evening surprised me. Have you ever had smoked beetroot? If not, you need to try it! The Chefs local vegetables, is another dish best shared. A couple at the table next to ours were enjoying the vegetables alongside a huge portion of short rib and seemed highly enthused.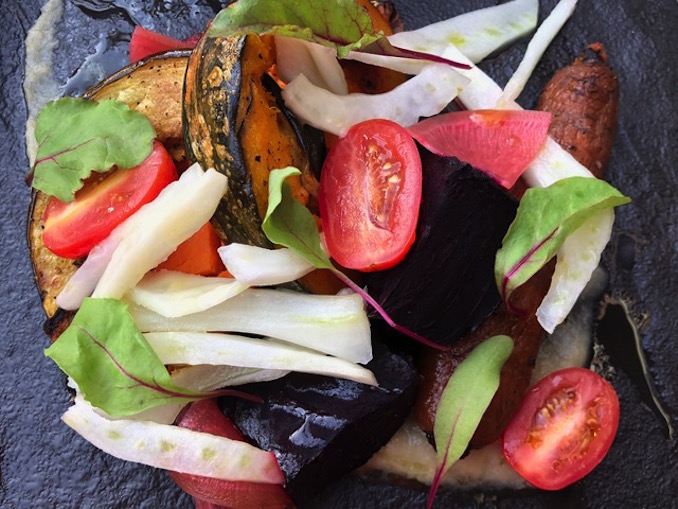 From enthused to infused; it isn't all beer at Northern Maverick, there are cocktails too! I am a gin gal, and my server delighted in telling me all about the three types of infused gins. I tried both the cucumber and the peach. Delicious.  As I was in a brewery, though, I wanted a final taste of beer so nursed a Enforcer Bourbon Sour made partly with their home brewed IPA. Wham bam, it was a treat!
Oh, speaking of treats…if you aren't beered, cheesed, oystered, smoked vegetable or short ribbed out, you really ought to try the maple ice cream. So much yum served with honeycomb, pretzels and peanuts. Yes!
Northern Maverick Brewing Co is a delight and I imagine it would continue to be so in the winter. However, while the summer lasts, why not grab a seat on the patio, grab a flight of local beer and let the menu take you on a journey of your choosing.