As kids we made tissue paper flowers for our moms. We made macaroni necklaces. We made brunch. We picked up flowers anywhere we could find them even if they were dandelions. It's always been the thought that counts and for Mother's Day this year (May 13), it's no exception. For every mom, and mom figure, in your life, we've found a few thoughtful gift ideas right here:
Toronto collection by ANU RAINA:
When this fashion and accessories designer arrived in Canada in 2004, she was inspired by the first fall season in the city. The colours splashed across the city and she fell in love. This award-winning textile designer has created several designs that celebrate Toronto's skyline and cityscapes.  Artful silk scarfs will be cherished for years to come. You'll be able to find Anu Raina's goods online at her site as well as at the upcoming INLAND Canadian designer pop up weekend (April 27 & 28) with over 70 designers.
For the everyday running around town kinda mom who likes to turn heads and have everyone saying "oooh I love your shirt," we've spotted this amazing black vegan leather tee that's no fuss. Made with 100% Polyurethane makes it a great vegan option that pairs well with her ripped jeans and joggers.  Designer Jilian Naiberg built her career in the fashion industries in Toronto and New York and the Jonah Jay collection of modern and affordable faux leather pieces is a reflection of her style and experience…with a little attitude. We also are crushing hard on the Chase Top with a three quarter bell sleeve. Swoon!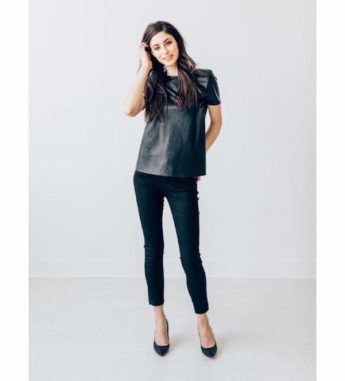 RAISING THE BAR Necklace by Mel Spivak in support of Dress For Success: 
"The necklace incorporates a graduation of stones from the bottom edge of one end to the top of the other, mirroring the concept of raising the bar to success. I wanted to be able to pay it forward and show other women that it takes commitment, dedication and hard work and that it does pay off." Available in both sterling silver and gold plated with cubic zirconia, the design is inspired by women climbing the social and corporate ladder of success, and helping to raise the women up to reach their own goals. 30% of the sale from each necklace sold goes directly to Dress For Success Toronto.  $100 available here.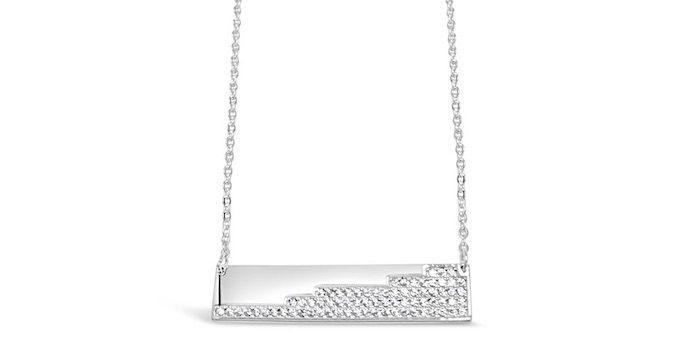 A favourite for families returns to Toronto and brings Lesley Nicol (aka Mrs. Patmore from Downton Abbey!) as Miss Hannigan in this production at the Ed Mirvish Theatre (until June 3). Set in 1930s New York during the Great Depression, young  Annie goes from a life of hardship in the orphanage to a life beyond her dreams. But Miss Hannigan has other plans and tries to spoil Annie's quest for a good home. Lots of familiar songs including It's The Hard-Knock Life and Tomorrow. Great for all ages.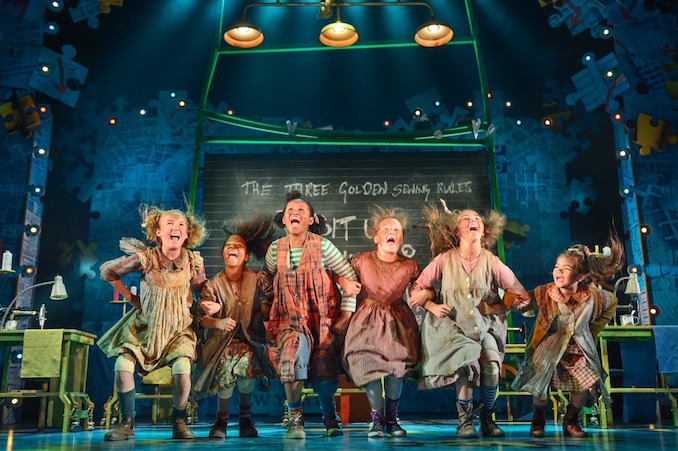 HANDLED CONCIERGE: 
What mom wouldn't love a stylist to come in and clean up her closet? Toronto-based company Handled Concierge works magic from purging right through to shopping. They sift through the current wardrobe and edits thoughtfully and thoroughly along side their clients to determine what's worth keeping and what could go out to the second hand store. They're also known for showing clients how to best use what they have to freshen their looks. They'll also help shop for new pieces within budgets and styles.
EARTH LUXE:
Earth Luxe is a Toronto based health and wellness line with products made for the body and home. They draw inspiration from nature using ingredients that impart healing, tranquility, and transformation. Great for the health conscious mom and family. There are lovely handmade soaps and bath bombs as well as essential diffusing oils. But we've got our eyes on the salt crystals.If Mom is getting into the whole energy crystal thing – these high quality therapeutic Himalayan Salt Crystals  offer overall well-being and home air purification. The heat from the lamp attracts water vapours from the air that hold allergens and toxins. The lamp then releases clean water vapours back into the air while imparting calming and wellness benefits. Noted for helping to increased relaxation, fewer headaches, improved concentration, improve sleep and more.
The Mama's Farmboy from Tonic Blooms:
The Mama's farm-style bouquet featuring pastel ranunculus, roses and tulips. Each bouquet is one-of-a-kind (just like ma!) and wrapped in their signature denim cloth. Bouquets can be ordered online and delivered to Mom on May 13 within the GTA in as little as two hours. There will also be a pick up point downtown if you need to grab some on your way to brunch.
Founded in spring of 2017, this natural/organic skin care line is made right here in Toronto. They're also 100% vegan and cruelty-free. They source the finest ingredients from around the globe and believe that skin care doesn't have to be complicated or expensive.We think Mom would love a pampering #SelfCareSunday gift box complete with Soothe Pink Clay Mask, Coconut Sugar Lip Polish, and Normal Skin Cleansing Oil or the Bestsellers Set. Lots to choose from.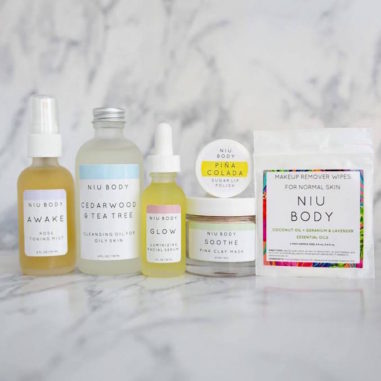 LoLuMi One of a Kind Origami Star Pillow:
This Toronto based artisan creates on of a kind Origami Star shaped pillows. Each one is made from reclaimed and vintage fabrics sourced locally and responsibly right in the city. The designs are fabrics make each one truly unique. Found on ETSY. Also check site for a dedicated local artisan items that offer free shipping across Canada.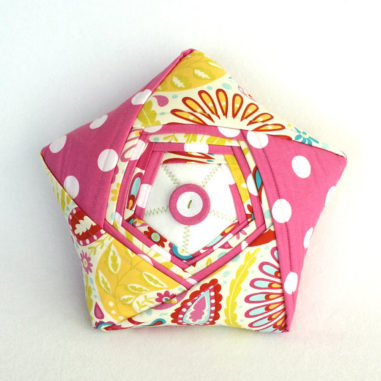 12 Month Brika Subscription Gift Box:
There's something about receiving a surprise box each month that makes me smile. BRIKA's subscription box features some of the most beautiful times from their Maker Community. BRIKA is known for their shop filled with beautiful objects by lesser-known artisans and designers with a strong focus on nurturing hundreds of women-owned businesses. Fill out a questionnaire and they'll hand select the box each month. Your message will be beautifully hand-written and included in each box that will contain 1 to 3 items each month. $31 per month.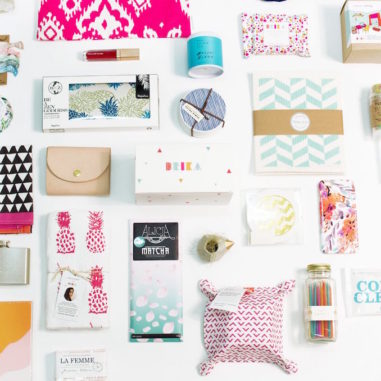 CHUDLEIGH'S APPLE CRUMBLE BLOSSOM GIFT BOX:
We feel nostalgic with this gift box of Chudleigh's famous Apple Crumble Blossoms! The much loved apple orchard has been loved by many generations and for Mother's Day, this family run farm and bakery is offering deliveries to moms across the GTA. The made-from scratch apple blossoms gift box includes 10 fully-baked Crumble Crunch Apple Blossoms with freshly peeled Northern Spy apples baked in a flaky hand-folded pastry. All presented in a wooden Chudleigh's gift box. $35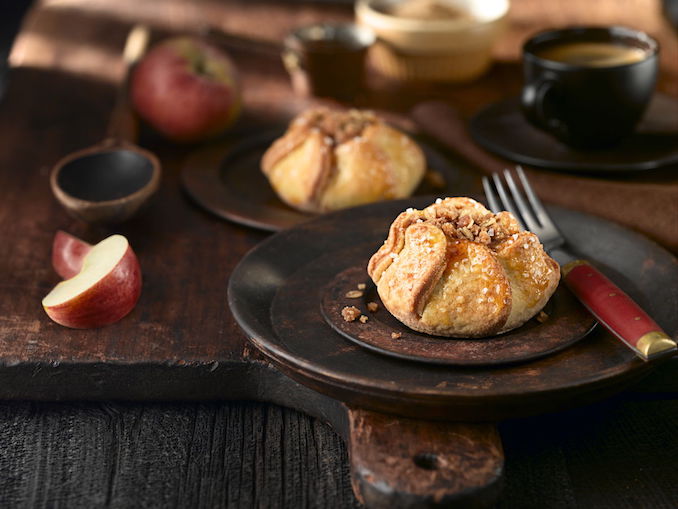 There are a growing number of local small batch honey producers within the city. We've sourced this Toronto Neighbourhood Honey Tasting Box by ALVEOLE that includes different flavour subjects reflecting the flora found in various communities. Includes honey from Leslieville, Rosedale, Downton and the Junction. Available through the One of a Kind Online Shop.
MODAKO TECH ACCESSORIES:
This stylish line of  tech accessories created by Ryerson School of Fashion graduate, Kelly Lee, uses premium materials for her goods. Her meticulously hand crafted covers and protective cases for tablets and laptops have been featured in top fashion & style publications here and around the world including Globe & Mail, Toronto Life, Monocle, Glamour (France), and Woman (Norway).
Gardiner Museum Family Sundays:
Moms and kids can join in on a Sunday workshop for clay making or tile painting to take home. Each week hosts a different theme. No registration is required and kids under the age of 12 are admitted free accompanied with an adult (general admission).  Check site for upcoming details. Bring a box, bag or tray to take your creation home. Mother's Day gift and art afternoon all in one!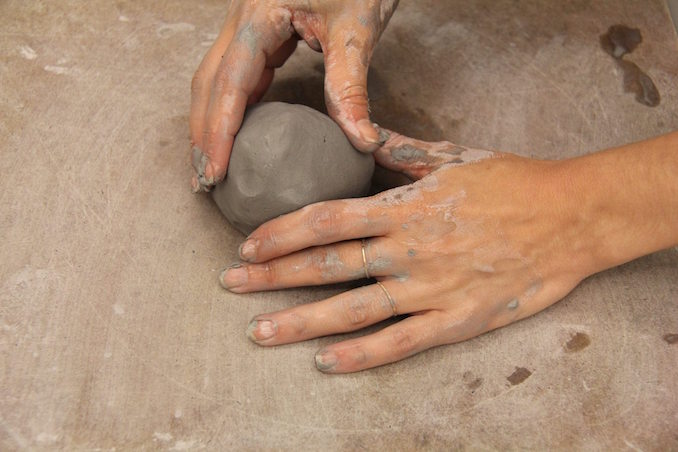 Kusama – Infinity at TIFF Bell Lightbox:
Art lovers can bring their moms to a screening of Kusama – Infinity. The documentary explores contemporary artist Yayoi Kusama's journey from her conservative upbringing in Japan to where she is today. You already have heard about the frenzy getting tickets to any of her exhibitions worldwide. This will explain why she's one of the most loved living artists of our time. Several screening times happening at the TIFF Bell Lightbox over Mother's Day Weekend. If you can add brunch to it, check out the AGO Bistro's Kusama inspired menu.