Wavelength Music Arts Projects held their Winter Festival on the weekend, spanning three nights of music at The Garrison. For those of you who don't know, Wavelength also operates a summer festival which we've covered previously (and is excellent), but this was our first chance to catch one of their events in the middle of the cold snap… hell, you have to keep warm, right?
Friday's lineup included Plazas, OBUXUM, Bossie, MI Blue and Brendan Canning; all Toronto acts, showcasing the diverse range of original music available in 'The 6' (urgh – part of me always shudders when I say 'The Six').
We arrived on Saturday, which Odonis Odonis were set to headline. It was sure to be a night of déjà vu – I was blessed to have been present for their 'No Pop' album release show at the same venue only a few months ago. If they were half as good, the night would be worth attending.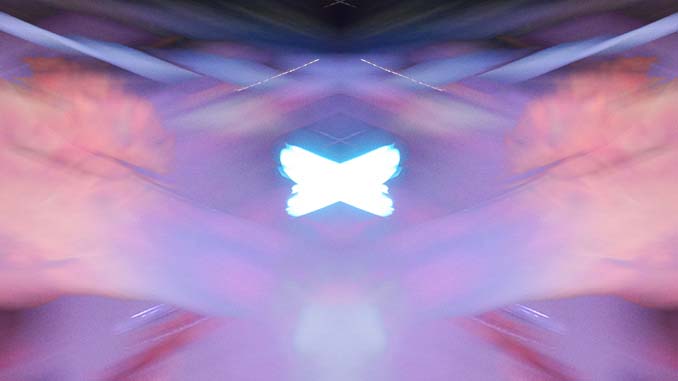 First things first, the visual art and projections inside the venue across the weekend were awesome as always. Colours dipped and swooped; twisted and turned; bubbled and oozed. Supplied by Roxanne Ignatius and General Chaos Visuals, they deserve a massive shout out because they really help to give Wavelength events a distinct feel.
Prog-punk act Luge opened the Saturday show. A Toronto four-piece with bags of potential, their jaunty mix of funky basslines, peaky guitars and off-kilter time sequences back Kaiva Gotham's punky vocals. I would throw them into the same marble bag as New Fries, who are up there with my favourite bands hailing from 'The 6' (shudder – why do I do this to myself?).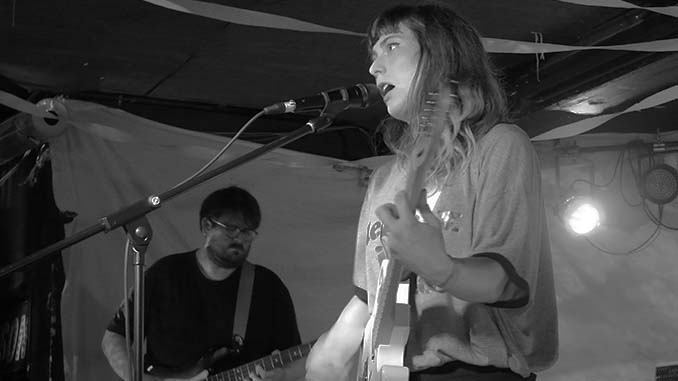 Tough Age is a Toronto/Vancouver band (god knows how they make band practice work (Dad jokes for the win)). They were interesting; punky, rocky with powering drums and a real urgency. There were a few standout tracks in the set, to my taste at least. They sat on the edge of angry teenage rock and something a little more funky.
Following some research, it seems they have a back catalog to rival The Fall, and I've been unable to identify which tracks were my highlights – perhaps they're new? I'm pretty sure it was the last track that had a very groovy looped bassline… heck I'll say it, the bass playing was the best part all round and added a real TWANG!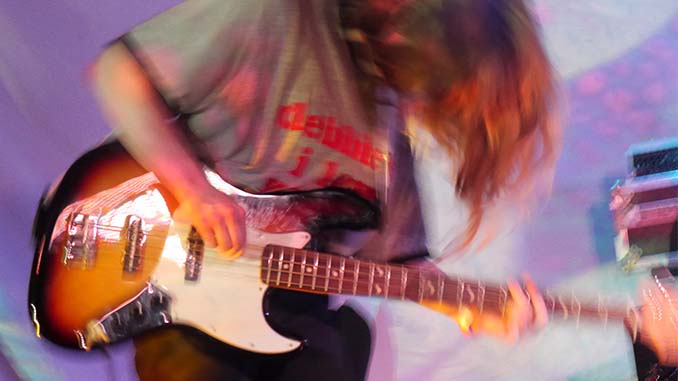 Odonis Odonis put a stop to some of the swirly visuals for a while as they brought a more industrial, mostly red light show, with their iconic pyramid of bar lights pulsing between them. They played mostly material from their latest record (it's a beauty), but jammed some tracks out a bit in a way which you could argue would push them closer to hardcore electronic music than the other acts on the festival roster.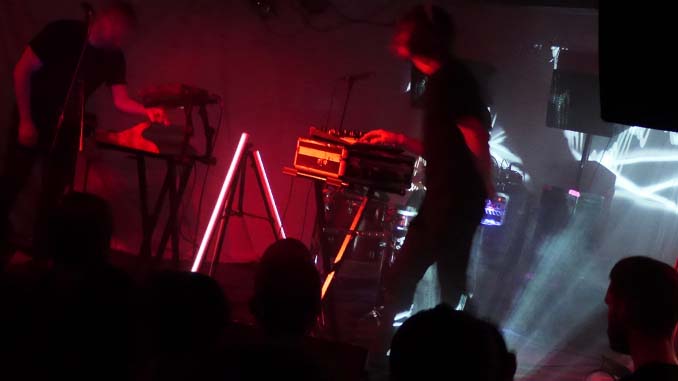 What I love about their approach to music is how they sculpt the sound through their control of frequency and effects; low (and high) cut filters are important to what they do, as are big distortions. They've got a great energy live and sometimes they get a bit more bandy as screams start ringing out. The whole thing occasionally becomes quite hard to consume, not that that's a bad thing because it actually creates a nice contrast when they then drop into what I would call 'tech-noir' club grooves.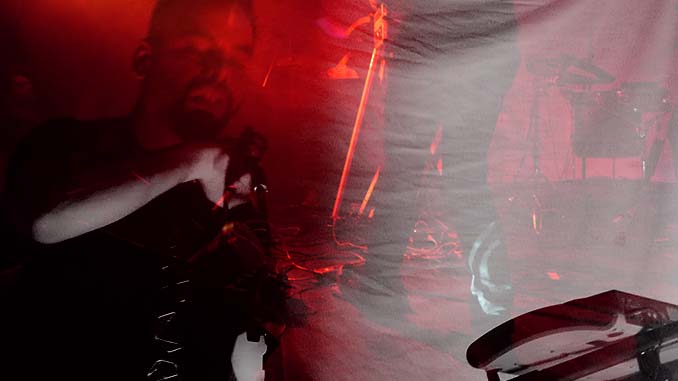 All in all, it was a set that showcased the power of synthesis and it's ability to literally rock the shirt on your back (not to mention parts of the Garrison that probably shouldn't have been vibrating like that!)
Sunday saw an interesting set from You'll Never Get To Heaven. Featuring Chuck Blazevic on bass and Alice Hansen on vocals and violin, it was ethereal, beautiful and quite rainy! In fact, rain featured through the majority of the set, if not all of it.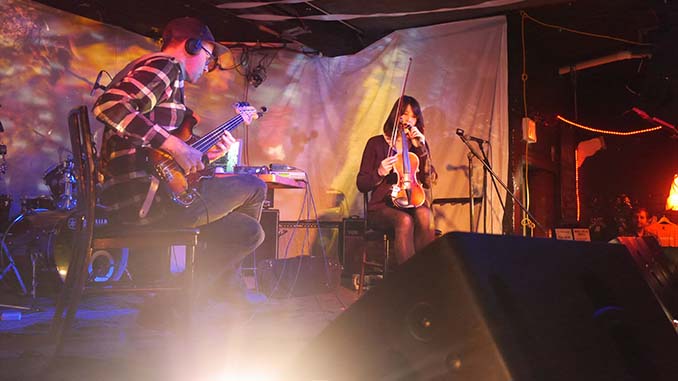 Fusilier also brought his one-man band, pop-funk show on Sunday. It was thoroughly entertaining, as he made good use of the looper pedal to create impressively complex rhythms and backing tracks with which to sit his songs on top of. It was a confident performance, showcasing someone with true talent.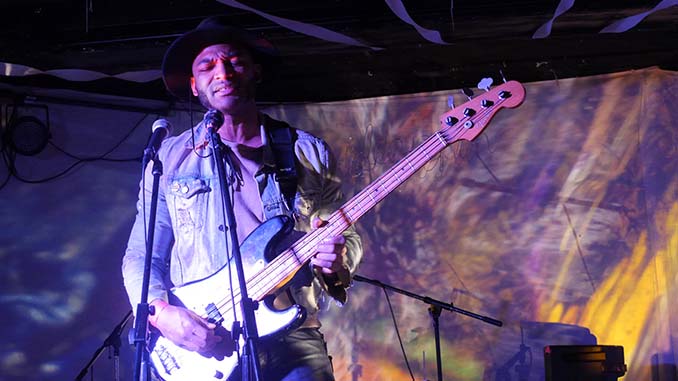 Wavelength Winter Festival 2018 was another feel-good event, delivering an enjoyable and diverse range of music in what I have always found to be a very friendly space. Put simply, there's a good vibe… it's a real community of appreciative music fans who are there to enjoy a taste of what the city has to offer.
I would recommend saving the date for Camp Wavelength, scheduled to be the weekend of the 18th-19th August. For more information about Wavelength events, visit their website.