The expense of housing has been a hot topic in Toronto lately, and for good reason. But shelter isn't the only necessity that's become a struggle for more and more Canadians.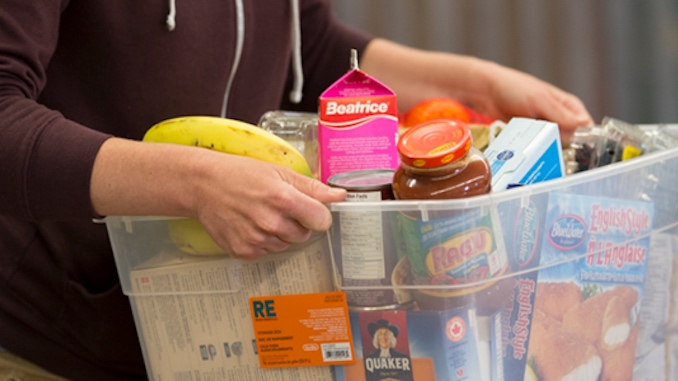 A shocking number of Canadians live with hunger daily. We live in a country that pledged to eliminate child poverty by the year 2000, and yet 17 years past that deadline, Canada ranks 37th (out of 41) in terms of children having access to nutritious food.

That's part of the message of Hunger Awareness Week, happening right now (September 18th to 22nd) across the nation. But the other part of the message is that solutions are possible. To discuss this, we chatted with Marzena Gersho, Director of Communications for Food Banks Canada. Read on to learn more about this ongoing crisis and how you can help solve it!
Tell me a little bit about Food Banks Canada's mission.
Food Banks Canada is a national association and charity that represents the foodbanking community across the country. Over 560 food bank organizations are in the network. Much of the work is looking at how we can address hunger today by accessing food and funds for food banks, raising awareness of hunger, and how to reduce it in the long term via policy and advocacy to find solutions.
It's 2017 and Canada is one of the wealthiest nations ever to have existed. Is hunger still a major problem even today?
It is, and that's what is shocking to people. 860,000 people each month are helped by a food bank – the size of New Brunswick. This is predominantly due to income levels. People just can't earn enough to be able to cover basic needs. Disability benefits, pensions for seniors, they are simply inadequate support to ensure they can pay for rent, food, and so on. But it goes beyond the unwaged; 1 in 6 of those helped by food banks are employed or recently employed, meaning they just aren't earning enough in their jobs to secure sufficient food. Social security levels are willfully low, and can be quite punitive.
What kinds of solutions would you like to see implemented to well and truly solve hunger as an issue in Canada?
Having a national poverty strategy; there are a number of provinces working on poverty reduction, but fundamentally, you're living in poverty when many can't afford their own food. Training workers so that they can find work as an evolving work force, because manufacturing jobs and natural resource sectors are in decline – those were well paying jobs that came with benefits. Also, how do we look at changing those social security safety nets and ensuring it really is a safety net that catches people who have fallen.
Basic income has become a major discussion point across the country recently, and it appears to offer real hope of eliminating hunger and poverty. How do you feel about basic income?
Basic income is one of our recommendations that we've put forward to give everyone a minimum amount to ensure that they can afford their day to day needs. [Ed. note: in addition to Hunger Awareness Week, it is also Basic Income Week at the moment]
I understand Hunger Awareness week is coming up on September 18th. What's the aim of Hunger Awareness Week and what kinds of things can we expect during that time?
It was initiated in 2006, primarily because we needed to raise awareness of the issue of hunger and the role of food banks in supporting people. People tend to think about giving for those that are struggling more during the holiday periods (Christmas and Easter primarily), but the reality is that hunger is 12 months a year. Coming out of the summer period, people are still in that summer glow, so it's an opportunity for the food bank network to rally around this week to be able to let fellow Canadians know that 860,000 people are struggling, and to really kick off that holiday giving as we move into Thanksgiving. It's a way to pull people together and have a rallying cry about addressing this crisis, and ask Canadians to think about giving if they're in position to do so.
How are food banks run?
They're all independent. Many are born out of the need in their communities. The first food bank was started in 1981 during a recession. It came out of the US as a way to access surplus food, and from there the movement (and need) has grown. Now there are over 4,000 such agencies across the country, whether it's a food bank, a senior's program, a kitchen program, or food support to share food with people in need. Every one is run independently – sometimes they receive a small grant, but are typically not government funded. They're like any other charity in their community, relying on the goodwill of local businesses and supporters.
How can our readers get involved?
A number of ways. First, if they're on social media, to share the message. The campaign is "think canadians don't go hungry? Think again". It's a sizeable issue. Tell their friends and family and encourage them to donate to their local food bank. Use the hashtag #hungerweek, and go to HungerAwarenessWeek.ca to make a donation and find local food banks to donate to (with food, funds, or time).
Anything else you'd like to share with us before we go?
A couple of interesting research points – 8 out of 10 Canadians know they have a role to play in helping those dealing with hunger, but they don't all take action, so this is a great opportunity to inspire Canadians to do that. And shockingly, 1 in 2 Canadians know someone who has visited a food bank, so it's really close to home – much closer to home than many would realize.