Seth A. Smith had his first break-out festival hit LOWLIFE at the Atlantic Film Festival in 2012 which won the top audience award. Known for his dark and off the wall style, Smith is premiering his latest film THE CRESCENT at this year's Toronto International Film Festival under the popular Midnight Madness programming. By the way, it is the only Canadian made film officially selected to screen under this category.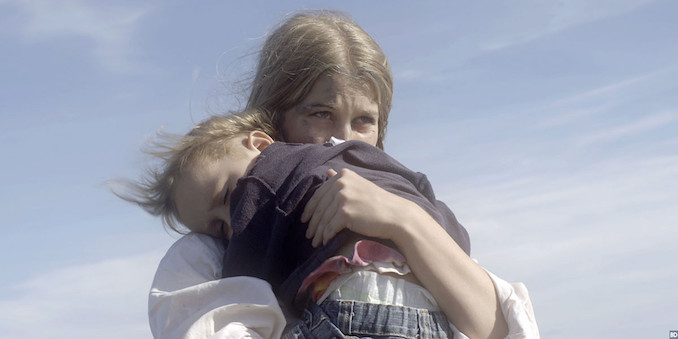 The Crescent takes a look at loss, grief and single parenting, told through the eyes of a two year old. Shot at a remote beach house on Nova Scotia's remote South Shore, the film follows a mother and her toddler son as they struggle to find spiritual healing after an unexpected death in the family. A mysterious force from the sea threatens them. The film is a told through a dreamlike story-world with innovative cinematography, hydrographic and artful prosthetics. Smith also scored, edited and co-wrote the film, worked with producing partner Nancy Urich of Cut/Off/Tail and with cast Danika Vandersteen along side 2 year old Woodrow Graves. Canadian Screen award nominee and Atlantic Film Festival award-winner Andrew Gillis also has a supporting role.
We had a chance to chat with Seth A. Smith along side Danika Vandersteen about the film.
What was the inspiration in making this film?
Seth: I really wanted to make a smaller film with a short budget. I've always wanted to make a film that starred, or co-starred, a very young child.  I really like that period because it's when they're starting to develop language. It's really cute and a nice time in my life as a parent. The child star is actually my son. We've done other short films together and lots of home videos. So, going into this I had an idea of how this film could be executed in a safe and comfortable way but also being able to capture those special moments that aren't planned. I guess it was a bit of an experiment and it turned out pretty good, fortunately.
Oh, yes, as a parent that first time around seeing through a child's eyes and the sense of wonderment is pretty cool?
Seth: Exactly, you know you relive your own childhood and that's what I wanted to capture for this. The fresh perspective as a young child and also as a first time parent, and I can't speak for everybody, but there's a lot of anxiety and over thinking. You know it's a very big world and there's lots of exploring to do. So, it kind fits oddly into a horror movie. (laughs)
You've also composed the score for this film, can you tell us about that?
Seth: The music was planned more after the film. I didn't really know what direction I wanted to go with the music but I did know I really wanted to do it myself, I've been in a bunch of bands in Halifax and since it was a micro-budget film I wanted to keep costs low. Anything I could do myself, I did. But it was fun! I tried some new tricks to push things. I did a lot of sampling of voices and non-linear sounds. I sampled Danika making a lot of strange sounds. I programmed them into a keyboard and it  had an interesting sound.
That buzzard sound is terrifying. What's actually making that sound?
Seth: It's funny because I didn't expect to get that question but I get that question a lot. It's actually ended up a lot more ominous than I had expected. It turned out really well. But I was looking for something that sounded like that failed sound on a gameshow. It's the sound that you're wrong. It's pretty obvious but it works.
Your film is screening under the Midnight Madness program. That draws a very different crowd from the rest of TIFF. You're the only Canadian film selected this year under this category. Congrats! 
Seth: Oh yeah, thanks! It feels really great to be the only Canadian feature in Midnight Madness because that's the kind of film we like making, but at the same time it would also be nice if we weren't only considered in that category. I think a lot of films in Canada that are financed and funded are a bit more digestible  with safer directions. That's cool too, but I get excited when Canadian filmmakers push boundaries. There are a lot of fantastic films from Canada in different genres, I just want to see more of that. But yes,  it's nice to be selected to show in this category but we're not the only ones out there. It's super rewarding to be part of this Festival.
You've been to Toronto before?
Seth: Yes but I haven't been to the Festival before.
So, what's scares you about this film festival or any other?
Seth: Hahaha. Yeah, well I didn't get into filmmaking to do the presentation end of it where I answer questions to an audience but it's something I'm starting to enjoy. It's actually fun to have a dialogue with the people who watch your film. So, I'm not really scared but I am excited. Maybe more anxious is the word.
Without giving anything away, is there anything in this film that you want people to look for that may not be so apparent?
Seth: It is what it is. There are a lot of layers and people will interpret they way they want on the surface level but then it gets deeper. I just hope it touches people in some way and they get something out of it. Of course I'm hoping that people will like it but it's okay if some people hate it too. I mean at least they're feeling something, right?  For me the worse reaction from an audience would be "meh".
You did have another film that pretty much had no budget. 
Seth: Yes, that was LOWLIFE and we had a budget of $5000. It was basically a student film but I wasn't in school (laughs). But I'm glad I did it. I made a lot of mistakes but we just keep crawling and hope that budgets get bigger with each film we make.
But you did get recognition from VICE on that film, that's pretty cool?
Seth: Yeah, we were very pleased with that. We also did some other exciting things with that. We did a DIY theatrical release in every province and territory in 25 cities in one weekend. I had never heard of anyone doing that before and the film won the award at the Atlantic Film Festival. We're hoping that this one does well too.
What keeps you up at night?
Seth: Usually my ideas keep me up at night. I'm always trying to solve problems by coming up with new ideas.
So, Danika you play the mom in The Crescent?
Danika: When I was auditioning for this role I wondered if other people auditioning were real moms as I was concerned about that. Nancy Urich laughed and told me not to worry and that I would figure it out. She was pretty funny about it. Having said that, the mom and son doesn't have a conventional relationship  in this film so it worked out.
Any mother figure you would have drawn inspiration from for your role?
Danika: I would say subconsciously from my own mom and grandmother and their way with children but I also feel that having watched Nancy, who is his real mom, on site all the time was an inspiration. Inspiration wasn't necessarily for the character I played but more for the mannerisms in the small things and how parents naturally interact with their kids. We were there from morning to night so it was helpful to see the reality of that mother and son relationship.
What scary movies have you loved?
Danika: I wasn't really into the scary movie scene growing up. I did watch a bunch to prepare  that were recommended. I do remember watching Poltergeist —  that really stuck with me.
Yeah, there's gorry scary and then paranormal scary. Preference?
Danika: I would say I prefer the ghosty ones. They freak me out more.
Here's a clip…
*UPDATE: JULY 31, 2018… The Crescent is coming to theatres and VOD. Opening in 7 cities (Toronto, Vancouver, Edmonton, Calgary, Halifax, Winnipeg, Montreal) on August 10. In addition, there is a special screening in Ottawa on August 15. The Crescent will be available on VOD, Amazon Prime and iTunes on September 4.