Celebrating the 17th annual Canada's Top Ten Film Festival at the TIFF Bell Lightbox with selected films and guests beginning January 12th, 2018. This 10-day festival celebrates and promotes contemporary Canadian cinema and raises awareness of Canadian achievements in film. The Festival features the nation's best films including features, shorts and student shorts. In addition to the film screenings and special events, the Festival will feature two special onstage events: In Conversation With…Alanis Obomaswin and In Conversation With… Evan Rachel Wood.
The feature films that will be screening during the festival include:
Adventures in Public School directed by Kyle Rideout. A socially inept home schooled dropout unrolls in public school to chase after a one-legged dream-girl while his mom/best friend teaches him his teenage rebellion.
Unarmed Verses directed by Charles Officer. At the centre of the story is a remarkably astute and luminous 12 year old black girl who's poignant observations about life, the soul, and the power of art give voice to those rarely heard in society. Documentary.
RUMBLE: The Indians Who Rocked the World directed by Catherine Bainbridge and Alfonso Majorana. A documentary the role of Native Americans in popular music history. It tells the the story of a profound, essential, and, until now, missing chapter in the history of American music: the Indigenous influence. Featuring music icons Charley Patton, Mildred Bailey, Link Wray, Jimi Hendrix, Jesse Ed Davis, Buffy Sainte-Marie, Robbie Roberson, Randy Castillo, and others.
Never Steady, Never Still directed by Kathleen Hepburn. After a seventeen-year struggle with Parkinson's disease, Judy's life takes a turn when her husband dies of a heart attack not heir remote property in Aleza lake, Battling her grief, her body, and the isolation of her world, Judy fights to maintain control. Her eighteen year old son, Jamie, returns home from the harsh reality of Alberta's oil fields, and mother and son carry on, finding respite in the everyday. But when a nasty fall on the ice forces them to confront the progression of Judy's illness, they discover they most both accept their weakness in order to find their strength.
Our People Will Be Healed directed by Alanis Obomsawin. Reveals how a Cree community in Manitoba has been enriched through the power of education. The Helen Betty Osborne Ininiw Education Resource Centre in Norway House, north of Winnipeg, receives a level of funding that few other Indigenous institutions enjoy. Its teachers help their students to develop their abilities and their sense of pride.
Ava directed by Sadaf Foroughi. Follows  a young teenage girl living with her family in Tehran, who, after an act of betrayal by her mother, feels increasingly compelled to rebel against the strictures imposed by her parents, her school and the society at large.
The Little Girl Who Was Too Fond of Matches directed by Simon Lavoie. Based on the novel of the same name written by Gaetan Soucy that was published in 1998 and subsequently published in 20 languages. The film centres on Alice Soisson, a young girl whose life is turned upside down when her father, who has raised her in isolated and shocking conditions, dies.
Luk'Luk'l directed by Wayne Wapeemukma. Is a portrait of five Vancouverites living on society's fringes during gate 2010 Winter Olympics. It falls somewhere between a fiction we nee to see and a documentary we wish didn't have to exist. The actors play characters based on their own experiences and stand in contrast to the limelight of the Olympics.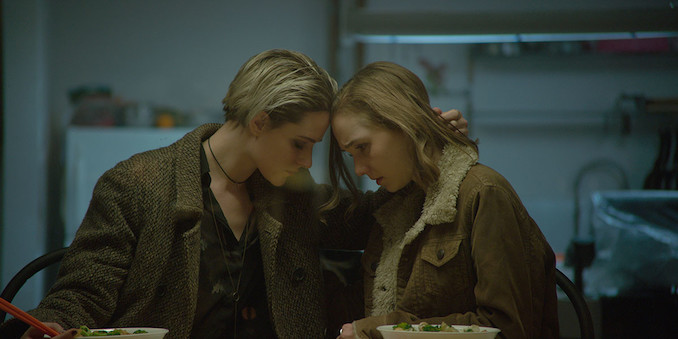 Allure directed by Carlos Sanchez and Jason Sanchez. Laura works as a house cleaner for her father's company but her personal life is not so pristine. Bought around the edges, looking goer love in all the wrong places, her heartbreaking behaviour point to hardships of the past. One day on the job, in yet another house, Laura meets Eva, a quiet teen unhappy with her disciplined life. In Eva, Laura rediscovers an innocent tenderness. In Laura, Eva finds a thrilling rebel who can bring her into unknown territories. The mutual attraction soon morphs into obsession as Laura convinces Eva to run away an secretly come live with her, perilously raising the stakes for the young, impressionable girl as Laura's emotional instability becomes increasingly clear. As their world closes in, they must unearth truths to find a way out.
Les Affames directed by Robin Aubert. In a small, remote village in upstate Quebec, things have changed. Locals are not the same anymore- their bodies are breaking down and they have turned against their loved ones. A handful of survivors goes hiding in the woods, looking for others like them.
Select films and guests of this year's Canada's Top Ten Film Festival will then travel across the country making  stops in Vancouver, Montreal, Winnipeg, Edmonton, Ottawa, Regina, and Saskatoon.
For a complete listing of screenings, shorts programmes, guests and events visit tiff.net/seethenorth