If there's one thing I've learned in my almost 7 years as a working standup comic, it's that we're lucky. Comedians are lucky. Sure, many of us spend a lot of time barely getting by. And it's true that most of us are at least a little damaged. And our wiring is just a bit… off. It takes a certain blend of grit, determination, a lack of self regard and a hint of narcissism to get up on stage night after night, in off-the-grid dive bars and coffee shops, comedy clubs and half-empty theatres and bare our souls to a sometimes barely listening public. And I realize that probably sounds horrible, but I do have a valid point – we have the unique ability (and maybe even privilege) to take whatever happens in the world around us, and turn it into what's ultimately, funny. We have a filter that most don't.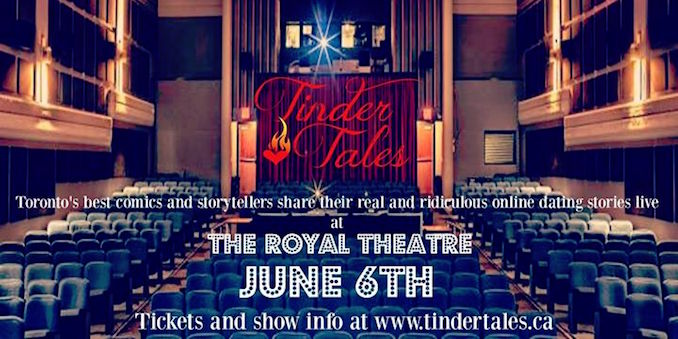 It can be the most mundane daily routine, or the most traumatic of life changing events, that we mine for material. A chance incident on public transit. A trip to the corner store for a bag of milk. Divorce. Sex. Car insurance. Cancer. An entire Presidency. The list is endless.
When something big or small happens in a comedian's life, the very first reaction we have is to hit the stage and work it out. And when needed, it's medicinal. Which is why I say we're lucky – because most of us, let's be honest, can't afford therapy.
That's how I first discovered TINDER TALES. Since the fall of 2014, the crème de la crème of Toronto's parallel standup and storytelling scenes have been taking to the stage to share real stories about online dating – and everything within that universe. Bad dates, awkward hookups, horrible breakups, online encounters. Fetishes, the nefarious "dick pic", brutal pick-up lines.
As a comic, I've always spent a lot of time branching out into Toronto's storytelling circuit. So a couple of years ago when I first heard the buzz about Tinder Tales, I was desperate to give it a try. For me, the timing was right. I was in a midst of a pretty heavy breakup. Dealing with a broken engagement and a house for sale, I was spending my nights couch surfing all over the city and venting my sorrows on stage. I was in the thick of it all, and the material was flowing out of me twice as fast as I could deal with the implications of my actual life off-stage.
Tinder Tales was a platform for performers to talk about this stuff – openly, honestly, and in a brutally funny light. And there was a massive audience for it. After all, what's more relatable than the perpetual search for love? In a city with a massive concentration of young, single 20-somethings swiping and dating on a nightly basis, Tinder Tales had an instant built in niche.
I shared some of my own experiences, as a suddenly single bachelor in my early 30s, on-stage at the iconic Drake Hotel. I was instantly hooked. It was cathartic and liberating and therapeutic in a level that my comedy hadn't quite touched on up until that point. In a way, my voice changed that night. I became a regular player on the Tinder Tales stage – and eventually, as of the past year and a half, the host.

But I'm getting ahead of myself here. Before I came along, the show had already established a mass following, on stages across the city (with the Drake and the equally coveted Gladstone Hotel playing the role of Tinder Tales' rotating home stages). Some of the players were veterans and elites of Toronto storytelling. Names like Elaine Gold, Monica Hamburg, Dave Keystone and Peter Troyer who, to this day, are regular features on the show. But the brainchild behind the whole thing was a Toronto based event planner and indie producer named Adelade Genevieve. Neither a storyteller or standup, Genevieve is more of a socialite on the comedy scene, if there is such a thing. She sort of travels in the same circles, hand-picking performers for each and every show. Curating the lineups and laying out every storyteller's submission into a particular theme, a certain stage, a particular given night.
I don't think Adelade could have known, back in 2014, that Tinder Tales would take on such a following. It's now a branded show, branching out onto stages across southern Ontario and now with a regular west coast edition in Vancouver, run by host/producer Suzy Rawsome. The whole thing started simply because Adelade, like most 20-something singles in this city, had a string of brutally funny dating encounters to share. And she assumed, rightfully so, that she couldn't have been the only one.
"When I started the show in fall 2014 I was going on a LOT of Tinder dates. At least once a day. I came across a couple doozies that at least made for good stories to tell my friends. My friends also shared their stories and we would exchange ridiculous messages we would receive from single men. I figured we could not be the only ones in Toronto with great stories to tell. I was pretty confident there would be an audience for a show, it was just a matter of finding people with Tinder and online dating stories that were actually willing to share them with a room full of strangers. I started putting up flyers for story submissions, had some coffee and beer dates with willing storytellers, and we hit capacity at our very first show!"
So, some of the best stories originally behind Tinder Tales are ones that even the regular audiences have never had a chance to hear. These were Adelade's own experiences that launched the show in the first place.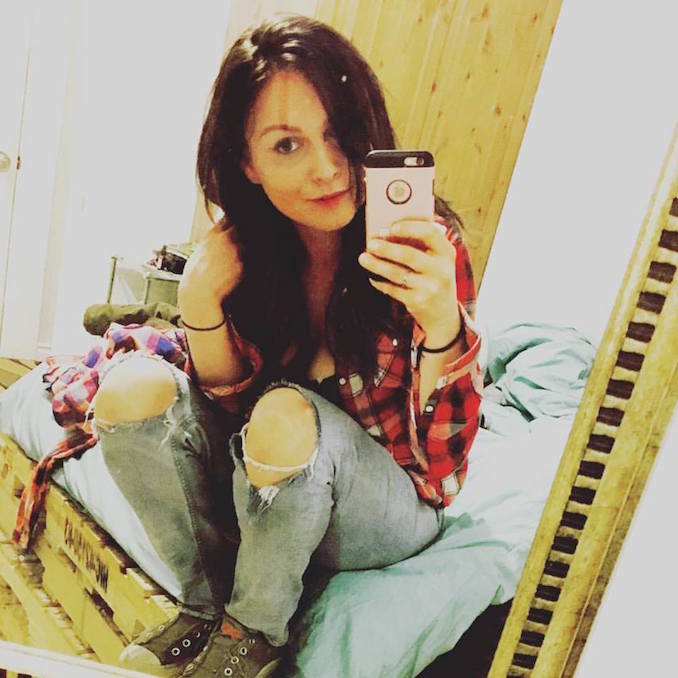 "One very busy weekend one July I agreed to go on a Tinder Date to the Toronto Island. I didn't realize until we were lost in the massive crowd of people lined up to get on the ferry, that this was a big commitment. There was no quick escape plan (or so I thought). 10 minutes after getting to the island, we started tossing a football between us. I was really confident with my ability to toss around the old pigskin and we moved further and further away from each other, with increasingly forceful throws. Until the last throw. I went to catch it. The ball hit the tip of my pinky and I thought it was just a stubbed finger. I held my hand in between my legs (along with my breath) waiting for the pain to stop. It did not. I looked down and realized my pinky finger was bent entirely outwards at the knuckle. I nearly puked but yelled "I THINK YOU BROKE MY FINGER!" He ran over. I was feeling dizzy and nauseous at the same time but couldn't help but laugh at the fact this was happening to me on a Tinder date (with tears streaming down my face). We water taxied to the ER where I stayed for 8 hours to find out it was a spiral fracture and I would be in a full arm cast for 6 weeks. And no, it didn't work out."
Tinder Tales almost tends to play out like a singles mixer at times. There's an interaction that happens when you fill a room with a largely unattached audience and a lineup of performers exposing the most raw, intimate and darkly hilarious facets of their love lives – sometimes, there's a magic that happens. A spark that ignites and the whole room erupts like a powder keg. And of course we've all had our favourite moments, especially creator/producer Adelade Genevieve
"There have been a few. I would have to say the time one of our storytellers got up on stage and a young woman in the front row yelled "I SLEPT WITH HIM!" or the time our host (Dean Young) handed one of the Property Brothers a Fleshlight. Yes, those Property Brothers. And the Brother was also on a Tinder date at the time"
Without a doubt, most of us are on the show because our love lives (and personal lives) seem to stay in some sort of chaotic limbo. We are, after all, comedians. We tend to revel in it. But is it just as therapeutic for the audience? Adelade would swipe right on that idea
"I think (audiences relate) for a number of reasons. Mainly because online dating and dating apps are so commonly used nowadays which makes the stories so familiar. Even the most messed up, unbelievable ones. I also think it could be partially due to the fact that misery loves company. "Come to Tinder Tales and you'll see that your dating life really COULD be worse!"
For nearly 3 years now, Tinder Tales has tapped into something that everyone is experiencing. And as long as online dating apps are de rigour, and Toronto stays significantly single, there's no signs of the show slowing down. And in fact, it's poised to keep expanding into more cities across Canada – just ask our sister show in Vancouver.
On Tuesday June 6th at the Royal Theatre in Toronto, Tinder Tales presents a live-to-tape showcase featuring some of the top, audience favourite stories and performers who've appeared on the show since 2014. Tickets are available right here
And you can catch regular monthly shows at the Gladstone Hotel and I'll Be Seeing You, and regular rotating shows on stages throughout the city on their website.