This Saturday, the first transatlantic rugby team, the Toronto Wolfpack, will be playing their first home game at Lamport Stadium against Oxford RLFC. Being the first Canadian team in the RFL, within a single year they've taken the league by storm and become local and international superstars. Meet some of the impressive Toronto Wolfpack players on the team.
Craig Hall, aged 29, is from Hull, England, and plays the Centre, Wing, and Fullback positions. He is the newly appointed team captain and Toronto Wolfpack coach Paul Rowley had only fond things to say about his appointment.
"We all agreed that Craig was the right man for the job. Craig's role is very important to the dynamics of the team and captain is a huge responsibility. The ability to communicate effectively with myself and the team is a solid attribute that I felt Craig had when coming to my decision," says Rowley, "He obviously has a wealth of experience within the game and is very level headed."
Bob Beswick, the Vice-Captain, will offer great support for Hill, explains Rowley.
"Both of whom along with Craig are fantastic leaders and big characters within the group giving us solid leadership throughout."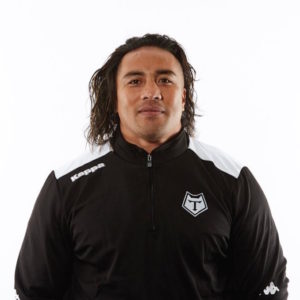 37 year old, Fuifui Moimoi is 6 ft. tall and 232 pounds. Born in Nuku'alofa, Tonga, he is known by fans as the 'Steam Train' and plays the prop position. The position requires immense strength and preferably some intimidation and Moimoi does not fall short.
Rowley points out that Moimoi is "an iconic brand and will add an additional physical presence to an already impressive line-up. His wealth of international and club experience will be a great benefit both on and off the pitch. I also think that our club fans […] will love his free flowing and aggressive style of play, as we all know, he has left dents all over Australia, New Zealand & the UK."
Rhys Jacks is, in fact, one of the only Canadian representative on the team along with Tom Dempsey and Quinn Ngawati. Born in Brisbane, Australia, he qualifies for Canadian representation through his Canadian grandfather. He's 27 years old and plays the scrum-half and hooker positions. He started playing rugby back in Brisbane with the East Suburb Tigers and has since been captain for the Canadian team for the World Cup Qualifiers in Florida.
"Rhys was important to us not only for his talent but for the passion and pride in his Canadian roots." says Rowley.
Rhys offered, "The opportunity to be a part of Canada's first professional team is very exciting. I look forward to working with both the coaching staff and new teammates and I know it will drive me to continue developing as a player."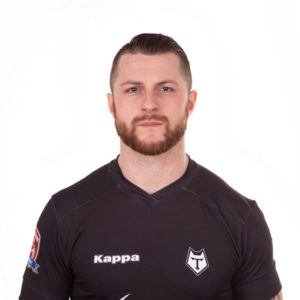 With over 150 Super-League appearances, Adam Sidlow may be one of the most experienced players on the team. The 29-year-old Brit plays the prop and second-row positions and is 251 pounds of well-attuned muscle-memory.
Kurt Haggerty, the Wolfpack assistant coach has had experience playing with Sidlow, having played together last year with the Bradford Bulls. Haggerty feels that "Adam is a great signing for the club going forward. He's athletic and gets around the field very well. He also has the X-factor."
Upon joining the Pack, Sidlow said "I'm thrilled to be a part of such an exciting new concept, and jumped at the opportunity when it arrived. I'd heard a lot of positive things about Canada from anyone that I've spoken to, and also about the lads training up at Brighouse, so it was a no-brainer for me. I'm excited for the next chapter in my career, for me and my family, and can't wait to put on the Wolfpack jersey at the Den."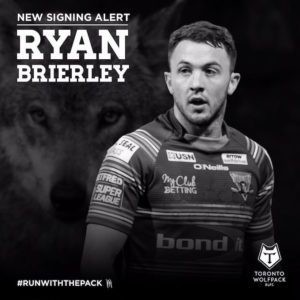 Ryan Brierley is the newest addition to the Toronto Wolfpack. Having transferred from the Huddersfield Giants, the young 25-year-old is said to stand out amongst other players his age.
Coach Rowley mentions that "He's still a young player and whilst he will provide more attacking threat for our team right now, he will also play a big part in the Wolfpacks future." At only 25, he's "represented his country, played Super League, and scored a record breaking amount of tries, this is another big adventure for him to enjoy, and add to a career that most lads of his age could only ever dream of."
Having played just one game with the Toronto Wolfpack, this game on Saturday will show more clearly what great potential Brierley can offer to the Wolfpack.
For a taste of what you might see on Saturday, watch the Wolfpack's last game against the Salford Red Devils from Manchester, England.
To buy tickets for the game visit their website or tune into a live stream on Saturday, May 6 at 4:30 p.m. ET.