Brought to you by Monster Energy drinks, the Professional Bull Riders (PBR) will be hosting a six-province bull riding tour, stopping in Toronto for its first time ever! The event will take place in Ricoh Coliseum with a promise of $20,000 dollars for the winning rider. PBR 2013 Canadian Champion Zane Lambert of Ponoka, AB, reserve Canadian Champion for 2016 Cody Coverchuk of Meadow Lake, SK, and three-time PBR Canadian Champion Aaron Roy of Yellow Grass, SK will be some of the top riders competing for the cash prize.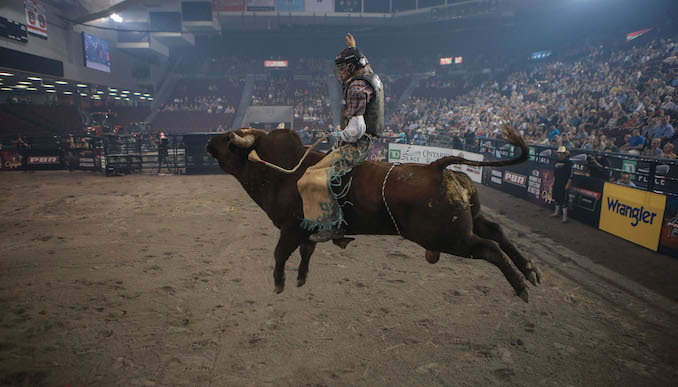 "Toronto is Canada's entertainment capital and has been the corporate home of the PBR in Canada for the past two years," said Chris Bell, GM, PBR Canada. "The PBR has never had an event in this dynamic metropolis. I am thrilled to see one of the most exciting sports in the world in Canada's largest centre." The tour will be starting in Quebec City on June 2nd and 3rd; the national series then moves to:
-Ottawa on June 9th
-Toronto on June 24th
-Calgary on September 23rd
-Winnipeg on October 6th
-Abbotsford on October 14th.
-Saskatoon on October 20th and 21st.
The event will be showcased on TSN/RDS, including all the post-season highlights. Don't forget to check which channel on your cable service this will be broadcasted on.
"The city of Toronto has always thrived on the excitement of sports and live entertainment, so we're thrilled to have Professional Bull Riders make their Toronto debut at Ricoh Coliseum," says Wayne Zronik, the Senior Vice President of Music and Live Entertainment at MLSE. "MLSE strives to bring the best and diverse live entertainment to our fans, and this event is certainly no exception."
It is likely that protestors against animal abuse may rally on the day of the controversial event, and if so, they are bound to get heated. Whether these events are bad for the participating animals is still a question most don't know how to address. While there are many states in the US and provinces in Canada that have specific legal restrictions to protect the dignity and health of the animals, the very essence of the sport involves aggravating the animals to buck back and forth, and riders to see how long they can withstand it.
We, at the Toronto Guardian, hold no opinions on whether or not this event is ethical or not: we are simply here to report it.
If the event interests you, see how to get tickets here: