Name: Fancy – Born: October 2014
Bio: Fancy the cat was rescued from a life on the streets. When she first arrived at the shelter she was absolutely terrified, feisty, extremely hissy and defensive who would lash out with her paws, as she did not trust people at all.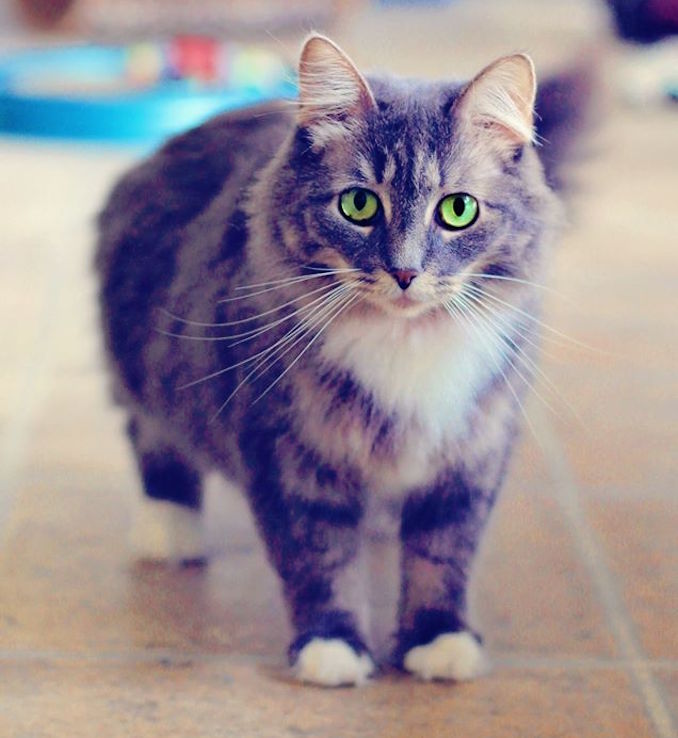 She even had the nick name of "Hissy" for the first part of her journey in learning to trust people. Thanks to the persistence of NTCR volunteers, Fancy has come a long way and now trusts people who have a slow approach. She still exhibits moments of "catitude" where she is guarded in that when she feels insecure will give you a single swat but progresses each day in turning that defensive mechanism off. When you enter her room she will approach you but always stays arms lengths away, but she there is, just wanting to be loved waiting for the right approach. She is learning and the majority of the time she will happily accept and enjoy being petted and stroked. Fancy is a beautiful long haired grey & white tabby with adorable little white paws, stunning green eyes and a unique purrsonality. She is good with other cats but would do best in a mature adult home with an owner who understands her need to feel secure and the patience to help her on her final steps towards becoming the confident loving cat she is meant to be. If you are willing to work with Fancy the cat to help her blossom into the people loving cat she wants to be and give her the "furever" home she deserves , please fill out an adoption application and contact NTCR.
***
About North Toronto Cat Rescue
This column features Toronto pets available for adoption.
Our current features come from North Toronto Cat Rescue which is a no kill, no cage shelter in Markham, Ontario, Canada. They have saved over 2000 cats over the years from both the harsh environments of life on the streets and from kill shelters in Ontario and Québec. They care for both kittens and adult cats. I always like to promote getting an adult cat as it is a lot easier to pick the cat with the right temperament for you.
The NTCR shelter is run by volunteers with no government assistance. They currently have around 200 plus awesome cats that would love a good home. Go and visit them soon!
For more info, Visit the NTCR Website.
***
Fundraiser
On another Note, NTCR is in trouble as they are losing their home in 2016 for development of the area. If you can offer any help in finding a new home for the almost 200 cats at the shelter, that would be amazing.