There's been a recent wave of new eateries opening in and around our city with Taiwanese influences. When Petit Potato opened up, Instagram foodies flocked to snap up photos of one particular dessert – an over-the-top triple layer gooey golden honey toast loaded with ice cream, chocolate drizzle and fruit. Yes, crazy. But you know I just had to see it for my own eyes!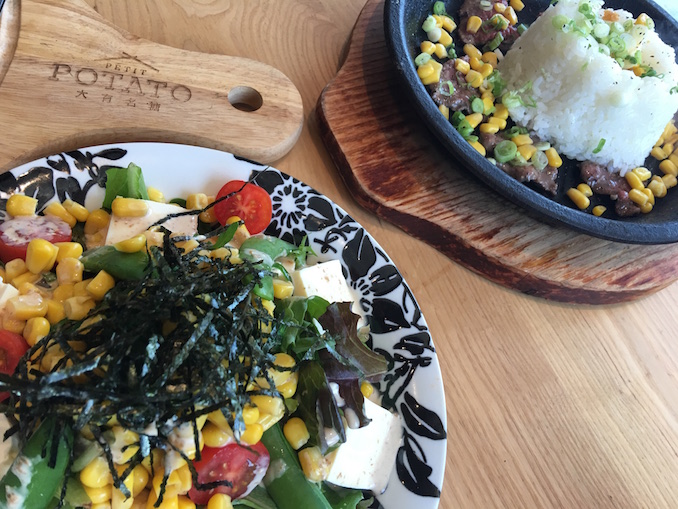 Petit Potato is an unusual name for this eatery. Located at an established Asian mall at Finch and Leslie that includes a Sunny Supermarket, ChaiTime, bakery, herbal shop next to it, this new comer appeals mostly to a younger crowd late night for dessert.  However, it is more than the star dessert offerings. This modern restaurant is the brainchild by one of the owners of Congee Queen — a fast, fresh and reliable restaurant chain that sees line ups out the door at all times of the day. When I inquired about the the name "Petit Potato" it seems that it was just a sweet name and potatoes have no real association.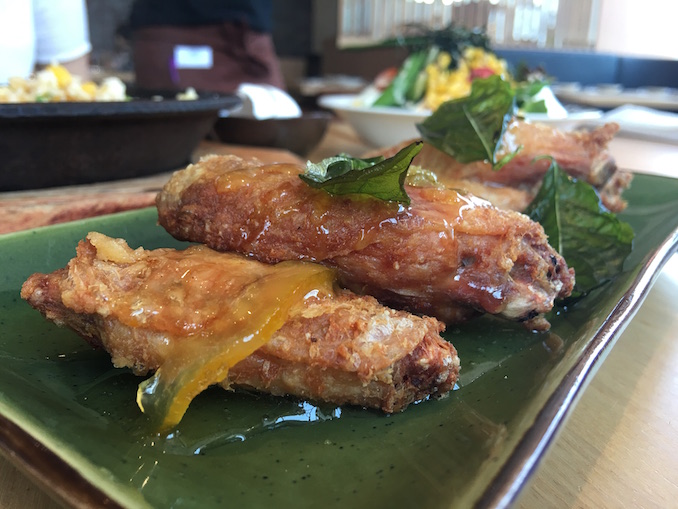 The chefs here are Japanese and have worked in popular restaurants in Toronto. The menu features popular dishes they, and the owners, have discovered in Taiwan, Hong Kong, and Japan. Think more street style dishes and sharing, it is definitely the way to go here. Of course, I had to bring a friend so we can try a decent selection. A glance through the menu, that was neatly categorized, we zoned in on dishes that weren't commonly found in Toronto.
Several choices of Omurice are available including BBQ eel and curry pork katsu. It's rice wrapped in an omelette topped with the selection and drizzled with sauce. The curry used on the pork is more of a Japanese style curry that's less pungent compared to Thai and Indian curries.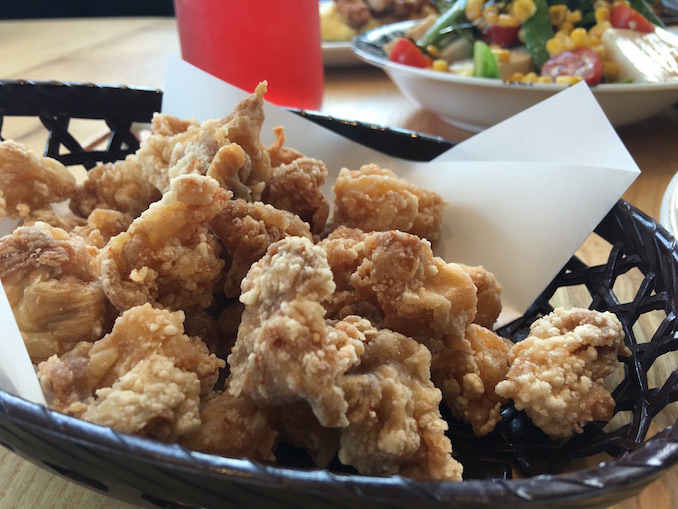 A sizzling plate that included a cup of cooked rice surrounded by rolled raw meat was a hands-down delicious. We were instructed to add Teppanyaki sauce, raw egg, cheese and (additional toppings) to the cast iron plate and mix to cook. We chose sliced beef but there were also other options including smoked duck breast that sounded really good.
We were told the Chicken wings with a drizzle of Yuzu sauce is very popular and we could have, should have ordered this three times over but we had to refrain and save space and kept reminding ourselves our eyes were bigger than our stomachs.
As it was a humid and hot day when we visited, we both craved a salad dish and the fresh tofu salad was a nice way to balance off all the other goodies. This salad include fresh cubed tofu over greens, seaweed, sugar peas, tomatoes, corn and Nori shreds.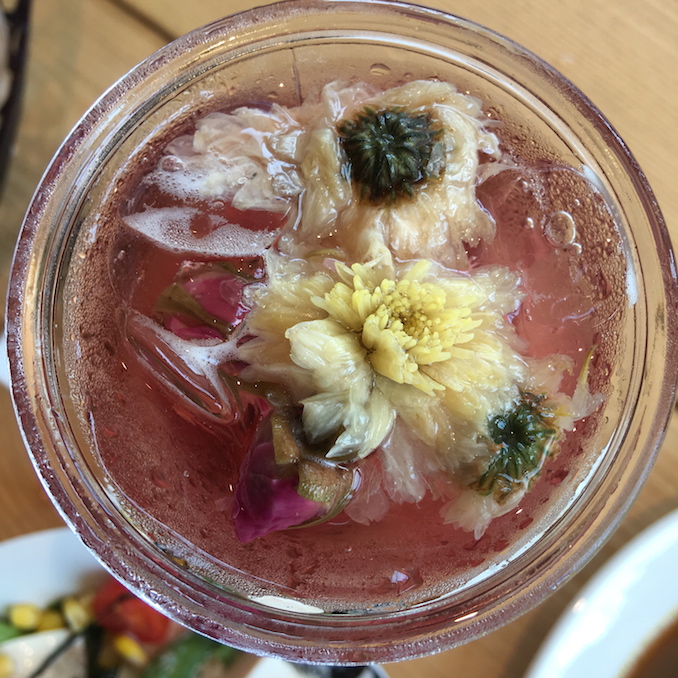 I found Fried Chicken Knee Caps on the menu and had to inquire. "It's like popcorn chicken" I was told. Well, I wouldn't necessarily put it on the top of my must-eat list. But if crunching on cartilage is your thing, or you want to amuse your friends, then go for it. There's nothing wrong with it…and I'm all for not wasting any parts of an animal. It's crunchy in texture through and through and the seasoning is perfect. Eat it warm. But they did mention that they are planning to change the name of this dish soon.
Now to the sweet offerings…
My eyes got all wide and excited when I saw the Ice Cream snowflake dishes. What looks like bean curd sheets crumbled into piles in a bowl, this dessert has my heart pounding. Having had it at Taiwanese hotspots it's great. Flavours like mango, taro, red bean are topped with bursting little bobo balls, sweetened condensed milk, jellies, and fruit. It's a fun dessert that's often too big for one.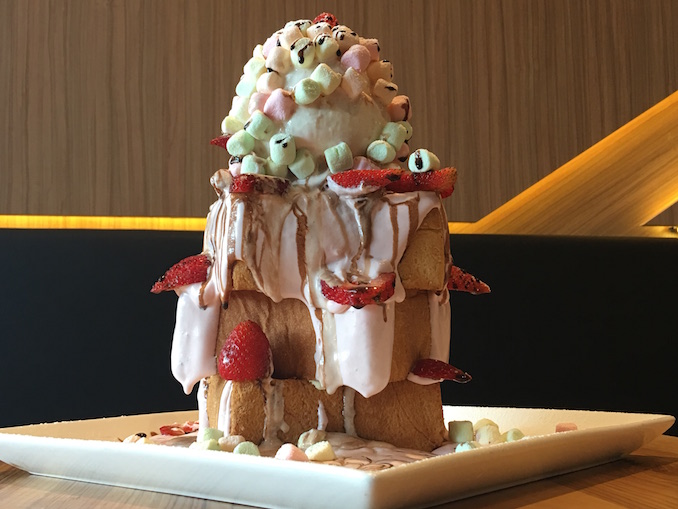 Sago and the dessert dumplings will have to wait for my next visit as all eyes were on the Special French Honey Golden Toast.  The table of five women seated next to us had theirs delivered and their mobile devices whipped out as though the dish had celebrity status. We were told it is THE most requested dessert from Petit Potato's menu. The three-tiered thick cut bread had all the soft centres cut out from the crust, loving brushed with butter and lightly toasted before being replaced back into the tower and topped with ice cream and fruit. The restaurant did warn us that it was quite massive and highly recommend sharing. It takes the chefs 30 minutes to prepare this so order it as soon as you sit down to avoid your own personal melt-down. When ours arrived, the women at the table next to us scurried over to take photos – so funny!
The drink selection also offers a great variety from bubble tea to snowshakes. I opted for the Chrysanthemum & Rose Honey Iced Tea. It reminded me very much of my childhood when mom made Chrysanthemum tea and sweetened with rock sugar. It wasn't until I was an adult did I understand the benefits of this floral tea — helps cool the body making it a great  summer drink and perfect for digestion aid as well.
Petit Potato is located at 10 Ravel Road in North York. Check out their menu on their website.