The cancer support group Pink Pearl Foundation had their 10th annual Black and White with a Touch of Pink fundraiser in April, 2016 at the Church at Berkeley in Toronto. The event raised over $50,000 in support of young women battling cancer across southern Ontario.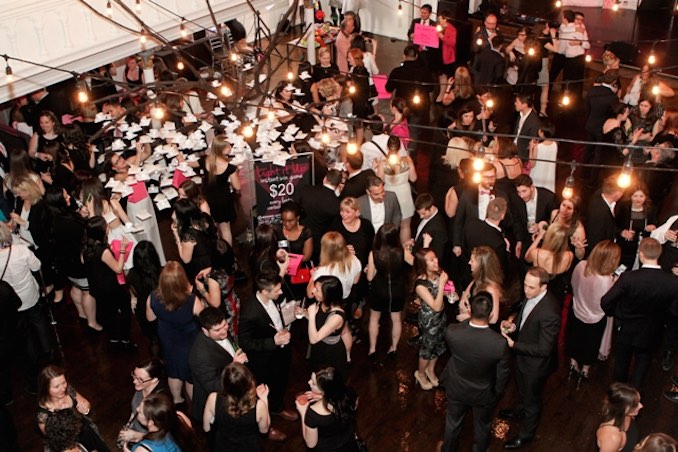 Through peer social events, trips and support systems, the Pink Pearl Foundation provides a much needed service – providing young women going through the toughest time in their lives find support, connections and strength. Current support initiatives include day-long and overnight wellness retreats, ask-the-expert health information sessions and in-hospital support packages.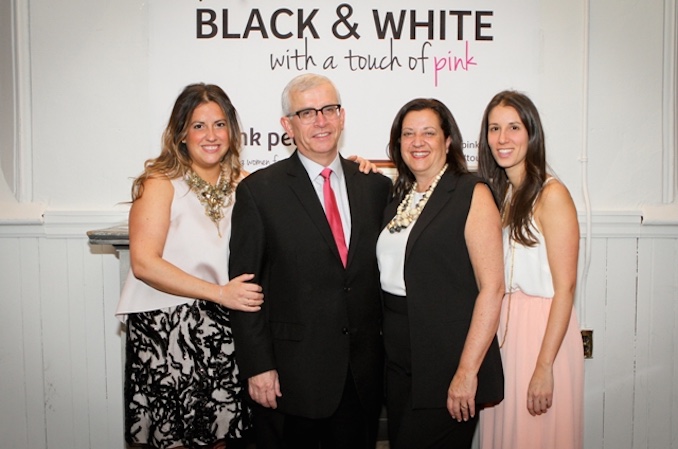 I recently chatted with the founder of Pink Pearl Foundation and 31 year old survivor Elise Gasbarrino about the organization and the support systems that they provide. After undergoing treatment herself, while in her early twenties, Elise recognized a need for a way to connect with women her age who were facing the same issues. These connections would provide much needed peer support.
What are the costs associated with keeping Pink Pearl Foundation programming running?
Pink Pearl is an entirely volunteer run organization (more than 30 volunteers) and we do most of our work virtually. This really helps us focus our funds towards programming for the women we support.
How many women are involved in programming in a year?
Over the course of a year we reach nearly 100 women with cancer through our various programming. Additionally, we have quite a following on our social media channels and opt-in newsletter.
Our retreats and support packages have become our pillars. We hold retreats twice per year (in the spring and fall) where we host 30-35 women each weekend. While our support packages are delivered to newly diagnosed women through our hospital and other not-for-profit partners (including Juravinski Cancer Centre, Princess Margaret, Wellwood, and Wellspring to name a few).
Tell us about some of the best day-long and over-night wellness retreats you have had.
To pick a "best" moment out of all our retreats would be difficult. Every retreat takes place overnight and is held at a memorable and picturesque venue. It allows the women a forum to relax and connect with one another. I think the physical environment in combination with the peer support is really what makes each Pink Pearl retreat so special and different from other programs out there. I am especially looking forward to our June retreat, where we are welcoming quite a few new faces to the Pillar & Post in Niagara-on-the-Lake. What I look forward to most is hearing their stories.
How can people who want to help get involved? What opportunities are there for volunteers?
We are a 100% volunteer based organization and are always looking for new passionate, entrepreneurial volunteers. Being such a young organization, we have the flexibility to really mold a role to our volunteers strengths. All volunteer opportunities are kept up to date on our website: www.pinkpearlfoundation.org
Where do you hold the ask-the-expert health information sessions? With whom? Ever done online Google Hangouts etc?
Our Ask-the-Expert information sessions are held in partnership with Wellwood in Hamilton. We have had guests speak to everything from genetics and cancer to post-treatment fertility options. Moving forward we are partnered with the Canadian Cancer Society on a more virtual initiative. They have a series of upcoming webinars for young adults with cancer that will cover topics the women of Pink Pearl find important.
Any expansion plans for the in-hospital support packages?
Yes! Our support packages have been widely well-received. We are now offering them at hospitals and at other not-for-profits throughout the Greater Toronto Area. Additionally, we are working with Juravinski Cancer Centre in Hamilton to supply our packages for a new research project they have initiated.
Any ideas for new support initiatives/programs through Pink Pearl Foundation?
At each retreat, we ask the women in attendance for feedback on what types of programming they value. If there is a need, we will find a way to fill it, whether it be through developing a new program or referring to an existing one. That said, it's all about smart growth. Our goal is to stay focused on what we do best (retreats, support packages and post-secondary scholarships), and offer those programs to a wider geographical audience.
Anything you want to include or add?
For Pink Pearl Foundation it's all about supporting the women. In having my own personal experience with cancer, I really understand the power of feeling supported whether it's through family, friends or other women. Within our organization, we want to make sure that a woman does not feel alone as she goes navigates through her cancer. Cancer is only one part of her story.
***
To learn more about the Pink Pearl Foundation, visit their website.