Recipe for Cumin & Mint Beef Koftas by Longo's Chef and Food Service Manager, Robert Mutch.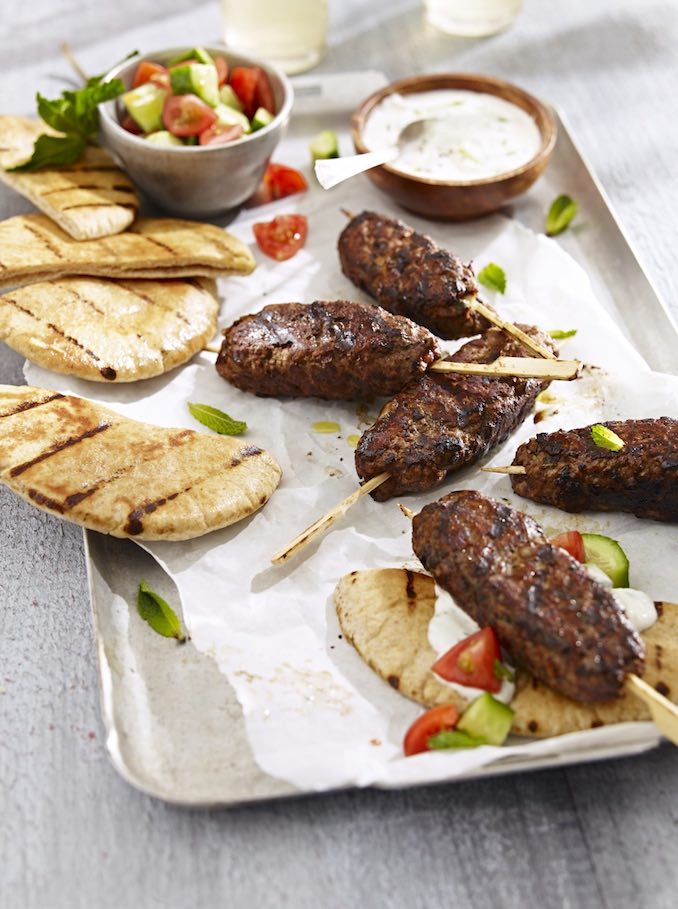 Koftas are kebabs made with ground rather than cubed meat. These mildly spiced, grilled kebabs are a great way to explore Middle Eastern flavours.
PREP 20 min – COOK 8 min – SERVES 4 (8 koftas)
INGREDIENTS
-1 lb lean ground beef
-1/3 cup finely chopped Fresh Mint 1/4 cup very finely chopped red onion
-1 egg yolk
-2 cloves garlic, minced
-2 tsp ground cumin
-1/2 tsp each salt and pepper
-1 tbsp Longo's Mediterranean Grilling Oil
-Grilled pita pockets, chopped tomato, chopped cucumber
-Tzatziki Dip
DIRECTIONS
PREHEAT the grill to medium; grease well.
MIX beef, mint, onion, egg yolk, garlic, cumin, salt and pepper until well-combined.
FORM meat around eight 8-inch, soaked wooden skewers. Brush evenly with grilling oil. GRILL, turning, for about 7 to 8 minutes or until no longer pink inside and meat thermometer registers 160°F (71°C).
SERVE with grilled pita pockets, garnished with tomato, cucumber and tzatziki.
PER SERVING: (2 koftas only): 262 calories, 23 g protein, 17 g fat, 2 g carbohydrate, 1 g fibre, 0 g sugars, 342 mg sodium
TIP – Add hot pepper flakes or hot sauce to taste for spicier koftas.
See more recipes from Longo's on their website – http://www.longos.com/Recipes/RecipeDatabase.aspx