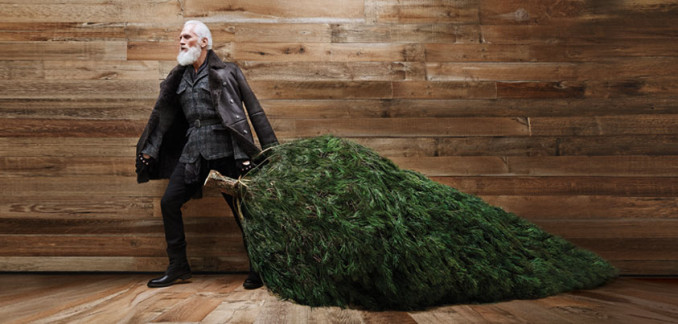 I've been checking out the various hang outs for Santa across the city and where we can visit him in the next few weeks. Okay, to be honest Santa has really caught my eye as I think he may have done something over the past couple of years. I wondered if he had some help from Mrs. Claus, Rudolph or maybe the elves? I'm sure they're all keeping him healthy and fit all year round after all the treats left for him on Christmas Eve, right?
I was able to track him down at Yorkdale Shopping Centre where he's been keeping track of his naughty and nice list and all the wish-lists from kids, moms and dads (thank goodness for apps and wifi) . But he's not dressed in his traditional suit. Of course not! This is a stylish mall after all! So, in this neck of the woods he's affectionately known as Fashion Santa!
I had a chance to ask him about his great sense of style.
You're definitely a very dashing Santa! Who's giving you fashion tips? Mrs. Claus?
Santa: I get my Fashion tips from the stylists at the Yorkdale Style Experience. They styled me for the Yorkdale holiday campaign this year.
What are your favourite (fashion) must-haves for the season? (for men)
Santa: Textured fabrics are high on my list this season: tweeds, velvet, chunky knits.
I've been really good this year…well, sort of, did you get my list? (I'll jog your memory…JCrew, Club Monaco, Mulberry, Jimmy Choo, All Saints maybe a Tesla?)
Santa: I did! It was a great list! Don't forget about Ted Baker and Tory Burch. They have great designs for stylish ladies.
What's with all the Selfies? 
Santa: The public response to Fashion Santa is so positive. We designed Selfies for Sick Kids so that people can have fun and take their own photos with Fashion Santa and, for every selfie shared using #YorkdaleFashionSanta, Yorkdale will make a  $1 donation SickKids Hospital. You can find me throughout Yorkdale Shopping Centre during the holiday season (click here for the dates).  So, if your fans see me, please don't be shy.
So, are you wandering the mall? 
Santa: You may find me wandering through the centre sometimes, but I'll mostly be at my set outside of Harry Rosen at Yorkdale. Stop by for a visit and a selfie!
What's the most asked for items so far from those who have visited you?
Santa: A lot of people ask me about my wardrobe, I've been wearing some great pieces from Salvatore Ferragamo, Burberry, John Varvatos.
What's one of your wishes for this holiday season?
Santa: I wish that Yorkdale and I meet our goal of raising $10,000 for Sick Kids Hospital this year!
Milk and cookies or what else can we leave you on Christmas eve? My phone number?
Santa: I'm partial to Purdy's chocolates 😉
What's on your playlist?
Santa: I love Jazz music!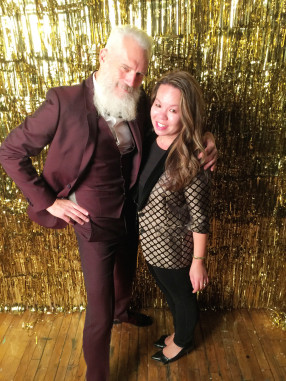 Thanks Fashion Santa!!!