Jennifer Crawley is one of the artists from the URBAN LAND exhibit now on display at Steam Whistle Brewing throughout the month of August.
Jennifer Crawley is a contemporary painter who paints images of her surroundings. Moved by light and contrasts, she paints urban and scenic landscapes as well as portraits and custom works. Jennifer uses both black and white oil paint, and color palettes. She painted with her mother at a young age and then picked it up again as a young adult.  Jennifer is currently working on her next piece; a large installation sized 150×180 inches. In her spare time, she likes to hang out with her friends, shoot pool, do yoga, read and spend it with the people she loves. If you ask Jennifer's best friends how they would describe her, it would be as fun and always up for a good time.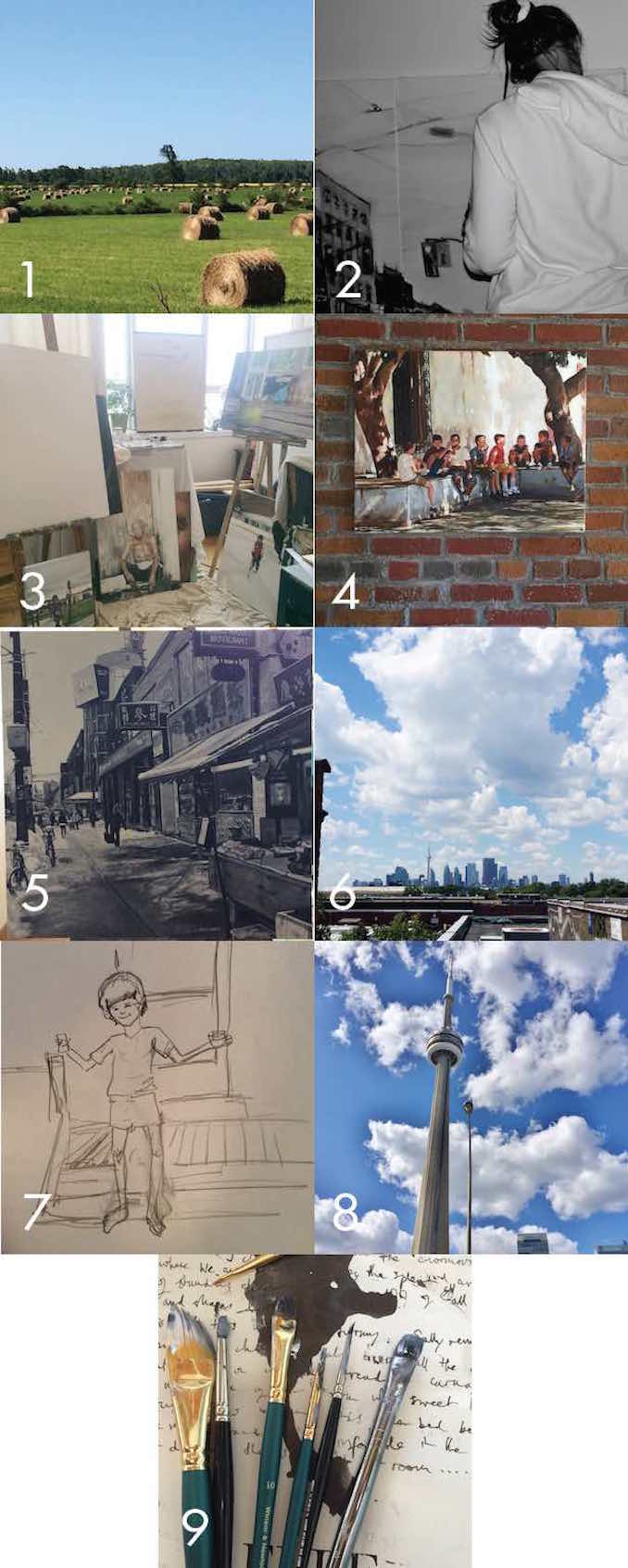 Images:
1. A view from my vacation spot: This is where I go when I want some peace and quiet.  I love both the country, and the city.
2. This is me at work: This is me painting. I usually like to stand up when I paint.
3. This is where I work:   This is a picture of the studio space. I like to have a lot of pieces going on at once.
4. I just hung this up: Whitlock's is an awesome restaurant in the Beaches where I am showing my artwork.
5. What I'm working on now: I am finishing up this Toronto street scene called "China Town".
6. This is what I see from my studio: This is a rooftop view from the studio. I love looking out at the city.
7. This is what I'm working on next: I am working on a kid's book.  It has been a great exercise and lots of fun. I am expecting it to come out next year.
8. Inspiration: Downtown inspires me.
9. A look inside my tool box: Here are some brushes I use. I use up to ten brushes a painting.
***
What neighbourhood do you live in?
I live in a really beautiful area in Toronto called the Beaches.
What do you do and where?
I paint for a living, I am an artist.
What are you working on?
I am working on a kid's book and a new painting 150 x 180 inches, my biggest painting yet.
Where can we find your work?
You can find my work at www.jccustomartwork.com and MJG Gallery, Leslieville, and at Steam Whistle Brewing in the URBAN LAND exhibit on display for the month of August.